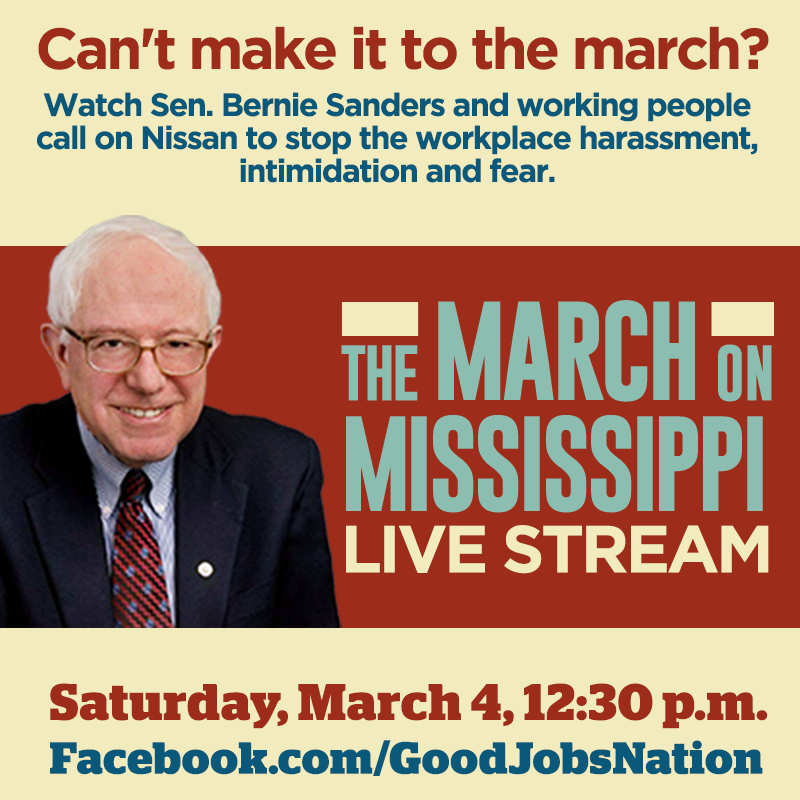 On Saturday, Sen. Bernie Sanders (I-Vt.) and actor Danny Glover will join the March on Mississippi in order to protest a pattern of civil rights abuses against the company's predominantly African American workers. Also joining the march are Rep. Bennie Thompson (D-Miss.), NAACP President Cornell William Brooks, Sierra Club President Aaron Mair, hundreds of workers, civil rights leaders and social justice advocates. The march will end at Nissan's Canton factory, and the marchers will demand that the company start respecting its workers' right to vote for a union free from fear and intimidation.
Roughly 80% of the 5,000 workers at the Canton plant are African American, and the march follows several rallies across the South at Nissan dealerships, documenting the unsafe working conditions, mistreatment of workers and anti-union hostility. The march is expected to be the largest protest in Mississippi in years. The march is being organized by the Mississippi Alliance for Fairness at Nissan, a coalition of civil rights leaders, ministers and working people advocates.
Nissan employee Morris Mock describes the working conditions at the plant:
Nissan employees are working under punishing production quotas and unsafe conditions in Canton, and the company does not respect our rights on the job. We risk our lives every day because Nissan refuses to make the plant safe, and when we speak out to demand basic protections, the company threatens and harasses us. That's why we're joining together to demand the good jobs that our community deserves, and we don't back down until we win the freedom to stand together in a union.
Sanders went further:
I am proud to join in fighting to give workers at Nissan's Canton, Mississippi, plant the justice, dignity and the right to join a union that they deserve. Nissan has union representation at 42 out of its 45 plants around the world. The American South should not be treated differently. What the workers at the Nissan plant in Mississippi are doing is a courageous and enormously important effort to improve their lives.
Glover added:
Nissan spends hundreds of millions of dollars a year marketing itself as a socially responsible carmaker, even going so far as to brag about its appeal to African American car buyers. Yet behind the scenes, the company is violating the rights of the African American workforce who makes those cars. We're speaking out because Nissan can't have it both ways, and it's time for car dealers and customers alike to understand the product they're selling and buying doesn't fit the image of what Nissan claims it's producing.
Watch the live stream of the event Saturday and read more about the March on Mississippi and Nissan.