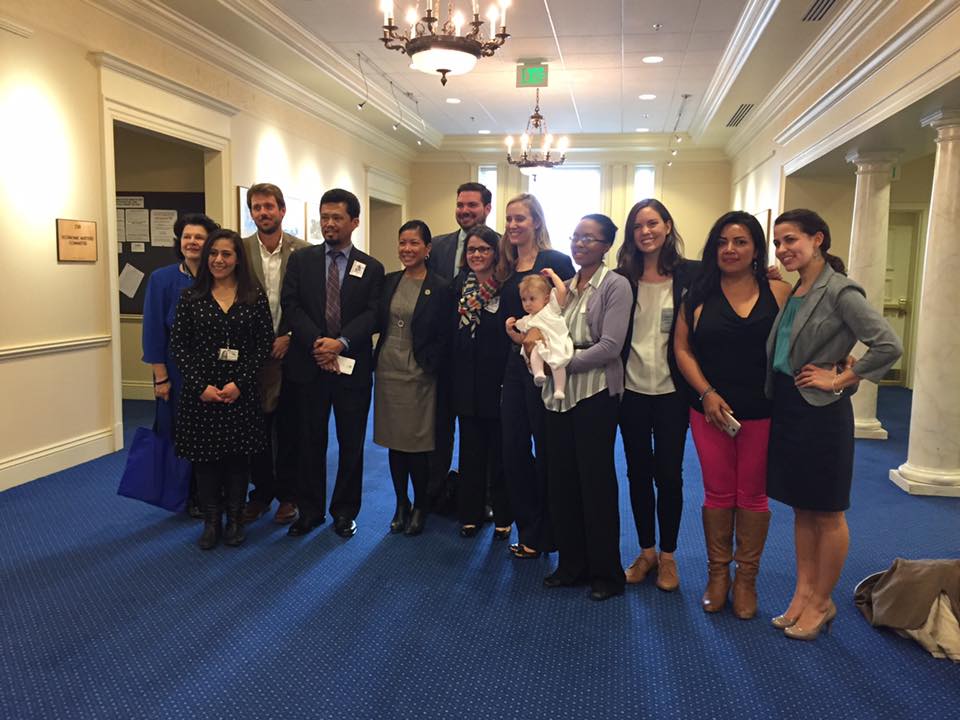 In a time of heated rhetoric and divisiveness around immigration, Maryland's unions, faith community and immigrant rights groups are leading the way forward on state-level immigration reform. Two bills are currently under consideration in Maryland that would offer significant protections to immigrant workers and families—the Maryland Law Enforcement and Governmental Trust Act (H.B. 1362/S.B. 0835) and the Regulation of Farm Labor Contractors and Foreign Labor Contractors Act (H.B. 1307/S.B. 1016). The measures proposed in these bills would help ensure that our law enforcement policies respect due process and protect civil rights in the workplace and community, and would expand protections within guest worker programs.
In a letter to the Maryland House of Delegates and Senate, the Maryland State and District of Columbia AFL-CIO called on lawmakers to pass the Trust Act to "help prevent unscrupulous employers from manipulating the deportation machinery to undermine the exercise of workers' rights." All too often, employers use the threat of deportation to keep workers silent about labor violations, and the treat of deportation often keeps immigrant families from engaging with law enforcement and other public services when they are needed. Immigrant and faith groups from around the state came out to support the Trust Act, which would create a firewall between immigration enforcement and labor inspectors, local police and state institutions.
The Maryland State and District of Columbia AFL-CIO, the Baltimore Teachers Union, Centro de los Derechos del Migrante, the Maryland Catholic Conference and other faith groups also came together this week and testified on behalf of the Foreign Labor Contractors Act, which would bring needed protections and reforms to guest worker programs in Maryland.
According to Donna Edwards, secretary-treasurer of the Maryland and D.C. labor federation: "The status quo is unsustainable...laws on guest worker programs are riddled with gaps and allow for employment discrimination, fees to access work, the payment of below market wages and restriction on movement." She argued that the rights of America's workers can only be protected if immigrant workers and guest workers are able to exercise their rights and when employers no longer have an incentive to underpay and mistreat them.
The Foreign Labor Contractors Act would address these issues by creating a registry for labor recruitment firms that bring guest workers to Maryland, ban charging fees to workers to secure jobs, and make employers responsible for abuses in recruitment and for providing transparent contracts. If Maryland passes H.B. 1307/S.B. 1016, it will follow in the model of California, where lawmakers passed a similar recruitment reform bill in 2014.
Rogie Legaspi, a teacher-of-the-year winner and a vice president of the Baltimore Teachers Union, shared his experience being recruited into teaching jobs in Texas and Maryland from his home in the Philippines. Stressing the need for reform and transparency, he told of his time in Texas, where his recruiter fraudulently served as his employer, forced him to sleep in a basement with 17 other teachers, and took 10% of his salary.
Legaspi said that when he was later hired by Baltimore City Public Schools, unlike his time in Texas, he "felt well-informed and respected," as they provided a clean apartment, a transparent contract with union representation and supported his certification to teach in the state. He stressed to Maryland's delegates that all guest workers should have these protections, but unfortunately the abuse he experienced is not uncommon.
In a survey of 220 H-2 guest workers, CDM reported that 58% of workers paid a recruitment fee, 52% were not shown contracts and 10% paid a fee for a non-existent job. "I've been defrauded three times," said Adareli Ponce, a member of the CDM's Migrant Defense Committee. "In my community, there are plenty of stories like mine. We need a recruiter registry. If we had one, we wouldn't have any of these stories; we'd know if job offers are real."
As our broken immigration system continues to divide families and undermine labor rights, states will increasingly play an important role in creating a just environment for immigrants and workers. Passing the Maryland Trust Act and the Foreign Labor Contractors Act would put the state of Maryland at the forefront of resisting out-of-control immigration enforcement and employer exploitation, and leading the way for a pro-worker immigration system.