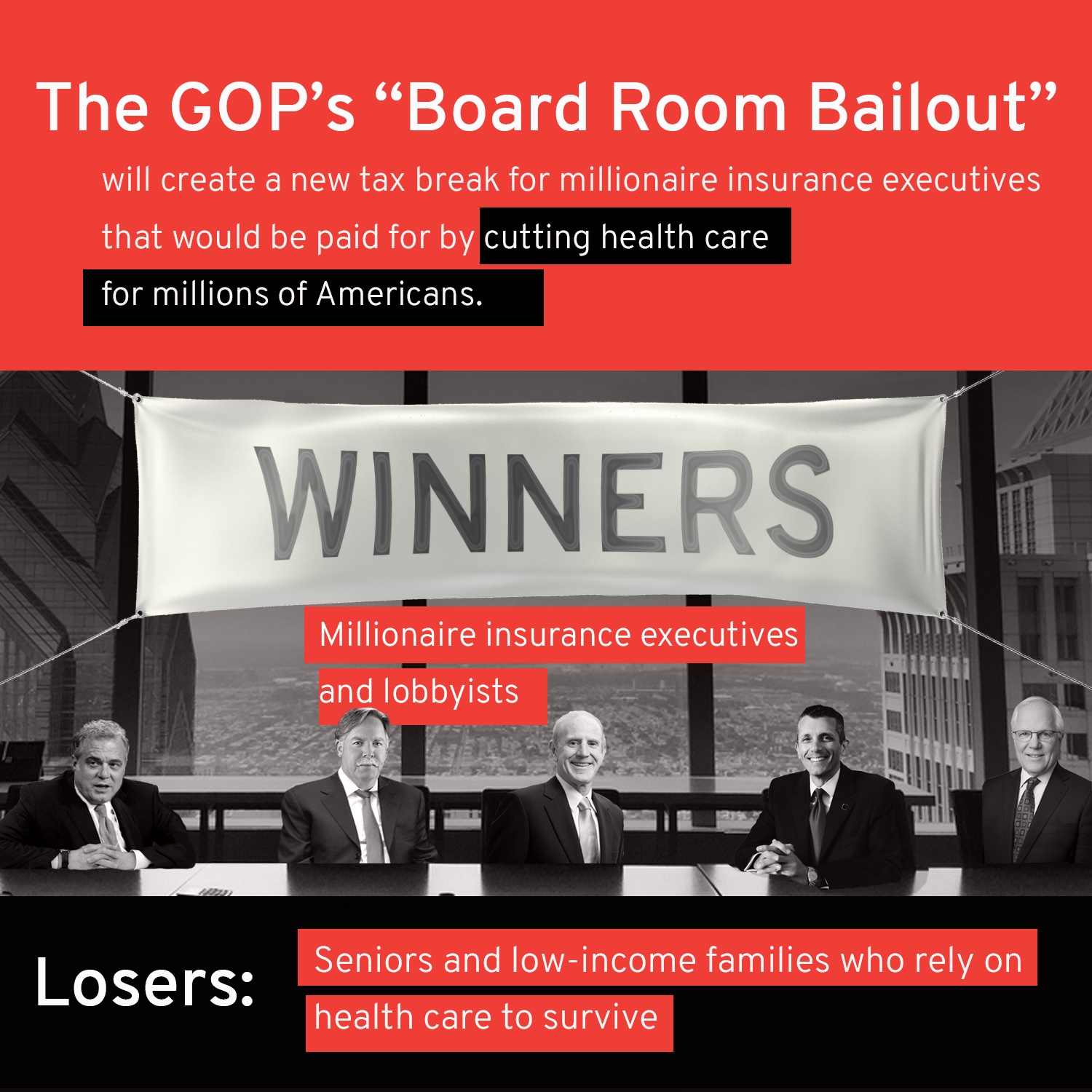 CEOs of health insurance companies received a generous early Christmas gift, thanks to Republican lawmakers in the House of Representatives.
House Republican leaders, intent on repealing and replacing the Affordable Care Act, or Obamacare, have proposed scrubbing from current law a cap of $500,000 for the tax deduction of executive compensation at health insurance companies as a business expense. The Republican proposal could give health insurers a windfall in tax breaks and encourage companies to pay their CEOs even larger pay packages.
While the U.S. tax code generally limits companies from sheltering executive pay of more than $1 million, Obamacare reduced the tax subsidies for executive pay for health insurers to $500,000, starting in 2013.
At UnitedHealth Group, CEO Stephen J. Hemsley received total compensation of $14.5 million in 2015. Both Mark Bertolini, chairman and CEO of Aetna, and David Cordani, the top executive at Cigna, collected a pay package of $17.3 million. Anthem paid Chairman and CEO Joseph Swedish a total of $13.6 million in 2015, and Humana President and CEO Bruce Broussard received $10.3 million in 2015.
Removing the cap on the deductibility of executive pay may encourage insurers to give their CEOs an even bigger pay package.
The Republicans' proposal is yet another example of how they would reduce taxes on the wealthy, while eliminating health care coverage for the poor and working families.
Rep. Sander Levin (D-Mich.) said that the tax break related to executive pay at health insurers is "the beginning of a huge giveaway to the very, very wealthy."
According to a 2014 study by the Institute for Policy Studies, the $500,000 cap for executive pay generated at least $72 million in additional revenue for the U.S. Treasury from the nation's largest 10 publicly held health insurance companies in just one year. The IPS report noted that the $72 million in savings from reducing the tax subsidy for executive pay for health insurance executives would be enough to pay the cost of dental insurance for 262,000 Americans, or the average annual health insurance plan deductible for 28,000 people.