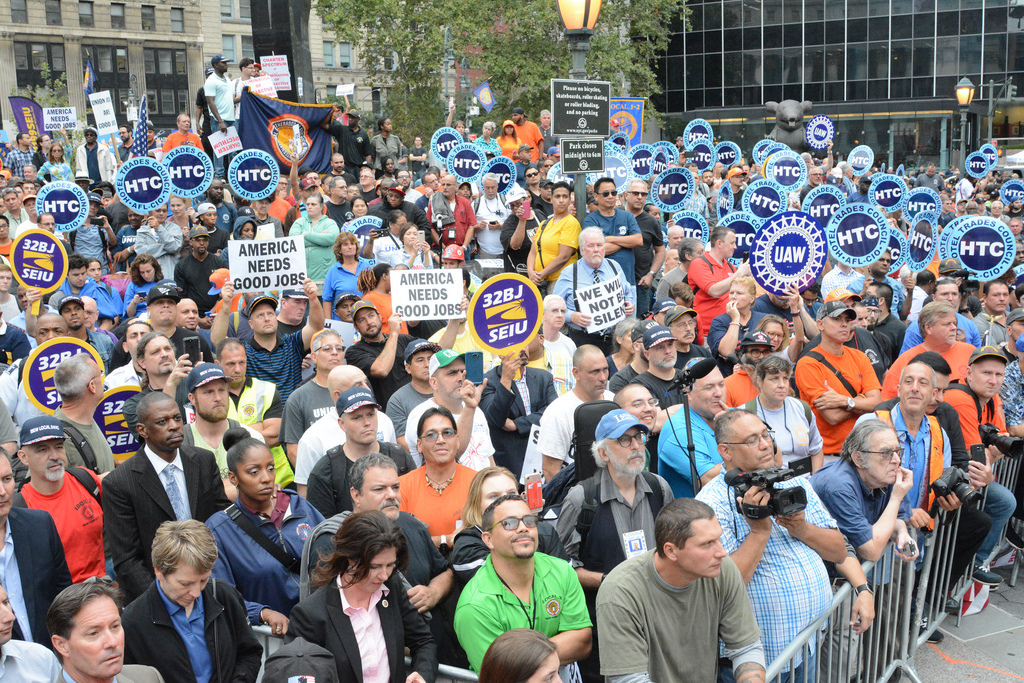 Every week, we bring you a roundup of the top news and commentary about issues and events important to working families. Here's this week's Working People Weekly List.
Support for Labor Unions Is at Decade High, Poll Finds: "Union approval is at its highest level among Americans in a decade—but still not as high as it once was. A Gallup Poll released for Labor Day found 61% of adults in the U.S. approve of labor unions—the highest percentage since 2003, when approval was at 65%. The 2017 approval rate is up 5 percentage points from last year and 13 points above the all-time low of 48% in 2009."
Canada Is Using NAFTA to Demand Protection for U.S. Unions: "As unions and Big Business prepare to square off in the renegotiation of the North American Free Trade Agreement, there will be heated debate over the continental trade pact's impact."
President Trump Has Reached a Compromise with Top Democrats on DACA: "The top House and Senate Democrats said Wednesday they had reached agreement with President Donald Trump to protect thousands of younger immigrants from deportation and fund some border security enhancements—not including Trump's long-sought border wall."
Poll: Majority Wants Congress to Establish Path to Citizenship for DACA Recipients: "A majority of voters want Congress to pass legislation that allows undocumented immigrants brought to the U.S. as children to become citizens if they meet certain requirements, according to a new Politico/Morning Consult poll conducted following the Trump administration's decision to wind down the program protecting these so-called Dreamers from deportation."
Labor Unions Are Stepping Up to Fight Deportations: "Yahaira Burgos was fearing the worst when her husband, Juan Vivares, reported to the Immigration and Customs Enforcement office in lower Manhattan in March. Vivares, who fled Colombia and entered the U.S. illegally in 2011, had recently been given a deportation order. Rather than hide, he showed up at the ICE office with Burgos and his lawyer to continue to press his case for asylum."
Unions Aren't Obsolete, They're Being Crushed by Right-Wing Politics: "Growing up in heavily Republican Missouri years ago, Dawn Burnfin was sure that workers in the modern world didn't need the labor movement. 'I was taught that unions were just a bad deal all the way around,' she said. 'I don't know if anybody specifically took me aside and said, "Hey, unions are bad." It was just the implied attitude of everyone there.'"
OSHA's Claims About Hiding Information on Worker Deaths Fall Flat: "Since January, government agencies under the Donald Trump administration have taken steps to hide information from the public—information that was previously posted and information that the public has a right to know."
AFT Survey Shows Strong Parental Support for Public Schools: "Too often, the voices of the parents of public school children are left out of our national discussions about education. The AFT sought to change this and commissioned a survey that interviewed 1,200 public school parents to learn how they feel about the issues that directly affect their children."
Responding to Harvey and Irma: What Working People Are Doing This Week: "Welcome to our regular feature, a look at what the various AFL-CIO unions and other working family organizations are doing across the country and beyond. The labor movement is big and active—here's a look at the broad range of activities we're engaged in this week."
Working Families Remember 9/11: "On the 16th anniversary of the Sept. 11 terrorist attacks, America's working people commemorate those who lost their lives and those who worked tirelessly to help us recover and rebuild. Here are their words...."
RN Response Network to Deploy Additional Nurse Volunteers to Houston Post-Hurricane Harvey: "National Nurses United's (NNU's) Registered Nurse Response Network (RNRN), a national network of volunteer nurses, will deploy its second delegation of RN volunteers to Houston, beginning Monday, Sept. 11, to provide medical assistance in the wake of Hurricane Harvey, NNU announced today."
Freelancing Ain't Free: "When is the moment in time for a freelance writer that a late payment becomes wage theft, and what do you do about it?"
Attention, Kentucky: Closing a Pension Is Never a Good Idea: "Those who do not learn from history are doomed to repeat it—and it's prime time for Kentucky lawmakers to learn a history lesson."