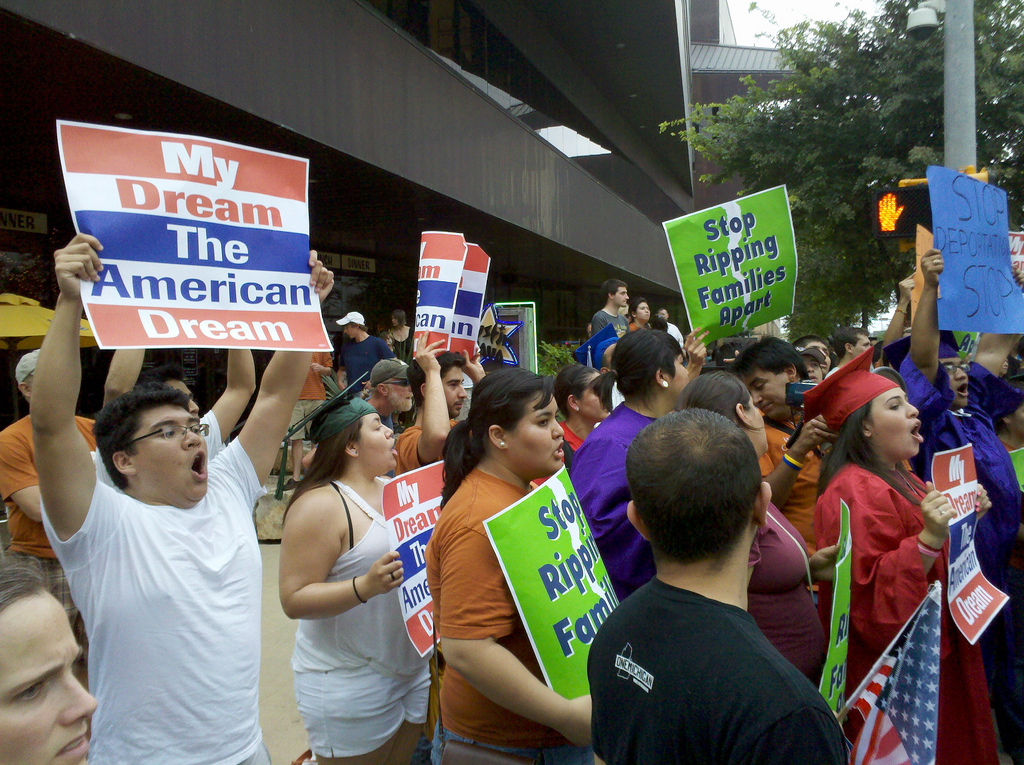 Every week, we bring you a roundup of the top news and commentary about issues and events important to working families. Here's this week's Working People Weekly List.
Latino Labor Conference Turns Into Pro-Dreamers, Anti-Trump March: "Led by AFL-CIO President Richard Trumka, and urged on by Rep. Luis Gutierrez, D-Ill., delegates and leaders of Labor's Council for Latin American Advancement (LCLAA) converted the first half day of their two-day convention in D.C. into a pro-Dreamer anti-Donald Trump march."
AFL-CIO President Richard Trumka: The Manufacturing Council Was Wasted, Useless: "AFL CIO President Richard Trumka discusses leaving President Trump's manufacturing council and the president's comments on tax reform and supporting a Democratic deal on supporting a debt limit extension."
AFL-CIO Boss Roasts Trump as Health Hazard, Labor Bust: "AFL-CIO President Richard Trumka celebrated Labor Day by blasting Donald Trump for having "repeatedly assaulted" regulations meant to keep U.S. workers safe. Speaking on CNN, the labor leader said Trump has repealed several important protections for worker health."
The Largest Labor Federation Says Ending DACA Will Encourage Labor Rights Abuses: "The AFL-CIO called President Donald Trump's decision to end the DACA immigration program, which protects 800,000 youths from deportation, 'cruel.' According to AFL-CIO President Richard Trumka without this program, which benefits young people who came to the United States as undocumented immigrants at a young age, 'it will increase the number of vulnerable workers in the United States and empower employers to punish workers who try to join a union.'"
Trumka: Trump 'Assaulted' Regulations for Workers: "AFL-CIO President Richard Trumka reacts to President Trump's upcoming announcement on DACA and what he has done for the working class thus far into his presidency."
AFL-CIO Head Says No Contact with Trump on Manufacturing: "Richard Trumka, president of the AFL-CIO, comments on his interactions with the Trump administration during an interview with Bloomberg's David Gura on Bloomberg Markets."
AFL-CIO President: This Labor Day, Fight for Paid Leave: "Labor Day. For some Americans, it's a time for friends, family and fellowship. The end of summer. The beginning of the school year. The start of the football season. An American tradition. That's not all. Labor Day is an important opportunity to recognize and honor the achievements of working people."
Labor Movement Faces Challenges Amid Growing Public Support for Unions: "Ask AFL-CIO President Richard Trumka about the climate for unions on this Labor Day weekend, and he starts with something positive: a new Gallup poll showing public support for unions at its highest point since 2003. 'There's much more excitement about unions,' Trumka says during an interview in his Washington, D.C., office just across Lafayette Square Park and with a view of the White House. He adds that, 'over 61 percent of the people in the country support unions.'"