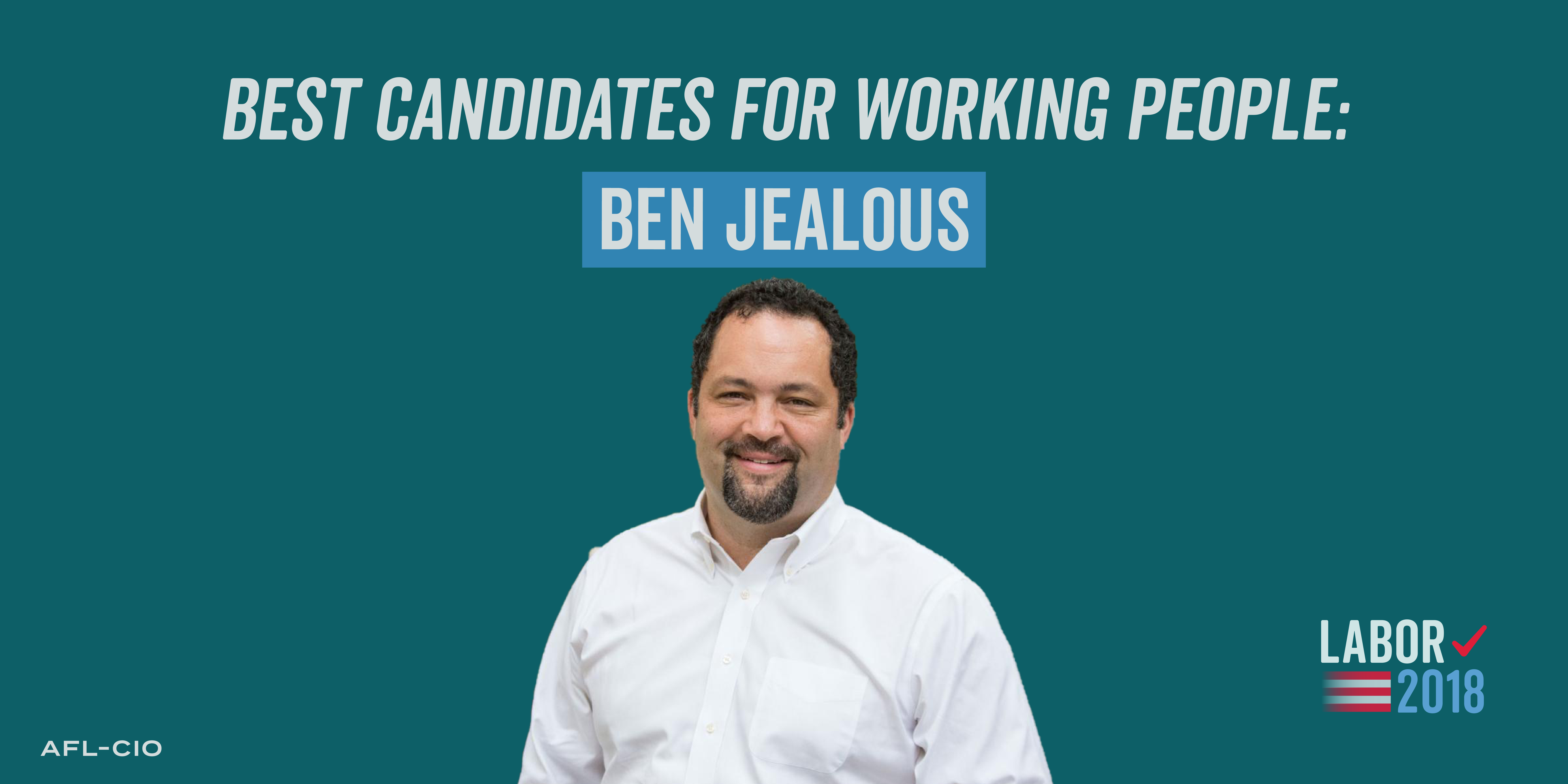 This November's elections are shaping up to be among the most consequential in recent U.S. history. Throughout the summer and fall, we are taking a look at the best candidates for working people. Today, we feature Maryland gubernatorial candidate Ben Jealous.
Here are some of the key reasons why Jealous is one of the best candidates for working people in 2018:
Jealous 

is committed to building a stronger union movement in Maryland. Unions have been a part of his work since he was 20 years old, when he worked at the AFL-CIO headquarters in Washington, D.C., and he will be proud to continue that work as governor.

As a former member of the Communications Workers of America (CWA) who was raised by two AFSCME members, he believes working f

amilies deserve a pathway to the American Dream and the labor movement provides that pathway.

He will raise the state's 

minimum wage to $15

 an hour and tie it to the median wage.

Jealous will expand prevailing wage laws to ensure that Maryland's construction workers have more opportunities to earn good wages and benefits.

He supports implementing a "Medicare-for-All

" system and wants 

to lower prescription drug costs.

Jealous wants to make 

community college free

 for every Marylander and make all four-year public institutions debt-free for Marylanders.

He believes that project labor agreements/community workforce agreements for state-funded projects ensure work is completed by skilled trades, projects are cost-effective, and they require contractors to be affiliated with state-registered apprenticeships and provide medical benefits to their workers.

Jealous believes that Maryland needs to move toward cleaner energy responsibly by training workers for new jobs and ensuring wage and benefit standards are maintained or improved. 

He proposed to 

raise teacher pay by 29%

.
Jealous wants to hire more people at retirement facilities to 

combat elder abuse

.

He will gradually eliminate the sub-minimum wage for tipped workers.

Jealous wants to create a statewide program that provides young people with summer employment.

He wants to "ban the box" for private-sector jobs and develop new incentives to train and hire the formerly incarcerated.

Jealous will increase technical assistance to farmers and expand rural broadband.

He will implement a transportation plan that improves infrastructure and helps brings workers and jobs together.

Jealous favors legalizing marijuana for adult use and wants to strengthen diversity requirements for licensing in the marijuana industry.

In 2013, he was named Marylander of the Year for his efforts to pass the 

Maryland DREAM Act

.

He supports protecting Dreamers and providing them with a pathway to citizenship.
To learn more about Jealous, visit his website.