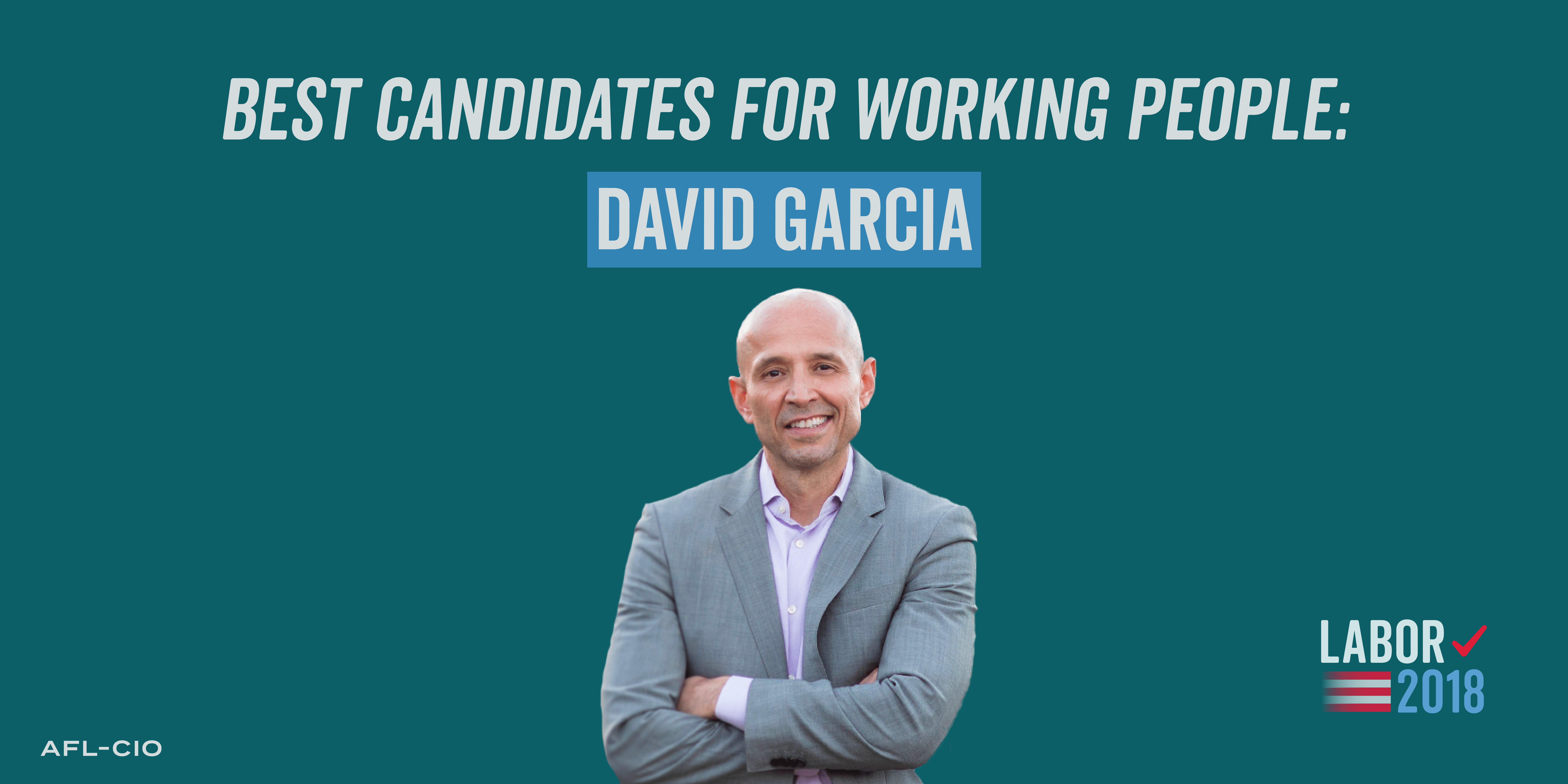 This November's elections are shaping up to be among the most consequential in recent U.S. history. Throughout the summer and fall, we are taking a look at the best candidates for working people. Today, we feature Arizona gubernatorial candidate David Garcia.
Here are some of the key reasons why Garcia is one of the best candidates for working people in 2018:
He favors an economic strategy that encourages the use of local businesses for public contracts and focuses on the entire state, not just urban areas.

Garcia wants to focus on creating jobs in growth industries, including aerospace, biosciences, cybersecurity, energy, defense, optics and photonics.

He supports universal community college to develop the state's high-skilled workforce and to attract new companies to the state.

Garcia wants to invest in sustainable agriculture and value-added practices, such as craft breweries, vineyards and farmers' markets.

He will remove barriers to expansion of high-speed digital infrastructure, the lack of which disproportionately harms rural and tribal communities.

Garcia wants to invest in a clean energy economy, particularly solar, that will create thousands of jobs.

As an educator, administrator and education policy analyst, he supports expanding access to early education, affordable child care and after-school programs.

Garcia supports the right of Dreamers to live, work and study here without fear and opposes family separation policies.

He will push for equal pay legislation to level the playing field for working women.

Garcia will issue an executive order prohibiting state employers and contractors from discrimination based on sexual orientation or gender expression.

He supports legislation that protects LGBTQ Arizonans from discrimination in employment, housing and public accommodations.

Garcia supports Medicare for all.

He supports automatic voter registration, which would modernize the state's electoral system, save taxpayers' money, increase electoral accuracy and improve voter participation.

While serving in the Army, he received the Army Achievement Medal and the Humanitarian Award for fighting wildfires in Yellowstone National Park.
To learn more about Garcia, visit his website.