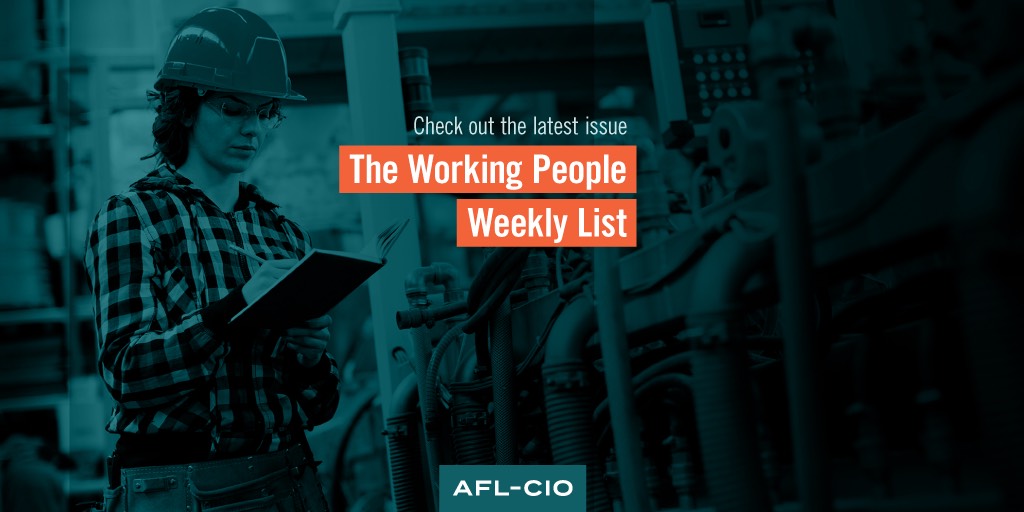 Every week, we bring you a roundup of the top news and commentary about issues and events important to working families. Here's this week's Working People Weekly List.
The Election Now: Black Women Rising: "A cadre of black women is working behind the scenes as organizers, fund-raisers, strategists and more. Black women in labor unions, including Julie Greene, who heads the AFL-CIO's mobilization hub, are making key decisions around this election, while the I Am 2018 voting campaign of the AFSCME (American Federation of State, County and Municipal Employees)—which has 1.6 million members—aims to engage communities of color."
Unionized Athletes Need to Stop Crossing Picket Lines and Start Supporting Fellow Workers: "It should have been an easy opportunity to show solidarity. It should have been a friendly, comradely way to unite against oppressive bosses. Instead, professional athletes from the various North American sports unions have, again and again, put themselves ahead of the striking Marriott hotel workers, and crossed the picket lines that were put up in early October 2018. As if these hotel workers didn't already have enough of an uphill battle ahead of them against the world's largest hotel company, they now have to contend with athletes and sports unions ignoring their fight. That has to stop."
Pelosi Has Union Support in Bid for House Speaker: "The AFL-CIO and a growing list of labor unions are supporting Rep. Nancy Pelosi's (D-Calif.) bid for House speaker. AFL-CIO President Richard Trumka Nov. 10 tweeted that Pelosi is an 'effective advocate for working families.' A group of six labor unions also pledged support for Pelosi's bid to lead the 116th Congress, according to a letter addressed to Pelosi and obtained by Bloomberg Law Nov. 14. The correspondence, signed by, among others, the presidents of the United Food and Commercial Workers and the United Auto Workers, said Pelosi has 'made labor rights, including the rights of federal workers, a top priority on your agenda and we support you for doing so.'"
AFL-CIO President: How Working People Defined the Midterm Election: "There was plenty of punditry plastered across cable news last week. But, as the dust settles, there is one story that has come to define this election: working people standing together to make a difference. The labor movement unleashed an unprecedented political program this year. Across the country, union members made the difference, fighting for our issues, for union candidates and for our proven allies. Over the last few months, we knocked on more than 2.3 million doors and distributed 5 million fliers at more than 4,600 worksites. That represents millions of conversations between fellow union members, talking earnestly about the opportunity we embraced in this election—a chance to stand up and demand the fairer economy and more just society that we deserve."
With Its Primary Opponents Voted Out, What's Next for Labor Unions?: "Trumka: The labor movement really did prove to be the driving force throughout much of this cycle. We knocked on over 2 million doors. We passed out 5 million fliers. We had 12 million pieces of direct mail, and I just have to say this, Michel. This is part of something that's bigger than just politics or the last election. You're seeing a tremendous upsurge in collective action throughout the United States right now."
Bridge the Gap: "Did you know that flight attendants and workers for regional airlines are often paid 45% less than their colleagues at major carriers for doing the same work?"
Trumka Talks the Future of the Labor Movement on Yahoo Finance: "AFL-CIO President Richard Trumka (UMWA) appeared on Yahoo Finance this week to discuss the future of labor unions. Here are some key excerpts from the interview."
Union Strong: In the States Roundup: "It's time once again to take a look at the ways working people are making progress in the states. Click on any of the links to follow the state federations on Twitter."