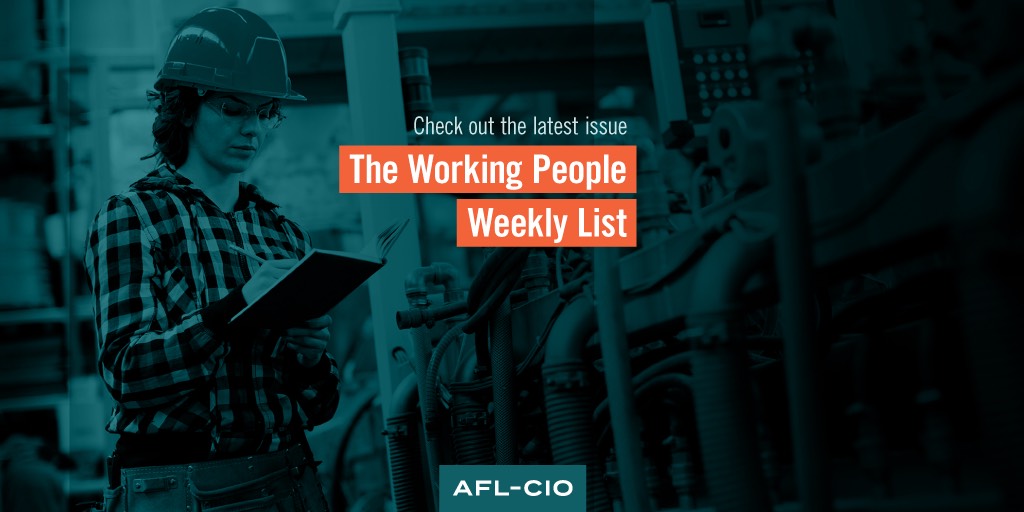 Every week, we bring you a roundup of the top news and commentary about issues and events important to working families. Here's this week's Working People Weekly List.
A Driving Force in This Election: "We did it! The labor movement helped elect a wave of union members and pro-worker allies across the country last night. We proved that if you support working people, we'll have your back. And we sent a resounding message to every candidate and elected official that if you seek to divide and destroy us, we'll fight back with everything we have."
Fighting for Those Who Serve: "As we celebrate millions of service members' selfless sacrifice this Veterans Day, the Union Veterans Council is fighting to defend their economic rights and dignities when they return home. Join that fight today and be a voice for working-class veterans."
In the States: Working People Across the Country Respond to Midterm Elections: "Across the country, working people showed up in significant numbers on Election Day to make our voices heard. And while we didn't win every race, we fought hard to make sure that as many winning candidates as possible are champions of working people."
New Jersey Labor Movement Leads Charge to Take Back House in the Midterm Elections: "On Nov. 6, after what may have been the most consequential election in recent U.S. history, union members across New Jersey celebrated Bob Menendez's re-election to the U.S. Senate, as well as the election of all 12 labor-endorsed congressional candidates, eight state Senate and assembly members and 50 rank-and-file union members."
Working People Respond to Midterm Election Results: "Across the country, yesterday's elections showed that where candidates appealed to working people and championed policies that support us, working people will support those candidates. Working people provided winning margins in races across the country, sending a clear message that the pathway to winning elections in the United States goes through the labor movement."
Who Says Union Organizer Debriefs Can't Be Fun?: "We are coming off of an exciting two days of Debriefs: Successful Strategies and Tactics for Winning Campaigns! This Organizing Institute (OI) Exchange Clinic took place Oct. 22-23 and was held at the historic AFSCME Local 1733 union hall in Memphis, Tennessee.  Sixteen advanced and lead level organizers from Ironworkers International Union and Communications Workers of America (CWA) leading campaigns across the country participated. The clinic focused on how lead organizers understand and apply the components of effective debriefs into their campaigns."
AFL-CIO and Anti-Slavery Activists Get Results on Mauritania: "On Friday, in response to a petition originally filed by the AFL-CIO in 2017, the U.S. government gave Mauritania an ultimatum: It must make sufficient progress toward protecting internationally recognized workers' rights, including combating the scourge of hereditary slavery, or face the loss of trade benefits under the African Growth and Opportunity Act (AGOA). Mauritania has until Jan. 1, 2019, to take action."
AFL-CIO on Wisconsin Governor Race: 'Scott Walker Was a National Disgrace': "Richard Trumka, the president of the AFL-CIO, issued a brief but harsh statement on Wisconsin Gov. Scott Walker (R) losing his reelection bid. 'Scott Walker was a national disgrace,' Trumka's entire statement read. 'Scott Walker was a national disgrace.' The comment was almost identical to Trumka's statement after Walker formally entered the 2016 presidential race."
Unions to Push New Democratic House to Alter Trump's Trade Deal: "AFL-CIO President Richard Trumka said Wednesday his group would push the new Democratic majority in the House to demand tougher enforcement language in the U.S.-Mexico-Canada Agreement before it's approved. Trumka indicated unions would support the deal to replace the old North American Free Trade Agreement when it comes up for a vote likely next year provided these changes can be made, and if they could be assured that the agreement's provisions on factory wages and auto part rules of origin will work as advertised."