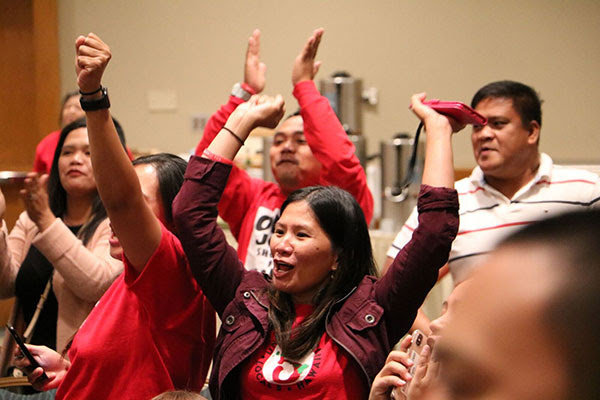 As details of the agreements between UNITE HERE workers and Marriott become public, one thing is clear: These victories provide a blueprint for collective bargaining going forward. As Brian Lang, president of UNITE HERE Local 26 in Boston said, "It changes people's expectations about what's possible."
For more than two months, 7,700 hotel workers from Boston to Hawaii went on strike, demanding better wages and respect from Marriott, the most profitable hotel chain in the world.
These workers not only won better wages, they won a better future. Their wins could show the way forward for all workers, whether they're in a union or not.
While the contracts vary by each location, here are six top noteworthy wins from across the country:
A 20% raise over 4.5 years;

A 37% increase in pension contributions;

Six weeks of paid maternity leave, plus two weeks for spouses;

A paid holiday for every worker who becomes an American citizen;

Advance notice and training for workers whose jobs will be affected by new technology; and

Cutting-edge sexual harassment protections for workers.
The technology provisions of these contracts are especially noteworthy, as workers won the right to be at the bargaining table to discuss things like automated check-ins or robotic bellhops, instead of management deploying them without workers' input.
"We want to have a handle on our future. This is an act of self-determination," said Jean Te'o-Gibney, UNITE HERE Local 5 member and Royal Hawaiian front desk worker.