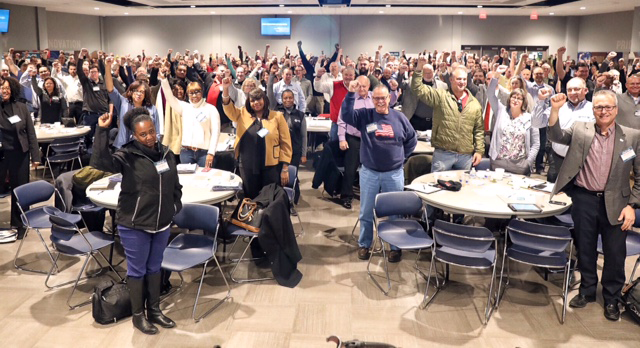 Every week, we bring you a roundup of the top news and commentary about issues and events important to working families. Here's this week's Working People Weekly List.
AFL-CIO President Trumka Tells Unions It's Time To Go on Offense: "All that came just after Trumka told the UAW 'It's time to drop our shield, pick up our sword and go on offense for a while,' to campaign for protecting pensions, Medicare, Medicaid, Social Security, to rebuild infrastructure and to 'protect our water from becoming poisoned like it was in Flint, Mich.'"
Is Trump Joking About 'Strengthening the Federal Workforce'?: "At an AFGE rally Tuesday outside the AFL-CIO headquarters, just across Lafayette Square from the White House, Sen. Bernie Sanders (I-Vt.) warmed the crowd by saying, 'You are here today not only on behalf of hundreds of thousands of federal workers who want decent pay and decent working conditions, but you are here today on behalf of 300 million Americans who understand that what this country is about is providing quality care for veterans, to the elderly, to the children, to the poor and to the sick. That's what you do. Thank you very much for doing it.'"
German Union's Big Win Shows U.S. Labor the Path Forward: "Last week the German metalworkers' union, IG Metall, arguably one of the world's most powerful unions, showed that unions have the power to shape their future workplaces.  IG Metall negotiated a precedent-setting collective-bargaining agreement that privileges working conditions over wages. It won its key demand that workers have the right to reduce their working week from 35 to 28 hours for a period of up to two years in order to care for family members."
Labor Chiefs Make Their Pitch to CEOs Studying Connecticut's Competitiveness: "'Simply put, union workers empowered by the freedom to negotiate with their employers do better on every single economic benchmark,' said Lori Pelletier, president of the state AFL-CIO."
Empowering Working People in the West: AFL-CIO Holds Third Regional Meeting of 2018: "AFL-CIO Executive Vice President Tefere Gebre welcomed nearly 400 labor leaders and activists to his home state of California for the AFL-CIO Western District meeting this week. Gebre emphasized the importance of the actions attendees are taking to empower working people in the West, saying, 'Our movement is at its best when we work from the grassroots up, not from D.C. down.'"
Trump Administration Should Rescind Proposal That Allows Bosses to Pocket Working People's Tips: "As we previously reported, President Donald Trump's Labor Secretary Alexander Acosta announced a new proposed regulation to allow restaurant owners to pocket the tips of millions of tipped workers. This would result in an estimated $5.8 billion in lost wages for workers each year―wages that they rightfully earned."
Tribal Labor Sovereignty Act Would Strip Working People of Freedoms: "Congress should protect worker freedom and uphold the sovereignty of Native American tribes, not pit the two against each other. Working people must have a legally enforceable right to form unions and negotiate together with the tribal enterprises that employ them. It's fair, it's democratic and it's one important step toward an economy that works for all working people."
SAG-AFTRA Releases Sexual Harassment Code of Conduct: "SAG-AFTRA recently released a code of conduct on sexual harassment as part of a broader program to protect its members, confront harassment and advance equity in the workplace."
We Don't Play 'Chicken' with Safety: Worker Wins: "Our latest roundup of worker wins begins with poultry workers coming together to preserve safe line speeds and includes numerous examples of working people organizing, bargaining and mobilizing for a better life."
Taking the Wheel: A New Generation Is Driving the Future of the Labor Movement: "Building on the achievements of the past, newly elected union leaders and young workers are spreading optimism across the country. Inspired by the history and mission of the labor movement, a new generation of workers and activists are assuming leadership roles as the ranks of young union workers continue to grow."
Unions Are Fighting for Families by Supporting Women and Rejecting the Status Quo: "Women in the workplace have made major strides. Women currently make up 48% of the workforce and are the sole or primary breadwinner for 40% of families in the United States. Yet most family responsibilities still rest on women's shoulders and, too often, women put in a full day's work only to come home and clock in for a second shift."
6 Activist Women You Need to Know About for Black History Month: "As we celebrate Black History Month, we thought we'd take a look back at some of the women who have made history in the realm of fighting for the rights of working people. The battles they fought at the intersection of the rights of African Americans, women and working people should have made these women household names. Women continue to be at the forefront of battles for the rights of African Americans today, building on the work of these women and many others. Here is an introduction to a group of amazing women who did some amazing things."
Shuler: 'What Unites Us Is Work and the Desire for a Better Life': "'Our movement is made up of working people of all parties and ideologies,' AFL-CIO Secretary-Treasurer Liz Shuler told a crowd of more than 300 labor leaders and activists gathered at the AFL-CIO Northeast District Meeting in Silver Spring, Md. 'What unites us is work and the desire for a better life. Improving the lives of union members and all working people must be our guiding light in politics.'"
Working People Stand Together Against Sexual Harassment: "The AFL-CIO brought allies and union leaders together yesterday with the aim of ending sexual harassment in the workplace. When working people join together in union, we can listen to each other, mobilize our co-workers, speak with a unified voice and fight together to win justice in the workplace."
A Wave of Worker Activism: In the States Roundup: "It's time once again to take a look at the ways working people are making progress in the states. Click on any of the links to follow the state federations and central labor councils on Twitter."