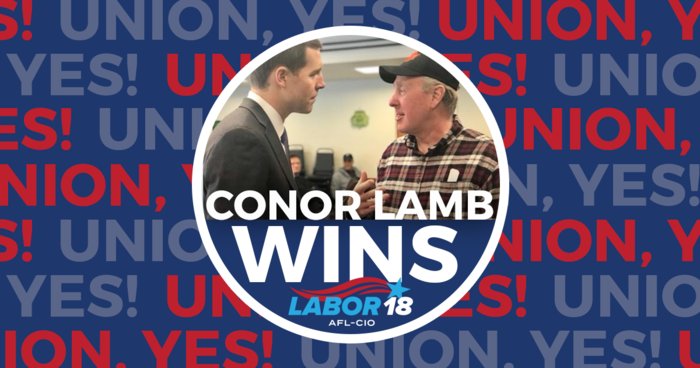 Every week, we bring you a roundup of the top news and commentary about issues and events important to working families. Here's this week's Working People Weekly List.
Victory in Pennsylvania Shows Path to Power Is Through the Labor Movement: "Democrat Conor Lamb won a close special election for Congress in Pennsylvania on Tuesday, a massive turnaround in a district that then-presidential candidate Donald Trump won in 2016 by 20%. Rep.-elect Lamb embraced working people and stood up for the issues that are important to us, and we helped propel him to victory."
Local Union Leaders in the Midwest Strategize to Win in 2018 and Beyond: "'We are the only ones who can deliver the massive economic and social change working people are hungry for,' said AFL-CIO President Richard Trumka (UMWA) to more than 300 union leaders gathered in Chicago this week. Local union leaders from state federations, labor councils and affiliate unions in Illinois, Indiana, Iowa, Kansas, Minnesota, Missouri, Nebraska, North Dakota and South Dakota joined together for the AFL-CIO Midwest District meeting to spend the day building a strategy to empower working people for victories in 2018 and beyond."
What Are Tariffs, Anyway?: "The word 'tariff' is popping up in the news a lot lately. Check out this short video that helps you understand what tariffs are and what impact they have on working people."
Inslee Signs Law 'Banning the Box' in Washington State: "Washington state Gov. Jay Inslee (D) on Tuesday signed into law the Fair Chance Act (H.B. 1298), sponsored by state Rep. Lillian Ortiz-Self (D), extending 'ban the box' job-seeker protections to cover the state's public and private employers."
Study Shows Quality New Member Orientation Programs Lead to Greater Commitment and Participation: "The strength of any union depends on the degree to which its members support the union and show that support by getting involved in union activities. Convincing members to support the union, and participate in its work, is one of the central challenges that every local union leader and activist faces. New research, released by the Labor School at Penn State University and Jobs With Justice Education Fund, provides strong evidence that leaders and activists can strengthen support for the union among new members and increase the degree to which they get involved in the union, through effective new member orientation (NMO) programs."
Make Your St. Patrick's Day Union-Made in America: "Many people will celebrate St. Patrick's Day by going green and grabbing a frosty brew, and Labor 411 has more than a few great options. Its union-made beer list has topped 250 choices, and if you're putting a meal together, it's got some delicious savory accompaniments."
Legislation from DeLauro and Clark Would Strengthen Protections for Tipped Workers: "As we reported in January, President Donald Trump's Department of Labor is proposing a rule change that would mean restaurant servers and bartenders could lose a large portion of their earnings. The rule would overturn one put in place by the Barack Obama administration, which prevents workers in tipped industries from having their tips taken by their employers. Under the new rule, business owners could pay their waitstaff and bartenders as little as $7.25 per hour and keep all tips above that amount without having to tell customers what happened."
Enforcing Trade Rules Is Not a 'Trade War': "The recent tariffs on steel and aluminum have been characterized as trade war. This is weird because countries often enforce trade rules with targeted tariffs and sanctions, and markets adjust. What's the real issue?"