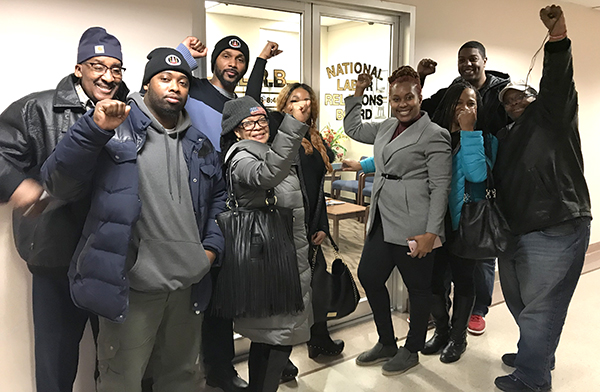 Our latest roundup of worker wins begins with a group of production assistants voting unanimously for a voice on the job and includes numerous examples of working people organizing, bargaining and mobilizing for a better life.
New York Parking Production Assistants Unanimously Vote to Join CWA: Nearly 600 parking production assistants who secure parking in the New York City area for film and television productions voted unanimously to be represented by the Communications Workers of America (CWA). The PPAs usually arrive 12–24 hours prior to production and work to secure parking spaces for production vehicles and equipment, usually working long hours alone, overnight, in conditions that are potentially dangerous. "This vote was about dignity, about humanity," said Lanere Rollins, one of the PPAs who voted to join CWA. "Film and TV productions couldn't happen without us, but PPAs have been on the bottom rung of the entertainment industry for a long time. Not one PPA in the city voted 'no' for the union, because we're stepping up to demand the respect and fair treatment that we deserve."
Another Victory for CWA at AT&T: More than 12,000 AT&T wireless workers represented by CWA in nine southeastern states and the Virgin Islands won a tentative contract that provides increased wages, improved job security, and rollbacks of offshoring and outsourcing. "I am proud of our bargaining committee and the CWA members from across the country who supported their efforts with rallies and picketing events," said Richard Honeycutt, vice president of CWA District 3. "We are continuing to set new standards in the wireless industry and we are demonstrating that the best way for working people to achieve better pay and fair treatment on the job is by joining together in a union." The agreement comes on the heels of a similar agreement, which was ratified last month by AT&T wireless workers in 36 additional states and Washington, D.C.
Majority of Mic Editorial Staff Vote to Join The NewsGuild of New York/CWA: The overwhelming majority of the editorial staff at digital news outlet Mic voted to be represented by The NewsGuild of New York/CWA Local 31003. The employees are now requesting that management voluntarily recognize their union. "I am so proud that the overwhelming majority of Mic reporters, editors, correspondents, social media editors, producers and copy editors have come together as a collective voice to improve Mic's workplace," said Kelsey Sutton, Mic political reporter.
Food Service Workers at Airbnb Join UAW: Nearly 150 Bon Appétit Management Co. employees working at Airbnb ratified their first union contract with UAW. The agreement covers workers in San Francisco, California, and Portland, Oregon, who work in food service for Airbnb. "The contract raises the bar for working people up and down the West Coast," said Gary Jones, the Western Regional Director for the UAW. "We believe the dishwashers, servers and chefs working for Bon Appétit and serving Airbnb employees are now among the highest paid food service workers in California. This contract includes first-class language that protects workers' rights and ensures excellent health benefits."
Kaiser Permanente Nurses in California Win Tentative Agreement: Registered nurses and nurse practitioners at 21 Kaiser Permanente medical centers and offices in Northern and Central California won a tentative agreement on a five-year contract that protects existing standards and improves protections for patients. The nurses, who are represented by National Nurses United (NNU), will begin voting on ratification of the contract on March 26. 
Alaska Airlines' Flight Attendants Reach Agreement on Joint Collective Bargaining Agreement: Flight attendants at Alaska Airlines agreed to a joint collective bargaining agreement that covers more than 5,400 working people. The agreement improves upon the previous contract and includes pay increases. "We worked hard to achieve improvements for the Alaska Airlines Flight Attendants while simultaneously balancing the need to quickly address the disparity for the former Virgin America Flight Attendants working under their current pay and work rules. The JCBA accomplishes those goals and provides for a smooth path to combine the two Flight Attendant groups," said Jeffrey Peterson, Association of Flight Attendants-CWA (AFA-CWA) president at Alaska Airlines.
Piedmont Passenger Service Agents Win Major Improvements in Tentative New Contract: More than a year of bargaining and mobilization by Piedmont Airlines' passenger service agents has resulted in a tentative new contract that includes major raises, improved benefits and other gains. "Courageous passenger service agents have been standing up for family-sustaining jobs at American Airlines, and it's because of their determination and commitment to winning a fair contract that thousands of hardworking agents at Piedmont will see big improvements in pay and benefits after this long and tough fight," said CWA President Chris Shelton. "Working people joining together in unions to negotiate collectively remains the best way to achieve the fair return on their work that they deserve."
Seattle NPR Staff Vote to Join SAG-AFTRA: Staff at KUOW-FM 94.9 overwhelmingly voted to be represented by SAG-AFTRA. The bargaining unit will cover public media professionals who create content for the NPR- and University of Washington-affiliated station. Next, the unit will begin negotiations toward their first contract.
Frontier Communications Employees Prove Even Home-Based Workers Can Organize: More than 160 home-based customer service representatives in Texas who work for Frontier Communications won a mail ballot election to be represented by CWA. The organizing committee set up a network to share information on a daily basis, using both traditional organizing methods, as well as text and social media.
Fire Fighters Win Safety Improvements: In response to dwindling resources and dangerous work conditions, firefighters across the country are stepping up to win improvements on the job. In Portsmouth, Virginia, Fire Fighters (IAFF) Local 539 members helped elect a city council that increased resources. In Ohio, IAFF Local 334 members fought to establish a "cancer presumption law" that assumes that firefighters who are diagnosed with cancer contracted the disease on the job and are therefore eligible for workers' compensation and pension benefits. And in Henry County, Georgia, members of IAFF Local 4052 persuaded the Board of Commissioners to accept a SAFER Grant that improves safety for firefighters and local residents.