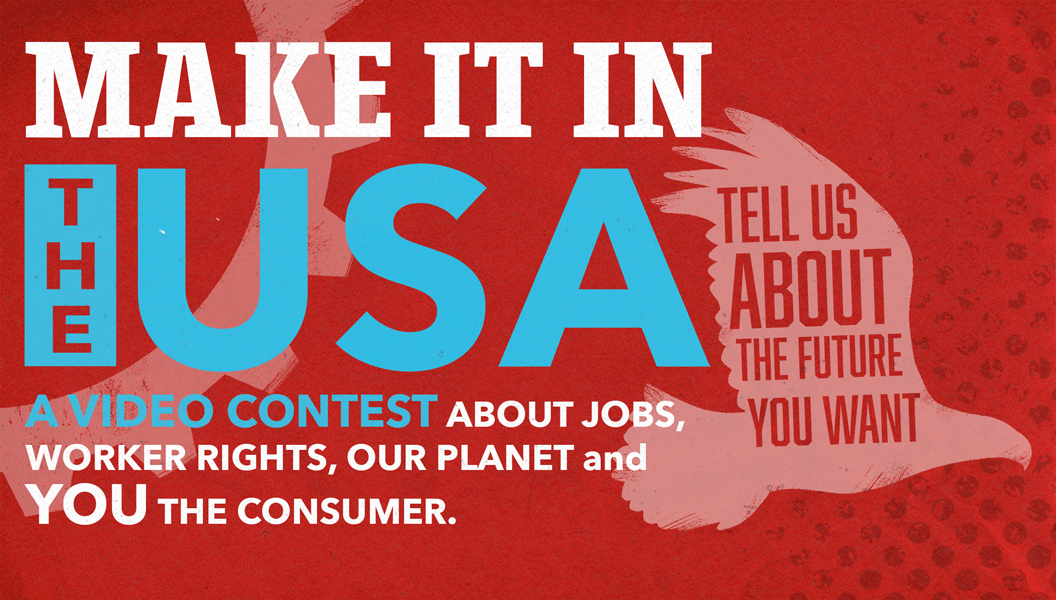 Every week, we bring you a roundup of the top news and commentary about issues and events important to working families. Here's this week's Working People Weekly List.
There's No Reason Not to Enter the BuildBuyUSA Video Contest: "Did you know that BuildBuyUSA is sponsoring a 'Make It in the USA' video contest? The competition offers four chances for you to win $5,000 by creating a short video about using your individual buying power to reward pro-union employers for recognizing working people's right to come together in union."
Southern Labor Leaders Unite Around a Common Strategy to Build Worker Power: "'Collective action is alive and well here in the South,' said AFL-CIO Secretary-Treasurer Liz Shuler to more than 300 labor leaders gathered in New Orleans this week. Southern union leaders from Alabama, Arkansas, Florida, Georgia, Kentucky, Louisiana, Mississippi, North Carolina, Oklahoma, South Carolina, Tennessee and Virginia joined together to unite around a common strategy to build worker power in their states."
Texas AFL-CIO Takes Next Step to Expand Union Participation in Citizenship Drives: "In January, delegates to the Texas AFL-CIO COPE Convention unanimously approved a far-reaching resolution calling for the state federation and affiliates to conduct citizenship drives across the state, with the long-term intent of registering new voters and changing the political environment."
11 Things You Need to Know on Equal Pay Day: "Equal Pay Day calls attention to the persistent moral and economic injustice working women face. For a woman to earn as much as a man, she has to work a full year, plus more than a hundred extra days, all the way to April 10. The problem is even worse for women of color, LGBTQ women and part-time workers."
No Bargaining, No Justice: What Working People Are Doing This Week: "Welcome to our regular feature, a look at what the various AFL-CIO unions and other working family organizations are doing across the country and beyond. The labor movement is big and active—here's a look at the broad range of activities we're engaged in this week."
Economy Gains 103,000 Jobs in March; Unemployment Unchanged at 4.1%: "The U.S. economy gained 103,000 jobs in March, and unemployment was unchanged at 4.1%, according to figures released this morning by the U.S. Bureau of Labor Statistics."
At State Labor Convention, Unions Confront Uncertain Future by Embracing Diversity, Technology: "National AFL-CIO President Richard Trumka, a Greene County native who worked in coal mines before rising through the labor ranks, attended to swear in new delegates and take part in a panel discussion on automation's effect on jobs. Mr. Trumka said unions on a local level could bargain over the effects of technology, requiring companies to provide training to obtain new skills or wage insurance packages to find other careers. 'We're not shying away from the advances of automation,' he said. 'But we are using our voice to make sure working people are not left behind.'"
Trump Weighs Rejoining Trans-Pacific Partnership Amid Trade Dispute with China: "'TPP was killed because it failed America's workers and it should remain dead,' Richard Trumka, president of the AFL-CIO, wrote on Twitter. 'There is no conceivable way to revive it without totally betraying working people.'"
Equal Pay Day: How Does Your State Stack Up on Pay Equity for Women?: "Equal Pay Day arrives Tuesday, marking the day on the calendar when the average woman's earnings finally catch up to what a male peer earned in 2017. It took three more months and 10 days. The notion of bringing home 80 cents for every dollar pocketed by a man on a national basis is unsettling enough. But it's even more startling when those lost wages are added up."
Teachers Union Threatens to Cut Ties with Wells Fargo Over NRA Support: "AFT President Randi Weingarten has been in talks with Wells Fargo CEO Tim Sloan about the partnerships, according to the release. The group praised other companies, including Dick's Sporting Goods and REI, that cut ties with the NRA or changed their policies on gun sales in the wake of the mass shooting at a Florida high school in February. 'We're issuing Wells Fargo an ultimatum—they can have a mortgage market that includes America's teachers, or they can continue to do business with the NRA and gun manufacturers,' Weingarten said in the statement. 'They can't do both.'"
Want to Carry on Martin Luther King Jr.'s Work? Join a Union: "Fifty years ago this week, Martin Luther King Jr. went to Memphis, Tennessee, to march with the city's striking black sanitation workers. Wages were bad, and conditions were so unsafe that workers were seriously injured or even killed while using the trash compactors of their trucks. The city of Memphis, their employer, refused to do better; city officials refused to act to improve their wages or safety. So they took matters into their own hands and went on strike, demanding basic dignity and civil rights on the job."