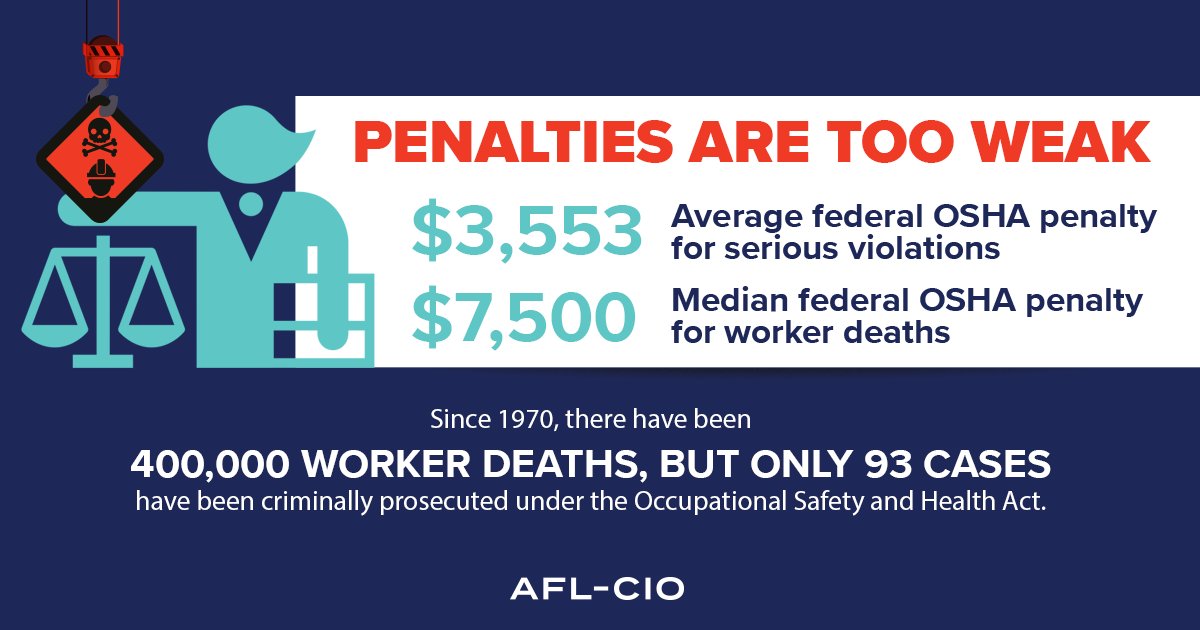 Every week, we bring you a roundup of the top news and commentary about issues and events important to working families. Here's this week's Working People Weekly List.
15 Things You Need to Know from the 2018 Death on the Job Report: "For the 27th year in a row, the AFL-CIO has produced Death on the Job: The Toll of Neglect. The report gathers evidence on the state of safety and health protections for America's workers. Passed in 1970, the Occupational Safety and Health Act has saved the lives of more than 559,000 working people. President Barack Obama had a strong record of improving working conditions by strengthening enforcement, issuing key safety and health standards, and improving anti-retaliation and other protections for workers. Donald Trump, on the other hand, has moved aggressively on his deregulatory agenda, repealing and delaying job safety and other rules, and proposing deep cuts to the budget and the elimination of worker safety and health training programs."
'They Have Forgotten the Lessons of Rana Plaza': "Following the Rana Plaza collapse in which 1,134 garment workers were killed and thousands more injured in Bangladesh, the horror of the incident spurred international action and resulted in significant safety improvements in many of the country's 3,000 garment factories."
Left with the Bill: "While President Donald Trump continues to tout his massive tax giveaway to corporations, working people aren't buying it. Gallup found that a majority of Americans disapprove of the law, and it's easy to understand why: We know we're being left with a bill for $1.5 trillion."
New Jersey: Labor Makes History with Signing of Equal Pay Bill: "Today, a historic milestone was reached in the fight for women's equality and universal workplace justice as Gov. Phil Murphy (D-N.J.) signed the Diane B. Allen Equal Pay Act into law. This legislative effort, which was spearheaded by organized labor in New Jersey, represents years of hard work, testimony, meetings, campaigning, outreach and coordination with stakeholders all around the state."
DC LaborFest: We're in the Same Boat: "The fifth annual DC LaborFest—anchored by the 18th DC Labor FilmFest—runs May 1-31 in Washington, D.C. Check out the complete festival schedule, including event descriptions, film trailers and links to RSVP or buy tickets. The essay below, by Working America's Karen Nussbaum, is featured in the LaborFest's 2018 program guide."
Big Week for Workers as More Than 10,000 Working People Join Together in Union in One Week: "This past week alone, more than 10,000 working people chose to join together in union for the freedom to negotiate a fair return on their hard work. From flight attendants to graduate students, each day more working people are gaining the power to change an economy rigged against us."
Celebrate Working People This Earth Day: "Earth Day is an annual event that celebrates our planet's natural beauty and calls for the protection of our natural treasures and mitigation of the damage human activity can inflict on our planet. Across the country, working people are a key part of those efforts. Here are some key examples of how working people are making our world a cleaner, safer place every day."