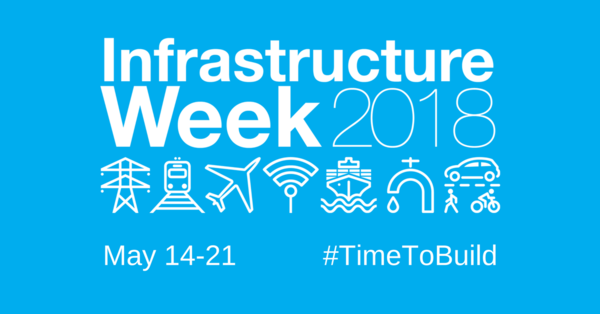 Every week, we bring you a roundup of the top news and commentary about issues and events important to working families. Here's this week's Working People Weekly List.
Young Workers on the Future of Work: Charleeka Thompson: "Earlier this month, the AFL-CIO conducted a discussion on the future of work. Among the panelists that day were a group of young workers. Let's have a bit more of an in-depth discussion in the coming weeks with those young workers. First up is United Steelworkers (USW) member Charleeka Thompson."
The Freedom to Join: "The U.S. Supreme Court will make a decision in the coming weeks whether or not to undermine the freedom of millions of teachers, nurses and other public workers to have strong unions. Today, the AFL-CIO has launched a new website, FreedomToJoin.org, that provides critical information about the Janus v. AFSCME case, counters misinformation, explains the value of union membership and draws attention to the wave of collective action in America."
Time to Build: In the States Roundup: "It's time once again to take a look at the ways working people are making progress in the states. Click on any of the links to follow the state federations and central labor councils on Twitter."
Infrastructure Week Highlights the Need to Invest in the U.S.: "This week is Infrastructure Week, an annual event where an increasingly powerful coalition led by local, state and federal leaders, as well as both businesses and labor unions, demand massive and necessary investments to build America. This year's Infrastructure Week comes at a time when 80% of voters say investing in America's infrastructure is a top priority. America's labor movement says the time to build is now."
The New Tax Law Will Make Outsourcing Worse: "We have already documented the many ways the Republican tax bill is bad for working people. In short, it's a massive giveaway to big corporations and the wealthy that throws away trillions of dollars we need to invest in America and create good jobs for working people. This week, the Economic Policy Institute (EPI) organized an event to take a deeper look at how the new law will preserve and create incentives for corporations to move U.S. jobs overseas and shift corporate profits to tax havens abroad."
New Survey Shows Sexual Harassment a Pervasive Problem for Flight Attendants: "A new survey from the Association of Flight Attendants-CWA (AFA-CWA) reveals that more than two-thirds of flight attendants in the United States have experienced sexual harassment on the job."
Union Asks to Investigate Relationship Between the Government and Bondholders: "The U.S. labor union center AFL-CIO today asked the Securities and Exchange Commission (SEC) to investigate whether there was any privileged information exchange between the office of Governor Ricardo Rosselló and bondholders, prior to the presentation of the governor's fiscal plan, the past 12 of February."
AFL-CIO Launches 'Take Back Ohio' Campaign: "Union members, leaders and activists held a rally at the Local 1112 UAW union hall last night to kick-off organized labor's efforts to elect 'worker-friendly candidates' in the 2018 elections. 'This rally represents the start of something big here in the Mahoning Valley,' said Mahoning-Trumbull AFL-CIO President Bill Padisak. 'Our membership is energized and ready to engage in the campaign to re-elect Sherrod Brown, make Richard Cordray our next governor, and elect candidates up and down the ticket that support working people.'"
What Makes Retail Workers Uniquely Vulnerable to Sexual Harassment: "Retail has a sexual harassment problem, according to a recent analysis by the Center for American Progress. While media attention has largely focused on the prevalence of harassment in politics and media, the study demonstrates its pervasiveness across all industries, but particularly in ones with a high number of service-sector workers, says the authors of the analysis. From this data, it's clear that sexual harassment is not just a problem in for politicians and actors."
Study: Despite Modest Income, Teachers Pay for Class Needs: "Every year Anna Graven dips into her modest teacher salary and spends her own money to buy bulletin boards, pencils, paper, highlighters and tissues for her high school students in Oklahoma City. So do almost all of her colleagues across the nation. Nearly all public school teachers report digging into their pockets to pay for school supplies, spending nearly $480 a year, far more than the federal $250 tax deduction available to teachers, according to a study by the National Center of Education Statistics released Tuesday."
CEO Pay and Performance Often Don't Match Up: "The best-paid CEOs don't necessarily run the best-performing companies. Corporate boards have tried for years to tie chief executive compensation to the results they deliver. The better the company and its shareholders do, the more the top boss should be paid, or so the pay-for-performance mantra goes. In reality, CEO pay and performance often don't match up, and 2017 was no exception."
Rebuilding Schools, Bridges—and Lives: "When you see that the ASCE's infrastructure report card gives the nation overall a D+, don't hang your head. The U.S. can get that grade up. But it won't happen with a plan like President Trump's, which would cut Washington's contribution to infrastructure projects from 80% to 20%, quadrupling the burden on cash-strapped cities and states. The true way forward is to do the opposite: Put the federal government back in the business of building America's future."