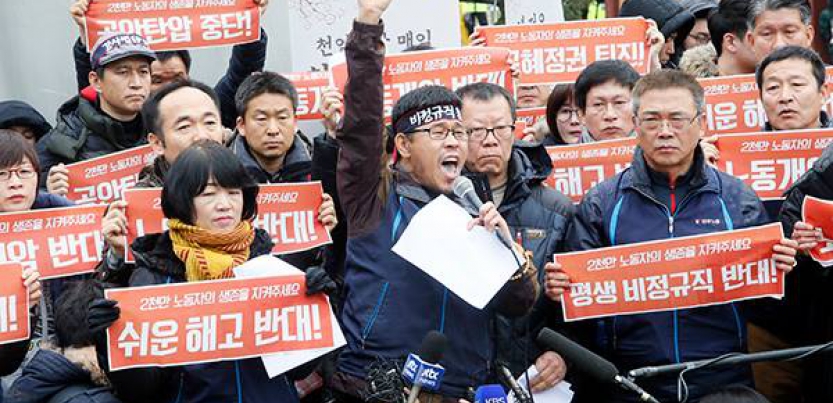 Every week, we bring you a roundup of the top news and commentary about issues and events important to working families. Here's this week's Working People Weekly List.
Wrongfully Detained Korean Union Leader Han Sang-gyun Wins Release: "In December 2015, President Han Sang-gyun of the Korean Confederation of Trade Unions was imprisoned for defending trade union rights and fighting back against corporate corruption and the repressive government of former President Park Geun-hye of South Korea. This week, Han finally won his freedom."
We Must Stop the Worldwide Problem of Gender-Based Violence in the Workplace: "Sexual harassment and gender-based violence are not just problems we see in the United States. In fact, gender-based violence is one of the most common human rights violations in the world. While it can affect any worker, women are most likely the targets because of systemic, unequal power relations."
We All Do Better with an Immigration System that Works for All Working People: "Yesterday, the AFL-CIO hosted the 'We All Do Better' conference, which focused on an important discussion on advancing an immigration agenda for all working people. Attacks against working people come in many forms, but we must stand against the idea that some of us are more worthy of freedom and worker protections than others."
Executive Paywatch 2018: The Gap Between CEO and Worker Compensation Continues to Grow: "CEO pay for major companies in the United States rose nearly 6% in the past year, as income inequality and the outsourcing of good-paying American jobs have increased. According to the new AFL-CIO Executive Paywatch, the average CEO of an S&P 500 Index company made $13.94 million in 2017—361 times more money than the average U.S. rank-and-file worker. The Executive Paywatch website, the most comprehensive searchable online database tracking CEO pay, showed that in 2017, the average production and nonsupervisory worker earned about $38,613 per year. When adjusted for inflation, the average wage has remained stagnant for more than 50 years."
Apprenticeship Accelerator Forum Highlights Programs to Attract and Train Needed Manufacturing Workforce: "The 2018 Manufacturing Apprenticeship Accelerator Forum took place in Cleveland on Thursday. The forum included presentations from a number of participating organizations, including the U.S. Department of Labor, the Ohio AFL-CIO, the Pennsylvania AFL-CIO, Chicago Women in Trades and the National Urban League, along with a number of private employers and workforce training providers."
Harley-Davidson Workers Stunned by Plant Closure After Tax Cut: "Tim Primeaux has worked at the Harley-Davidson plant in Kansas City, Missouri, for 17 years. He was sure he was going to retire from the company. That all changed when Harley-Davidson told its 800 employees in January that the plant will be closing next year. Operations will be shifted to the motorcycle manufacturer's facility in York, Pennsylvania."
Supreme Court Ruling for Janus Would Be Judicial Activism at Its Worst: "Should courts have the power to impose wage cuts, shrink the economy and require private organizations to deliver costly services for nothing? Most people would probably say no. Yet this is what could happen when the U.S. Supreme Court issues its ruling in Janus v. AFSCME Council 31, expected sometime in June. At issue in Janus—a case that originated in Illinois—are state laws that require public sector workers represented by unions to share in the cost of collective bargaining over their wages, benefits and working conditions through the payment of what are called 'fair share' fees."
At This Company, the CEO Makes 6,000 Times a Typical Worker's Pay: "'If you compare that in 1980, it was 42 times the average worker and 107 times in 1990,' said AFL-CIO Secretary-Treasurer Liz Shuler in a conference call, adding that CEO pay 'is out of whack.'"
Why Do Americans Stay When Their Town Has No Future?: "America was built on the idea of picking yourself up and striking out for more promising territory. Ohio itself was settled partly by early New Englanders who quit their rocky farms for more tillable land to the west. Some of these population shifts helped reshape the country: the 1930s migration from the Dust Bowl to California; the Great Migration of blacks to the North and West, which occurred in phases between 1910 and 1960; the Hillbilly Highway migration of Appalachian whites to the industrial Midwest in the 1940s and '50s."
New Report Highlights Massive Pay Gap Between CEOs and Typical Workers: "The AFL-CIO's annual Executive Paywatch database, released Tuesday, compiled that data and shows that in many cases, the pay for top executives is hundreds—or even thousands—of times that of the median worker at their companies. 'This year's report provides further proof of America's income inequality crisis,' AFL-CIO Secretary-Treasurer Liz Shuler said in a statement. 'Too many working people are struggling to get by, to afford the basics, to save for college, to retire with dignity while CEOs are paying themselves more and more.'"
Randi Weingarten on Janus: 'It Will Be a Bumpy Ride' for Unions: "Education Week sat down with American Federation of Teachers President Randi Weingarten recently for a conversation about the recent wave of teacher activism and how the unions are preparing for the Janus decision. This interview has been edited for length and clarity."
Supreme Court Rules That Companies Can Require Workers to Accept Individual Arbitration: "The cases involve non-unionized workers, but labor leaders said it was representative of how the court sides with business over workers. 'Five justices on the Supreme Court decided that it is acceptable for working people to have our legal rights taken away by corporations in order to keep our jobs,' AFL-CIO President Richard Trumka said."