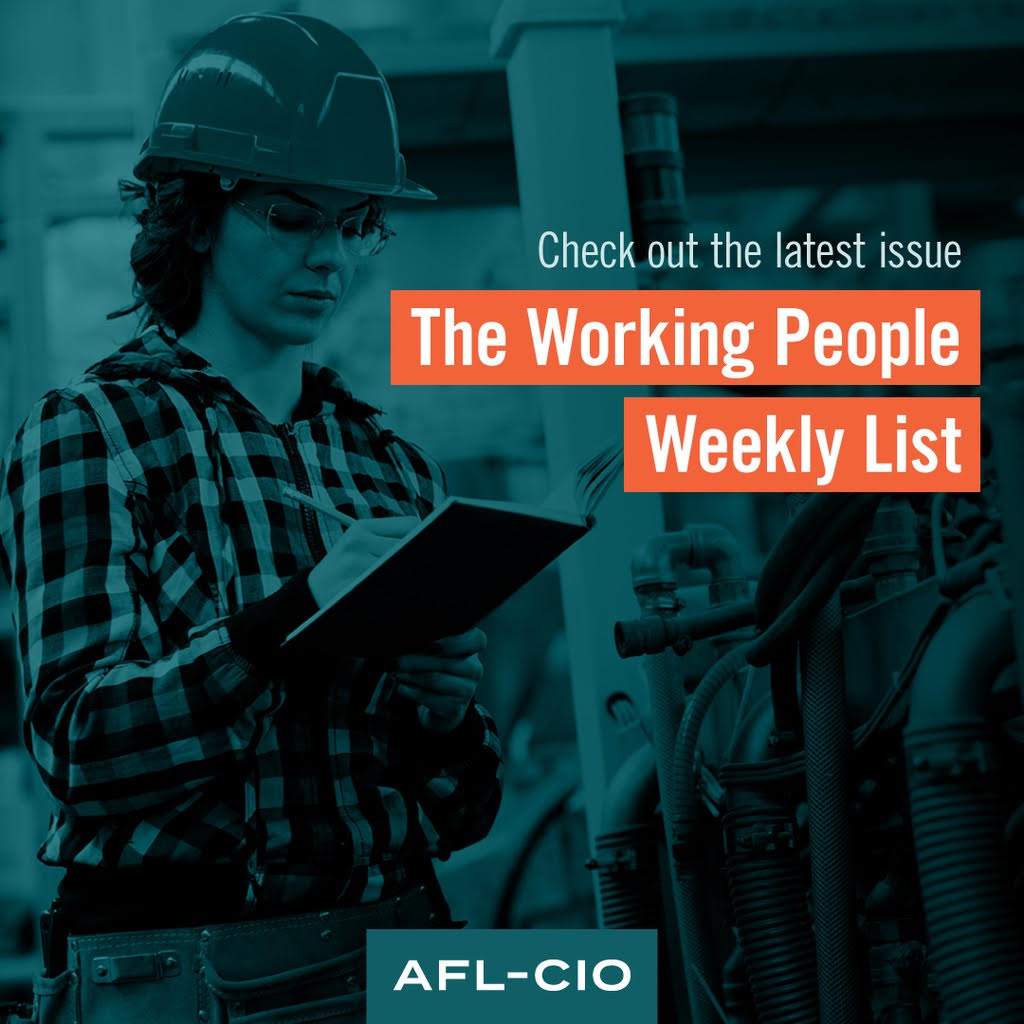 Every week, we bring you a roundup of the top news and commentary about issues and events important to working families. Here's this week's Working People Weekly List.
Trumka: True Patriotism in Missouri: "AFL‑CIO President Richard Trumka (UMWA) spoke at the Missouri AFL‑CIO's 29th Biennial Convention yesterday, rallying a packed audience of local union leaders and working Missourians in the fight against Prop. A. He recalled the charge that President Franklin D. Roosevelt delivered to Americans in the midst of the Great Depression: 'True patriotism urges us to build an even more substantial America where the good things of life may be shared by more of us.'"
18 Regional Hot Dog Toppings for Your Union-Made Cookout: "When you fire up the grill, there's a good chance your hot dog was made by a United Food and Commercial Workers (UFCW) member. Oscar Mayer, Boar's Head, Ball Park, Hebrew National and Nathan's Famous hot dogs are all made by hardworking men and women in union-represented processing facilities across America. While the hot dog might be quintessentially American, what you choose to put on your dog can say a lot about where you live."
Social Security Administration Management Launches All-Out Attack on Our Union, Employees: "In yet another example of an irresponsible, undemocratic, unprecedented attempt to wipe out labor unions from the United States, the Trump administration has ordered federal agencies across the country to begin implementing the three controversial executive orders to obstruct our work fighting discrimination, retaliation and injustices in the federal workplace."
A Dark Veil: "The Trump administration on Tuesday rescinded the Department of Labor's "persuader rule" requiring companies to disclose any consultants or lawyers contracted for anti-union persuasion efforts. The most recent in a series of anti-worker regulatory rollbacks, the decision has drawn harsh condemnation from union leaders and working people."
Stay Cool with These Ethical Summer Essentials: "Summer's officially here and it's time to tame those rays. Whether you're embracing the blaze on a summer hike, beating the heat by the pool or enjoying that good old fun in the sun somewhere else, Labor 411 has a list of essentials for all your summer adventures. And when you choose one or more items from the list below, you will be supporting ethical companies that treat their employees well and give them good pay and benefits."
Trumka on Crooked Conversations Podcast: 'Collective Action Is on the Rise': "On this week's episode of Crooked Conversations, AFL-CIO President Richard Trumka sat down in Missouri for a live recorded conversation with Let America Vote President Jason Kander. The pair discussed the importance of unions, the rise of collective action and the future of the labor movement."
I've Worked for Tips for 60 Years. D.C. Council Should Listen to the Voters Who Want to Raise My Wages: "When people ask me when I'm going retire, my answer is always the same: About 15 minutes before I'm dead. I turn 70 this year, and I've been working in D.C.—always for tips—since I was 12. My first job, at the concession stand at Arena stage in the early 60s, was one of the better ones. My bosses were kind, and I got to watch the shows that came through town. By the time I got my second job, my wages were 66 cents an hour—not exactly the stuff nest eggs are made of."
Louis Re-elected as Missouri AFL-CIO President: "The Missouri AFL-CIO has chosen Mike Louis to continue in his role as president of the organization. 'Thank you to all of my sister and brother delegates for your support,' Louis said in a statement. 'I will continue to fight as hard as I can to save Missouri from the lies of right to work and to ensure that Missouri's working-class families live in dignity. It is my honor and a privilege to continue to serve along with Jacob Hummel Secretary-Treasurer and Reggie Thomas Vice President as the President of the Missouri AFL-CIO.'"
Are Tariffs Being Used How They Are Supposed to Be?: "U.S. steel manufacturing is supposed to benefit from the administration tariffs says AFL -CIO trade specialist Celeste Drake. 'The workers who are in the steel and aluminum industry and the businesses that employ them I think are going to be the primary beneficiaries.'"
Stiglitz: Benefits of Multiple Layers of Financial Regulation So Much Higher Than Costs: "Joseph Stiglitz, a professor at Columbia University, who was the Nobel laureate in economics in 2001, spoke at a talk on Monday with Damon Silvers, the director of policy and special counsel at the AFL-CIO, part of a day-long strategy session on 'Bargaining for the Common Good in the World of Global Finance' held by the Friedrich-Ebert-Stiftung office in New York, a non-profit political German foundation."