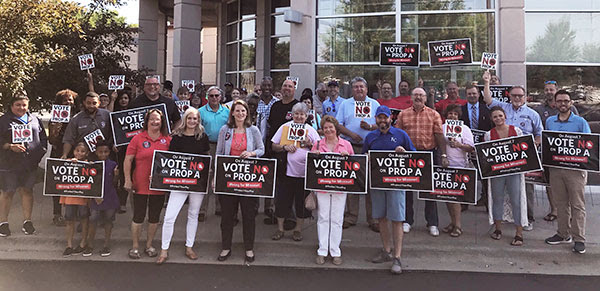 In just one week, working people in Missouri will have the opportunity to reject "right to work" at the ballot box.
Driving an all-hands-on-deck effort to defeat Prop. A, working people are tirelessly knocking on doors, making phone calls and doing everything in our power to win hearts and minds and turn out the vote.
Right to work is a direct attack on working families and our unions. So when politicians in Missouri rammed through this legislation last year, the labor movement immediately sprang into action to place a veto referendum on the ballot.
With one week left in this campaign, we're keeping up the momentum in the fight to defend workers' values and stand up to corporate greed.
The stakes couldn't be higher. In states with right to work, wages are lower, schools are worse off and workplaces are more dangerous.
Working people in Missouri are fired up about this vote and more committed than ever to defeating the out-of-state corporate interests driving this wrongheaded law.
Working people are united in the effort to protect our freedoms and rights on the job. This is a defining fight for our movement, so do your part and join with your brothers and sisters in Missouri!