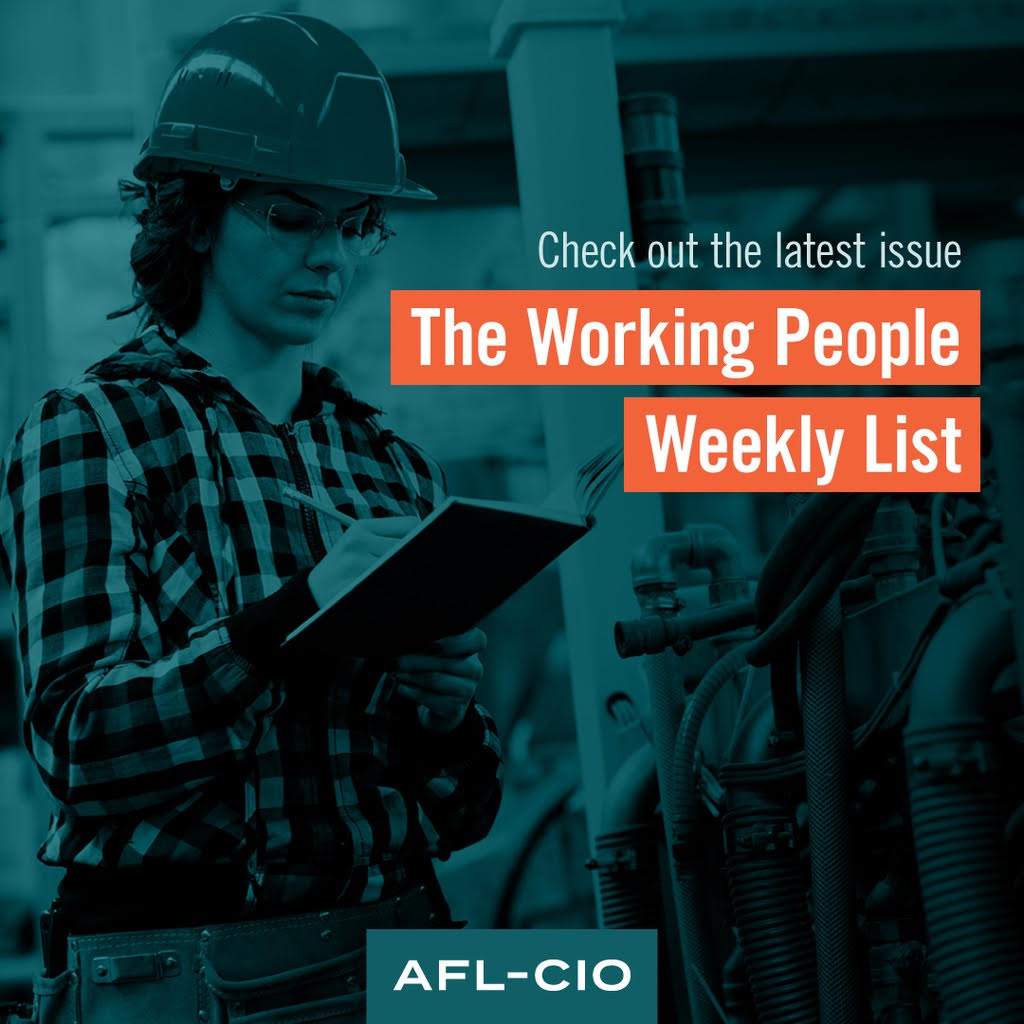 Every week, we bring you a roundup of the top news and commentary about issues and events important to working families. Here's this week's Working People Weekly List.
A Huge Win for Organized Labor in Missouri: "'The defeat of this poisonous anti-worker legislation is a victory for all workers across the country,' declared AFL-CIO President Richard Trumka as the results came in Tuesday night. 'The message sent by every single person who worked to defeat Prop. A is clear: When we see an opportunity to use our political voice to give workers a more level playing field, we will seize it with overwhelming passion and determination. Tonight is the latest act of working people changing a rigged system that for decades has been favoring corporations, the mega wealthy and the privileged few.'"
Unions Triumph at the Ballot Box: "Something is happening in America. Missouri, riding a nationwide wave of victories for working people, on Tuesday became the first state in history to overturn a so-called right-to-work law by popular vote. It was an incredible display of the labor movement's capacity to win change."
Giving 'Hope to Workers Across the Nation,' Missouri Votes to Repeal GOP Attack on Unions: "'Brothers and sisters, tonight we celebrate, but tomorrow we must get back to work,' declared Missouri AFL-CIO President Mike Louis in a speech following Tuesday's victory. 'Tomorrow we must continue to organize. Together, we made history. Together, we must continue to fight for working families.'"
Ethical Camping Essentials: "Ah, the great outdoors. The fresh air, the sounds of nature, the s'mores! That's right. When you're planning an outdoor vacation during the final weeks of summer, you'll need a bunch of supplies, both fun and practical. Whether you're protecting against the elements or putting together a decadent fireside treat, Labor 411 reminds you to shop for ethical American-made brands manufactured by companies that treat their workers fairly. Enjoy the outdoors, and together we'll camp our way to a stronger America."
Hard Work Pays Off in Missouri: In the States Roundup: "It's time once again to take a look at the ways working people are making progress in the states."
Support Locked-Out Boilermakers in Montana: "On Aug. 2, Imerys locked out members of the Boilermakers (IBB) and brought in replacements at its talc plant in Three Forks, Montana. The lockout comes after Imerys consistently has refused to back down from its anti-worker contract proposal. The proposed contract would eliminate retiree health insurance, seniority, overtime over eight hours, double-time pay for overtime and the current defined contribution 401(k) plan, and would freeze the defined pension plan."
Missouri's Working People Overwhelmingly Reject Right to Work: "Last night was historic for working people in Missouri. Wealthy corporate interests tried to use their money to rig the system in favor of the 1%. But Missourians rejected the cynical power grab by an overwhelming 2-1 majority. Something big is happening with America's working people—something that will bring change—and last night was just the latest evidence of this groundswell."