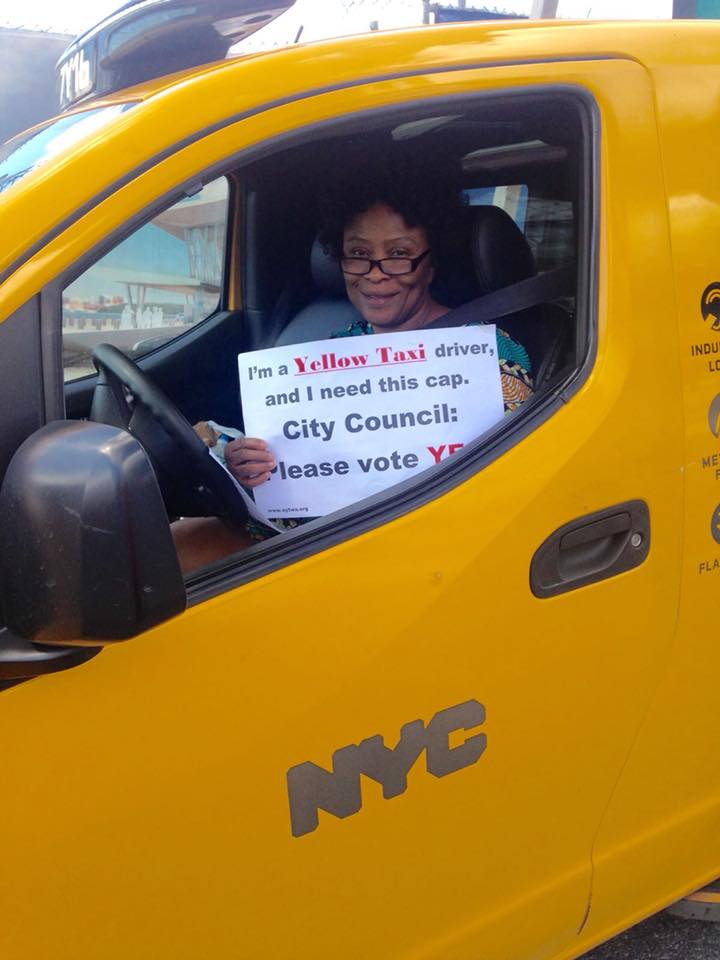 Our latest roundup of worker wins begins with New York taxi drivers fighting to save lives and includes numerous examples of working people organizing, bargaining and mobilizing for a better life.
New York Taxi Drivers Win Major Victory Regulating App-Dispatch Sector: After months of non-stop campaigning, the National Taxi Workers Alliance (NTWA) secured first-of-its-kind legislation to regulate the app-dispatch sector, which includes companies like Uber and Lyft. The over-saturation of the roads by the vehicle-for-hire industry has led to crushing poverty that is responsible for six suicides in recent months. NTWA Executive Director Bhairavi Desai said: "This victory belongs to Douglas, to Abdul, to Nicanor, to Alfredo, to Kenny, to Danilo. This victory belongs to the thousands of [NTWA] members scraping by to feed their families, who took time away from their cars, losing precious and hard fought income to be on the streets standing together and standing up for each other....And this victory belongs to New Yorkers and our allies who have stood with us to say, not one more death, not one more fallen driver crushed by poverty and despair."
San Antonio Becomes Second Texas City to Require Paid Sick Leave: Working people in Texas collected tens of thousands of signatures in support of paid sick time. The City Council honored the will of the people and supported the ordinance 9-2. Texas AFL-CIO President Rick Levy (CWA) and San Antonio AFL-CIO Council President Tom Cummins (AFT) lauded the huge win and said, "No worker should be forced to choose between going to work to pay their bills and staying home to take a sick child to the doctor or go to the doctor themselves."
SAG-AFTRA Members Ratify New Network Television Code: By an overwhelming margin SAG-AFTRA members ratified a new three-year contract with the four major broadcast television networks. SAG-AFTRA President Gabrielle Carteris said: "I am gratified by our members' vote of approval for this agreement. SAG-AFTRA members working in this area will benefit from stronger protections and meaningful increases in wages and residuals rates. Moreover, the agreement now reflects important new language limiting auditions or meetings in private hotel rooms and residences, which helps us make tangible changes in the way our industry is addressing sexual harassment."
MoMA Workers Secure Five-Year Contract: After a tough negotiating campaign, staff at the Museum of Modern Art in New York City have agreed with MoMA on a new five-year contract. The new contract provides salary increases, protects health benefits and offers new advancement opportunities for staff. Athena Christa, a member of the bargaining committee of UAW Local 2110, said: "Building the collective power of art workers through unionization strengthens our ability to set higher standards for wages, benefits and job rights, conditions which I think will lead to a more inclusive and diverse art world."
Orlando's Disney Workers Finally Get Minimum Wage Boost: During a campaign where Disney threatened workers that they would lose promised $1,000 bonuses, working people at the Walt Disney World Resort in Florida stuck together and not only won a minimum wage hike to $15 by 2021, they will get the bonuses, too. Members of UNITE HERE Local 362 have been in negotiations with Disney for a year and the company's opposition was only overcome by working people putting up a united front. Local 362 President Eric Clinton said: "Disney is a powerful company, they're a formidable foe. To stand up to your boss that's that big and that powerful is really remarkable, and it's really inspiring."
Washington Marijuana Retailer Becomes the State's First to Unionize: Have a Heart, one of the largest licensed marijuana retailers in Washington state, singed a contract with more than 130 employees at five locations, who will now be represented by the United Food and Commercial Workers (UFCW). Because of the illegal status of marijuana under federal law, efforts to provide employees with basic things like health care have been challenging. After a three-year effort, the company will now provide health care and other benefits.
NLRB Tells Terex to Reinstate Minnesota Workers: The National Labor Relations Board ruled that Terex coerced and threatened employees to prevent them from having union membership, and that the company had to reinstate 13 workers fired in 2014, pay them back wages, and recognize and bargain with Boilermakers (IBB) Local 647. Tyler Brown, executive director of IBB's Industrial Sector Operations, said: "The NLRB decision upholding Judge [David] Goldman's ruling renders justice not only for the 13 workers who were unlawfully terminated by Terex, but for all Terex employees at the Grand Rapids plant who were coerced and threatened by the company. Our hope is that Terex will abide fully by the board's decision and engage with the union in reaching a fair first contract for the assembly employees."
Wallingford Custodians Win New Contract: Three dozen custodians, represented by AFSCME Local 1303-60, in Wallingford, Connecticut, agreed on a new three-year contract that will provide them with a 5.6% wage increase over the life of the contract, which runs through June 2021.