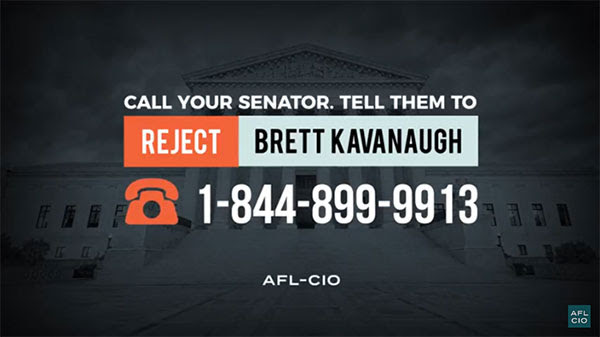 As Dr. Christine Blasey Ford shared her story with the Senate Judiciary Committee today, working women and men across the country are demanding that justice be served. Willfully disregarding Brett Kavanaugh's egregious record and alleged behavior, Senate Republicans are sprinting to place him on the highest court in the land. We're fighting back, demanding a nominee that meets the standard we should expect from the Supreme Court.
Brett Kavanaugh poses a fundamental threat to the integrity of the Supreme Court, and the Senate has a responsibility to reject his nomination.
Kavanaugh was hand-picked to advance the demands of a few corporate interests. We are refusing to allow those elites to further infiltrate and undermine our public institutions.
What's more, to place our rights and freedoms in the hands of an accused sexual predator would represent a stunning betrayal of working people.
Americans across the country are coming forward in solidarity with Dr. Ford and all survivors of sexual assault. Be a part of this fight, and make your voice heard. Call your senators at 1-844-899-9913. Tell them to believe survivors—and to reject Brett Kavanaugh.