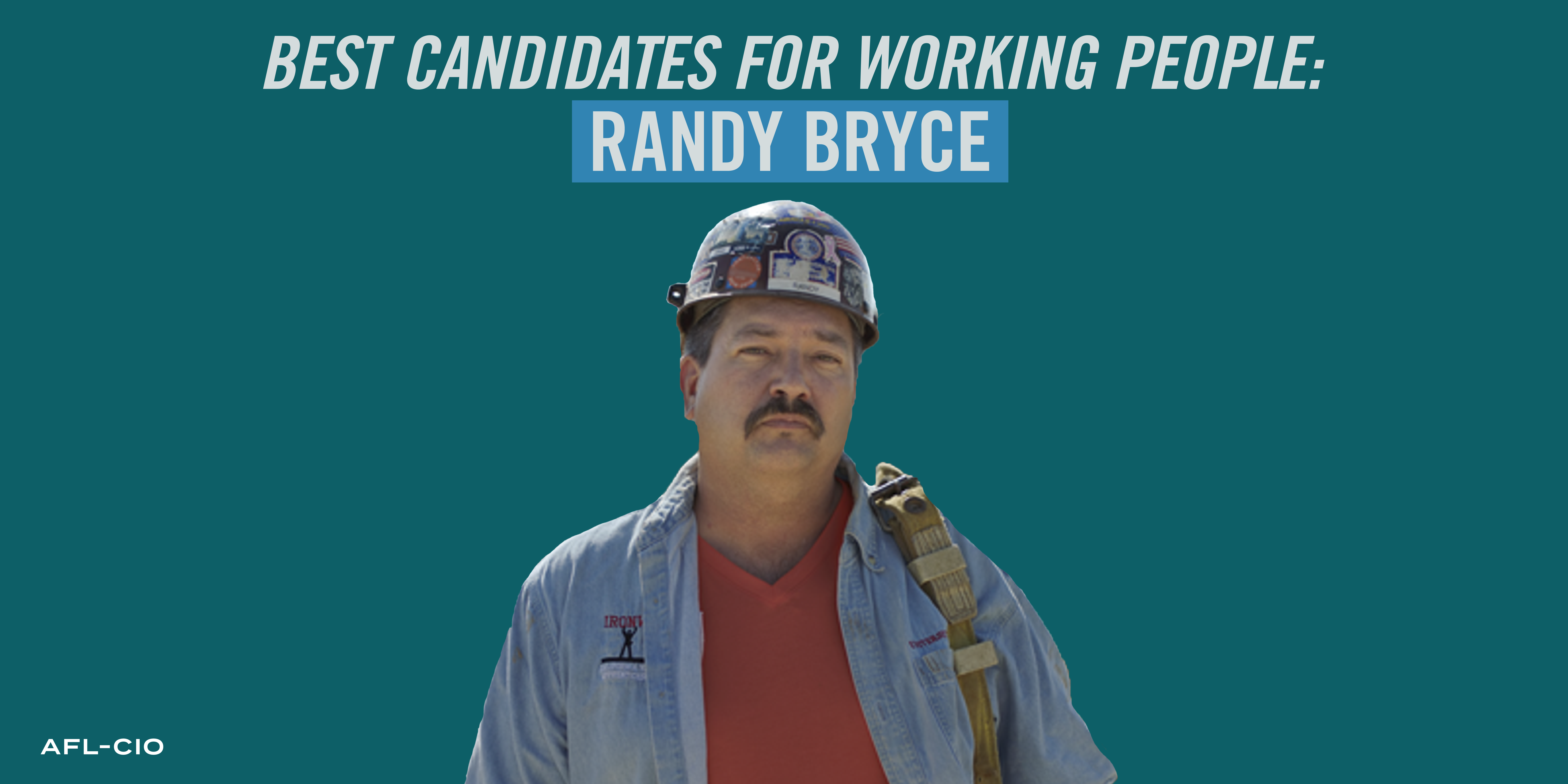 This November's elections are shaping up to be among the most consequential in recent U.S. history. Throughout the summer and fall, we are taking a look at the best candidates for working people. Today, we feature Wisconsin congressional candidate Randy "Iron Stache" Bryce.
Here are some of the key reasons why Bryce is one of the best candidates for working people in 2018:
As an active member of Ironworkers Local 8, he helped organize against Act 10, the legislation supported by Wisconsin Gov. Scott Walker that was designed to gut the unions of teachers and other public-sector workers.

He favors a responsible approach to protecting pensions so that hardworking men and women are not forced into poverty.

He wants to pass a domestic workers' bill of rights that gives those who care for our families the right to organize and join a union.

He will work to fully fund the Occupational Safety and Health Administration so that workers are safe and free on the job.

He wants to raise the minimum wage to $15 an hour.

He supports the Wage Theft Prevention and Wage Recovery Act to protect working people from unscrupulous employers.

He supports the Schedules That Work Act to provide working people with fair and reliable work schedules.

He supports a "Medicare for all" health plan.

He favors legislation that will guarantee most workers 12 weeks of paid medical or family leave.

He will fight to protect benefits for veterans that help them get education, training and low-interest loans to start businesses.

As a former Ironworker apprentice, Bryce knows programs that help working people develop skills are invaluable and he wants to expand them.

He supports investing $1 trillion in infrastructure to expand high-speed internet, improve roads, bridges and water systems and increase access to clean energy.

He favors a Wall Street financial transactions tax.

He wants to protect and expand Social Security.

He wants to fix trade deals like the North American Free Trade Agreement so they create jobs and raise wages and standards.

He favors laws to close gender- and race-based pay gaps, including allowing applicants to refuse inquiries about their salary history.

He opposes the privatization of prisons and policing.

He wants to ban the box to end discrimination against people with criminal records.

He wants to expand and protect the right to vote by restoring the Voting Rights Act, abolishing voter identification laws, expanding early voting, making Election Day a federal holiday and immediately restoring voting rights of formerly incarcerated individuals.

He wants to improve funding for public schools so that teachers have the tools they need to teach and students have the resources they need to learn.

He opposes "right to work" laws.

He supports free public universities to expand access to education.

He supports immigration reform that provides a pathway to citizenship for Dreamers.

His campaign became the first to be unionized when the staff joined the Campaign Workers Guild.
To learn more about Bryce, visit his website.