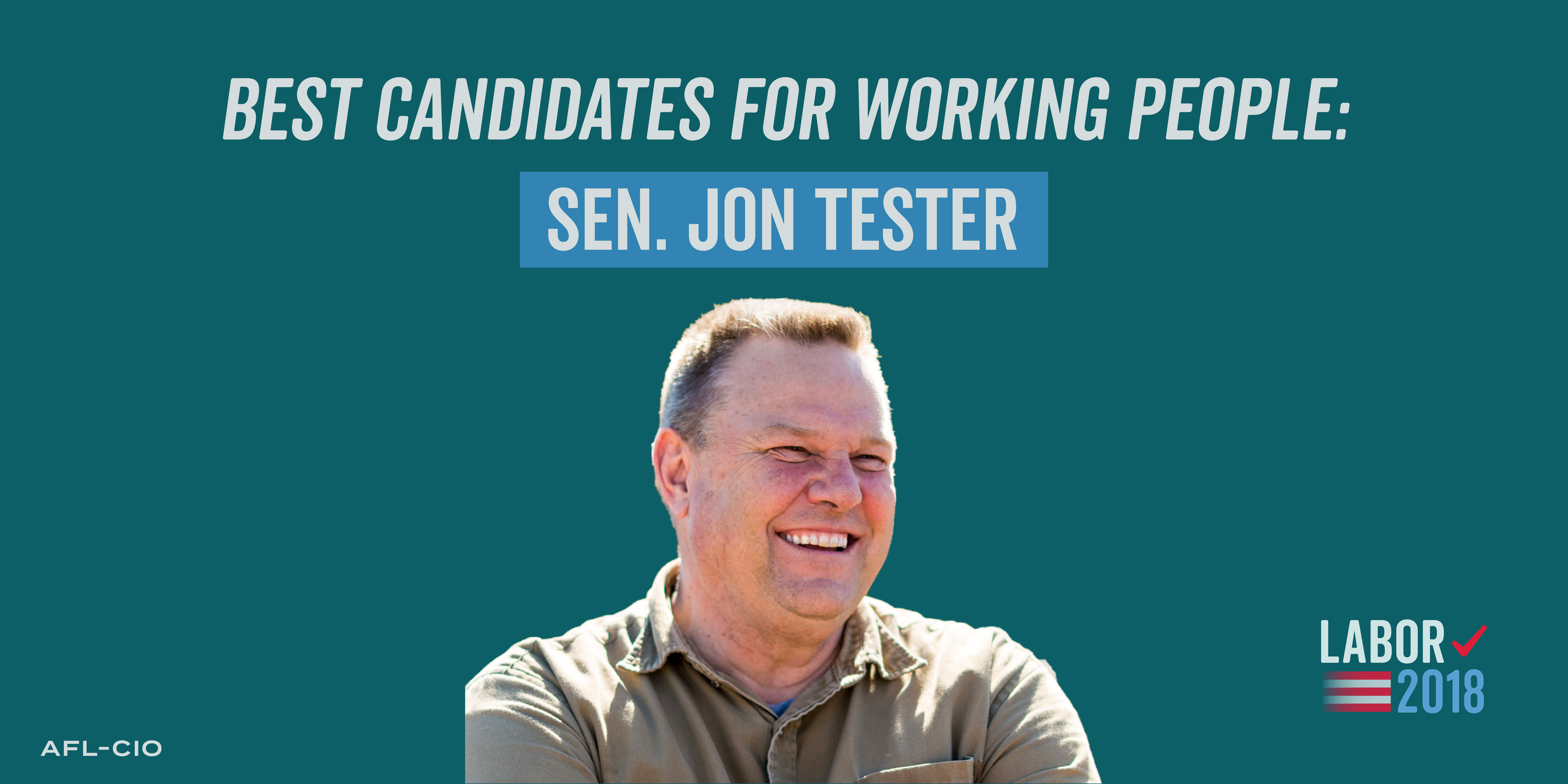 This November's elections are shaping up to be among the most consequential in recent U.S. history. Throughout the summer and fall, we are taking a look at the best candidates for working people. Today, we feature Sen. Jon Tester of Montana.
Here are some of the key reasons why Tester is one of the best candidates for working people in 2018:
Tester stood with the union workers who are locked out at the Imerys plant in Three Forks, Montana, demanding that the company end the lockout and return to the bargaining table.

He has a comprehensive plan to create high-paying jobs, rebuild Montana's infrastructure, invest in the workforce and spur innovation in the state.

Tester has voted to end tax incentives that make it easier for companies to outsource jobs.

He believes that new oil pipelines should be built to the highest standards by trained craft workers and with American steel.

Tester introduced a constitutional amendment to overturn Citizens United.

As a former teacher and school board member, he knows that access to higher education creates jobs. He favors the expansion of educational and job training opportunities for everyone, including rural communities. He also wants to help make college more affordable.

He has fought tirelessly to oppose Education Secretary Betsy DeVos' efforts to privatize public schools.

Tester hosts blue-collar jobs roundtables to encourage high school graduates to learn skilled labor trades.

He supports union apprenticeship programs and also has worked with the state's community colleges to deliver vocational training to Montanans.

Tester favors expanding access to affordable health care.

He has fought to lower the cost of prescription drugs.

Tester has defended Social Security, Medicare and Medicaid from cuts.  

He has secured critical funds for Montana's infrastructure, including roads, bridges, schools and expanded rural broadband access.

Tester has been a tireless defender of veterans.
To learn more about Tester, visit his website.