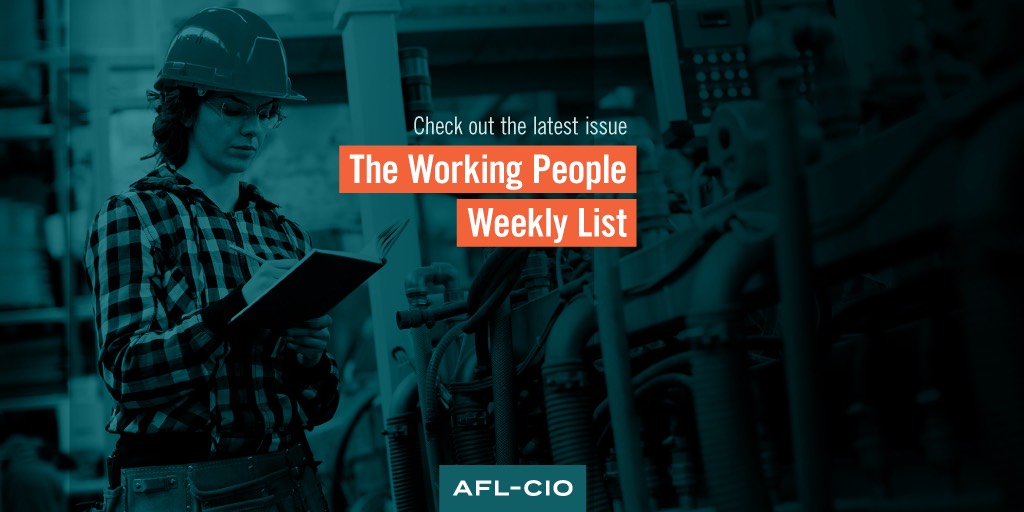 Every week, we bring you a roundup of the top news and commentary about issues and events important to working families. Here's this week's Working People Weekly List.
We're Gonna Fight for It: "The AFL-CIO launched a new 60-second TV ad today, airing on CNN, MSNBC and Fox News, highlighting the wave of collective action surging across the country and inviting all working people to join our movement. From the resounding defeat of 'right to work' in Missouri to organizing victories nationwide, we are marching forward together."
Trumka Calls for New Supreme Court Direction at Yale Law School: "Unfortunately, today those lyrics could serve as the fight song for the Supreme Court's pro-corporate, activist wing of justices who wax poetic about precedent and judicial restraint, yet regularly bend over backwards to serve the interests of the wealthy, the powerful and the privileged. There are no neutrals there."
Liz Shuler Explains the AFL-CIO's Commission on the Future of Work: "'Work is changing and we want to make sure that the Labor Movement was ready to take on the challenge and represent workers in the future' said AFL-CIO Secretary-Treasurer Liz Shuler about the commission on the future of work resolution."
What Liberal Organizers Are Seeing on the Ground in 2018: "The AFL-CIO founded Working America in 2003 to reach working- and middle-class voters who resemble its members in all but one respect: They don't belong to a union. In tactics and targets alike, the group represented a departure for the left. Working America was among the first liberal organizations to resurrect the old technique of contacting voters through door-to-door organizing, rather than using the direct-mail and television-advertising campaigns that had dominated activism after the 1970s. And it dispatched its organizers to working-class communities where few voters ever heard from liberal groups. Karen Nussbaum, the group's founding director, says that when it compared its 3 million members with the membership lists of other major progressive organizations, it found that 90 percent of its people didn't belong to any of the other groups. 'No one is talking to these folks,' she says."
Trump Has Hurt American Workers, Charges AFL-CIO President Richard Trumka: "As for workers, 'unfortunately, to date, the things that he has done to hurt workers outpace what he's done to help workers,' said Trumka, who represents more than 12.5 million people. Though unemployment is down, wages have also been down 'since the first of the year,' he said. 'Gas prices have been up since the first year. So overall, workers aren't doing as well,' Trumka told Chris Wallace on Fox News Sunday."
Richard Trumka: Working People Deserve Our Fair Share: "A year ago, I sat down for a Labor Day breakfast with reporters and told them that working people were crying out for change that would bring about a political system that lifts up our voices, an economy that treats us fairly and a society that values our labor. I also cautioned that transformational change wouldn't be handed to us from the halls of power. It would come about when we stood together in unions and demanded it."
In Labor-Friendly Seattle, Unions Push for New Territory: "AFL-CIO President Richard Trumka sees that tide turning. Seattle is no outlier, said the leader of the nation's largest union federation in a telephone interview last week. 'The economy hasn't worked for workers for a long time so they're doing something about it right now,' Trumka said. 'Working people are on the rise right now.'"
Labor Boss Trumka Says Any New NAFTA Deal Must Include Canada: "Following a firm warning by President Trump to the United States' neighbor to the north, the president of the largest union federation in the country said Sunday that given the integration of the three economies in the agreement, any reworked deal on the North American Free Trade Agreement must include Canada. AFL-CIO President Richard Trumka said that while his federation is anxious to have NAFTA reworked—calling the 1994 agreement 'devastating' to American workers—any deal that only includes the U.S. and Mexico is unfeasible. 'Our economies are integrated,' Trumka said on Fox News Sunday. 'It's hard to see how that would work without Canada on the deal.'"
Customer Service Reps at Spirit Airlines Join TWU: "Despite predictions of the demise of labor unions in the wake of the Supreme Court's ruling in Janus v. AFSCME, Council 31, working people have secured another powerful victory. With an overwhelming vote of 82%, 300 customer service representatives at Spirit Airlines have joined the Transport Workers (TWU)."
Best Candidates for Working People, 2018: Jon Tester: "This November's elections are shaping up to be among the most consequential in recent U.S. history. Throughout the summer and fall, we are taking a look at the best candidates for working people. Today, we feature Sen. Jon Tester of Montana."
Reject Brett Kavanaugh Today: "As Brett Kavanaugh's nomination hearings get underway, working people are demanding a Supreme Court justice committed to upholding the rights of working families. Unfortunately, Kavanaugh has a long track record of ruling against working people and in favor of greedy corporations."
Make 'Labor Union' Sense Common Again: "My daughter and my mother save things that might someday be useful or salvageable. So do I. I have used tea to stain white or pink things that I've accidentally spilled something on. My mother taught me to do this. Her mother taught her to do this. This way of saving something with tea is called, at least in my circles, tea-staining."
Best Candidates for Working People, 2018: Randy 'Iron Stache' Bryce: "This November's elections are shaping up to be among the most consequential in recent U.S. history. Throughout the summer and fall, we are taking a look at the best candidates for working people. Today, we feature Wisconsin congressional candidate Randy 'Iron Stache' Bryce."