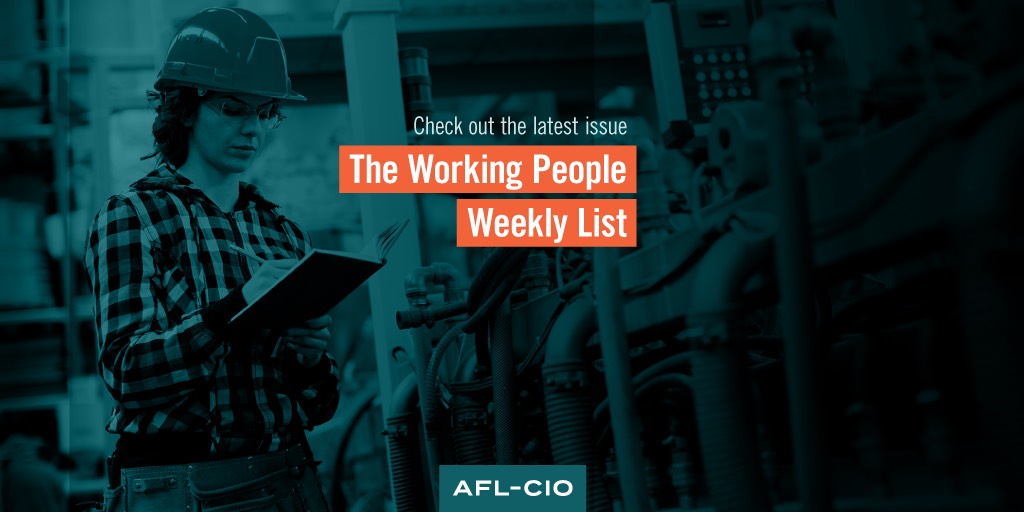 Every week, we bring you a roundup of the top news and commentary about issues and events important to working families. Here's this week's Working People Weekly List.
State of the Unions: Special #StopTheShutdown Episode: A Conversation with AFGE President J. David Cox: "With the government shutdown in its third week, Julie and Tim talk to J. David Cox Sr., national president of AFGE. Cox says his members are being held hostage by extremist politics and is calling on all working people to demand that Congress and the White House reopen the government and put federal employees back to work."
Our Paycheck Is Not a Bargaining Chip: "It's day 20 of the government shutdown, and the AFL-CIO has called upon the entire labor movement to fight for our affected brothers and sisters."
End the Shutdown: What Working People Are Doing This Week: "Welcome to our regular feature, a look at what the various AFL-CIO unions and other working family organizations are doing across the country and beyond. The labor movement is big and active—here's a look at the broad range of activities we're engaged in this week."
Economy Gains 312,000 Jobs in December; Unemployment Rises to 3.9%: "The U.S. economy gained 312,000 jobs in December, and the unemployment rate rose to 3.9%, according to figures released this morning by the U.S. Bureau of Labor Statistics. This report shows an increase in unemployed workers and while wage gains are stronger, they are not consistent with a tight labor market. This ongoing financial and economic volatility means that the Federal Reserve needs to hold off on more rate increases."
AFL-CIO's Top 10 Blog Posts of 2018: "Today, we are taking a moment to reflect on a historic year for collective action by highlighting the top 10 most-read posts on the AFL-CIO blog in 2018. Throughout the year, working people across the country joined together to build a better America. These are our stories."
New Congress Begins with Influx of Worker-Friendly Members: "The 116th Congress begins today and it features a diverse group of members who are more friendly to working people than their predecessors in recent Congresses. Not only does the new class of incoming senators and representatives have the largest group of women ever and the first Native American women, the first Muslim American women and the first openly bisexual senator, it features a dozen union members and even more worker-friendly members."
Stop the Shutdown: "The government shutdown is now in its 12th day, meaning some 800,000 federal employees are still without a paycheck because President Donald Trump refuses to sign a federal budget that doesn't include $5 billion for a border wall. Working people—and their livelihoods—should never be used as political pawns. As congressional leaders prepare to meet with Trump later today, take action now to stop the shutdown."
UAW Releases 2019 Union-Made Vehicle Buying Guide: "No matter when you are buying a new vehicle or for what purpose, you have the opportunity to use this substantial buying power to support working people. The UAW releases a guide every year that lets consumers know which cars are union-made in America. Here is this year's list."
Ohio's Ironworkers Local 290 Invests in the Future: "One of the country's best-kept secrets is that the American labor movement trains more workers than any organization other than the U.S. military. Apprenticeships and job training programs represent a powerful, life-changing opportunity that unions are in a unique position to provide. When those resources are made readily available to working people, membership growth often follows."