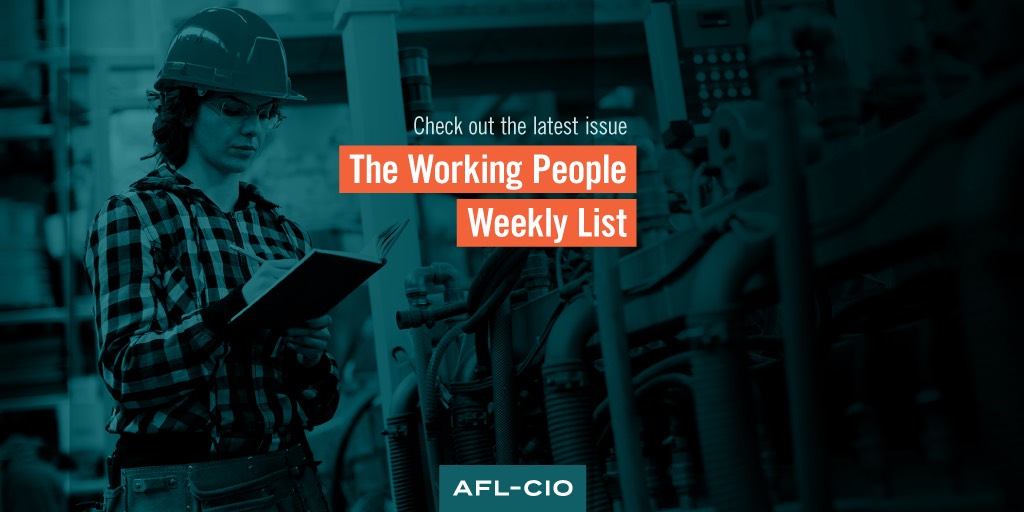 Every week, we bring you a roundup of the top news and commentary about issues and events important to working families. Here's this week's Working People Weekly List.
Extending a Helping Hand to Those Affected by the Shutdown: "Across the country, working people are marching and rallying for an immediate end to the government shutdown. Already the longest funding lapse in American history, this manufactured crisis has put the weight of ideological extremism on federal workers and their families. As we continue fighting to reopen the government, the labor movement also is joining together to support our brothers and sisters as they go without a paycheck."
Stop Punishing Public Employees for Washington's Failure to Lead: "How many of us could afford to work without being paid? How many of us would be 'fine' if we were suddenly laid off days before Christmas? For 800,000 Americans, including more than 12,000 Pennsylvania families directly affected by the government shutdown, the possibility of losing their homes, being late on their bills and facing unforgiving debt is all too real."
Federal Workers Seeking Unemployment Aid Doubles in Number: "The number of furloughed federal employees seeking unemployment benefits jumped in the first two weeks of the shutdown, topping 10,000 during the week of Jan. 5. The Labor Department said Thursday that is double the number of federal workers who sought aid in the previous week. Typically fewer than 1,000 former federal employees apply for jobless benefits each week."
As Shutdown Drags On, Some Step Up to Help Unpaid Federal Workers: "When the government shut down in late December, Morgan McKay offered free pizza and wine to furloughed and otherwise unpaid federal workers at her popular Denver restaurant, Oblio's. Ms. McKay expected to host no more than three or four unpaid workers a night. Instead, a dozen or more have appeared nightly, joined by a new crop of paying customers who come to support her efforts."
Talks Resume as Los Angeles Teachers' Strike Runs for Fourth Day: "Negotiators for striking Los Angeles teachers and America's second-largest school district returned to the bargaining table on Thursday for the first time since talks collapsed last week, as a walkout by some 30,000 educators ran for a fourth day. The strike has disrupted classes for nearly 500,000 students, though parents have turned out in large numbers to join teachers on picket lines and at their rallies. A recent Loyola Marymount University survey showed broad public support for the union's cause across all demographics, especially among parents with school age children."
LMU: Majority of Los Angeles County Residents Supports Teachers' Strike: "Nearly 80 percent of Los Angeles County residents said they support striking Los Angeles Unified School District teachers, according to survey results released Tuesday by Loyola Marymount University. Among respondents, 53% said they 'strongly support' and 24% 'somewhat support' teachers going on strike to achieve their demands in the labor dispute. Backing for the strike was at 60% or higher across all demographic categories, including age, ethnicity, income and political affiliation. Among parents with children at home, just 18% opposed the walkout, according to the survey conducted by the Thomas and Dorothy Leavey Center for the Study of Los Angeles at LMU."
Unions Raise Food and Money for Unpaid Federal Workers: "The Utah AFL-CIO has had a food pantry for years because there are often union members laid off of seasonal work, or whose industries are in a downturn, but this is the first time members of federal employee unions have been in need. 'There's a lot of unfairness in it,' said Utah AFL-CIO President Jeff Worthington."
TSA Says Financial Stress of Shutdown is Forcing Growing Number of Officers to Stay Home: "Faced with growing numbers of call outs by its workers—and images of some of them lining up for food donations—leaders of the Transportation Security Administration acknowledged Wednesday that 'many employees are reporting that they are not able to report to work due to financial limitations.' Significant numbers of TSA agents have not been coming to work, either because of financial hardship or to underscore their opposition to being forced to work without pay."
Stop Starving Our Schools: "The streets of Los Angeles are packed with the sights and sounds of collective action this week. Braving the cold rain, some 30,000 United Teachers Los Angeles (UTLA) members turned out for picket lines across the city yesterday, joined by more than 10,000 parents, students and community members. Every L.A. school site—more than 900—participated in the strike, culminating in a 50,000-person march to the Los Angeles Unified School District's (LAUSD's) headquarters."
Thousands Rally in D.C. to #StopTheShutdown: "As the government shutdown became the longest in U.S. history, thousands of working people took to the streets of Washington, D.C., to send a clear message to the president and Congress to stop the shutdown and let federal government employees get to work. Thousands more rallied at other locations around the country."
No Joke: Worker Wins: "Our latest roundup of worker wins begins with several newsrooms using collective action and includes numerous examples of working people organizing, bargaining and mobilizing for a better life."