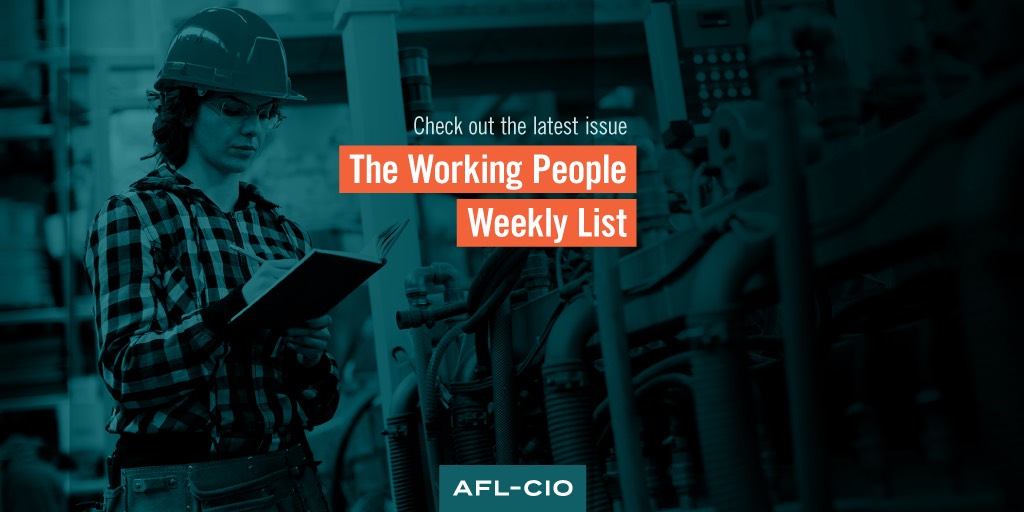 Every week, we bring you a roundup of the top news and commentary about issues and events important to working families. Here's this week's Working People Weekly List.
Los Angeles Teachers Stay Strong; Win Improvements: "Less than a month into 2019, the teachers of Los Angeles have proven that last year's wave of collective action isn't quieting down. After taking to the streets in a strike that has captured the country's imagination, members of United Teachers Los Angeles (UTLA) are returning to classrooms today after overwhelmingly approving a paradigm-shifting contract that delivers on key demands."
Honoring Dr. King's Legacy: A Special Conversation with Andrew Gillum: "Julie and Tim talk with the former Tallahassee mayor and 2018 Florida gubernatorial candidate, Andrew Gillum, who calls himself a 'living, breathing, walking, talking result of [Dr. King's] legacy.' Gillum shares his experience on the campaign trail and previews the important fights ahead on voting, worker and civil rights.'"
The Fierce Urgency of Now: "Hundreds of labor and social justice activists descended on the nation's capital this weekend for the 2019 AFL‑CIO Dr. Martin Luther King Jr. Civil and Human Rights Conference. AFL-CIO President Richard Trumka kicked off the gathering by telling participants that this is our moment for action: 'We're living in the fierce urgency of now. This is a time to take risks. This is a time to get uncomfortable. That's when real progress is made.'"
We've Had Enough; Do Your Job: In the States Roundup: "It's time once again to take a look at the ways working people are making progress in the states. Click on any of the links to follow the state federations on Twitter."
Future of Work Commission Urges Bargaining Rights for Digital Platform Workers: "A landmark report by the International Labor Organization's (ILO's) Global Commission on the Future of Work, released today, calls for giving full rights and protections, including collective bargaining rights, to digital platform workers. The ILO is the United Nations agency charged with promoting decent work and global labor standards."
The Government Shutdown Creates Headwinds for Airlines: "The Washington impasse comes at a time when the travel and hospitality industries have been reporting healthy profits but face strong headwinds from higher jet fuel prices and increasing costs for employee salaries and benefits. Meanwhile, a coalition of unions representing pilots, flight attendants and other airline workers issued a statement Thursday, calling for an end to the impasse, saying it is threatening the safety of the industry. 'The longer the shutdown goes on, the greater that threat becomes,' the coalition, dubbed the Transportation Trades Department, AFL-CIO, said. 'Lawmakers have a responsibility to preserve the safety and integrity of our nation's aviation system by re-opening the federal government.'"
It's Not a Shutdown, It's a Lockout and a Shakedown of Federal Workers: "'Let's call this shutdown what it is: It's a lockout,' says AFL-CIO President Richard Trumka. American Federation of Government Employees President J. David Cox Sr. says this 'effort at extortion is more of a lockout than a shutdown. But maybe an even more accurate description of this is that it's a shakedown.'"
Aviation Professionals Warn of Dire Risk Amid Shutdown: "The unions that represent the nation's air traffic controllers, pilots and flight attendants issued a dire warning on Wednesday, calling the government shutdown an 'unprecedented' and 'unconscionable' safety threat that is growing by the day and must end. The union presidents—Paul Rinaldi of National Air Traffic Controllers Association, Joe DePete of the Air Line Pilots Association and Sara Nelson of the Association of Flight Attendants—did little to assuage those concerns in their statement, saying that the 'air safety environment' is 'deteriorating by the day.' They noted that 'staffing in our air traffic control facilities is already at a 30-year low and controllers are only able to maintain the system's efficiency and capacity by working overtime.'"
Labor Voices: GM Leaves Workers' Futures Uncertain: "The focus of General Motors' November announcement shutting down plants in Lordstown, Ohio; Hamtramck and Warren, Michigan; and Baltimore, Maryland, shouldn't be about money. It should be about people. UAW GM members are dedicated and committed to making a great product, supporting the success of a company, and supporting a solid, prosperous community. Unfortunately, that's not how it's playing out. UAW GM members are facing the disruption of their families."
At MLK Conference Andrew Gillum Talks About His Gubernatorial Race: "'You can't call them racist,' Gillum said of the Trump supporters, replying to a question after his speech to the AFL-CIO's Martin Luther King commemorative conference, in D.C., on Jan. 18. 'If we're going to win, we have to put in the work, and it'll require some conversations with people with whom we don't really feel comfortable. We have to get them to a higher level where we can talk with them' on issues the two sides may have in common, he added."
Nurses Are Calling Out for Job Protections and Marching in the Women's March: "For our patients' and our own safety, nurses must have the power to speak up. That's why the right to form a union—what we call 'organizing'—is so important. Not only are the rules about our working conditions, wages, and benefits spelled out in a union contract we negotiate directly with our employers—a process known as 'collective bargaining'—the union harnesses our group power. With the strength of our numbers, we're able to hold our employers accountable for prioritizing people and not just profits."