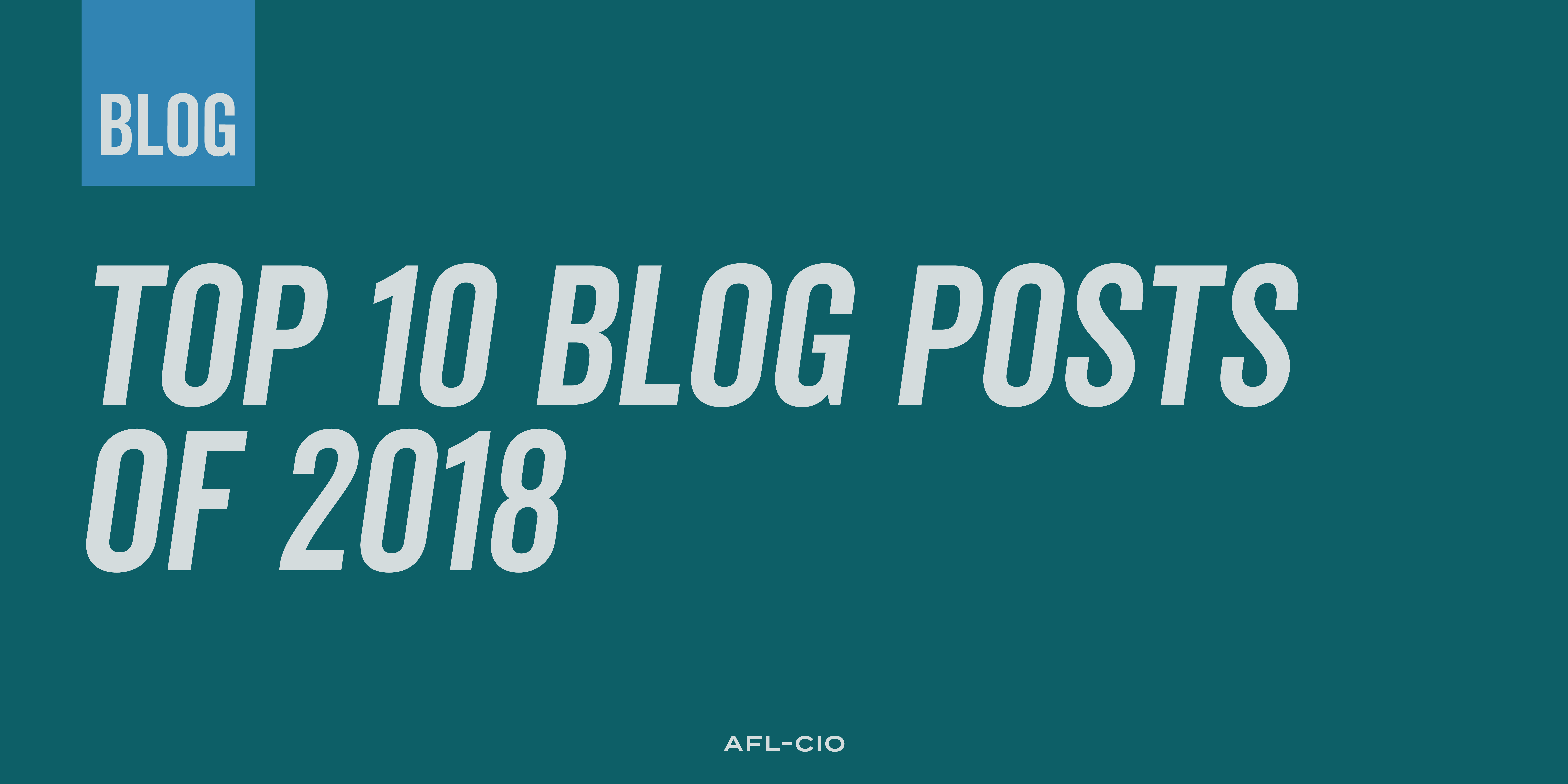 Today, we are taking a moment to reflect on a historic year for collective action by highlighting the top 10 most-read posts on the AFL-CIO blog in 2018. Throughout the year, working people across the country joined together to build a better America. These are our stories. 
1. If You Live in Missouri, Vote 'No' on Proposition A: "On Aug. 7, Missouri voters will have the chance to vote against Proposition A, a divisive attack on working people funded by big corporations and their wealthy allies. The misleading measure is a direct attack on the rights of the working people of Missouri. Here are the key reasons why Proposition A is wrong for Missouri...."
2. What You Need to Know About the Vote on Missouri's Prop. A Today: "While Missourians are headed to the polls today, working people are mobilizing across the Show-Me State in a massive final push to defeat Prop. A."
3. Executive Paywatch 2018: The Gap Between CEO and Worker Compensation Continues to Grow: "CEO pay for major companies in the United States rose nearly 6% in the past year, as income inequality and the outsourcing of good-paying American jobs have increased. According to the new AFL-CIO Executive Paywatch, the average CEO of an S&P 500 Index company made $13.94 million in 2017—361 times more money than the average U.S. rank-and-file worker. The Executive Paywatch website, the most comprehensive searchable online database tracking CEO pay, showed that in 2017, the average production and nonsupervisory worker earned about $38,613 per year. When adjusted for inflation, the average wage has remained stagnant for more than 50 years."
4. Donald Trump: A Year of Making Workplaces More Dangerous: "It has been a year since Donald Trump took office. Despite promising to be a friend of workers, Trump has spent much of his first year making our workplaces less safe."
5. 7 Labor Activists You Should Know About for Asian Pacific American Heritage Month: "Each May is Asian Pacific American Heritage Month, when we celebrate the accomplishments, culture and history of Asian Americans and Pacific Islanders in the United States. Today, we are going to take a deeper look at members of the Asian American and Pacific Islander community who have advanced the cause of worker justice. Here are seven labor activists who you should know about for Asian Pacific American Heritage Month...."
6. The Racist Roots of Right to Work: "Proponents of "right to work" laws often use lofty language to sell their agenda, with false appeals to freedom, among other high ideals. But right to work is about freedom only in this way: It's about taking away the freedom of working people to join together in strong unions."
7. 15 Things You Need to Know from the 2018 Death on the Job Report: "These are challenging times for working people and their unions, and the prospects for worker safety and health protections are uncertain. What is clear, however, is that the toll of workplace injury, illness and death remains too high, and too many workers remain at serious risk. There is much more work to be done. Here are 15 key things you need to know from this year's report, which primarily covers data from 2016."
8. The Awesomeness of 'Black Panther': Union Made: "Wow, the "Black Panther" movie was awesome, wasn't it? And while we could spend hours about how great an action movie it is or how beautiful it looks or the social implications of the themes and representation of African culture, let's take a few minutes to look behind the scenes at the work it took to bring a movie like "Black Panther" to life, work done by union members."
9. 6 Activist Women You Need to Know About for Black History Month: "As we celebrate Black History Month, we thought we'd take a look back at some of the women who have made history in the realm of fighting for the rights of working people. The battles they fought at the intersection of the rights of African Americans, women and working people should have made these women household names. Women continue to be at the forefront of battles for the rights of African Americans today, building on the work of these women and many others. Here is an introduction to a group of amazing women who did some amazing things."
10. One Job Should Be Enough: "'8,300 UNITE HERE members have the courage and the power to take on the biggest hotel company in the world and are willing to fight to transform jobs they can't survive on into careers where they can support their families with dignity,' said UNITE HERE International President D. Taylor last week as strike headquarters opened across the country."