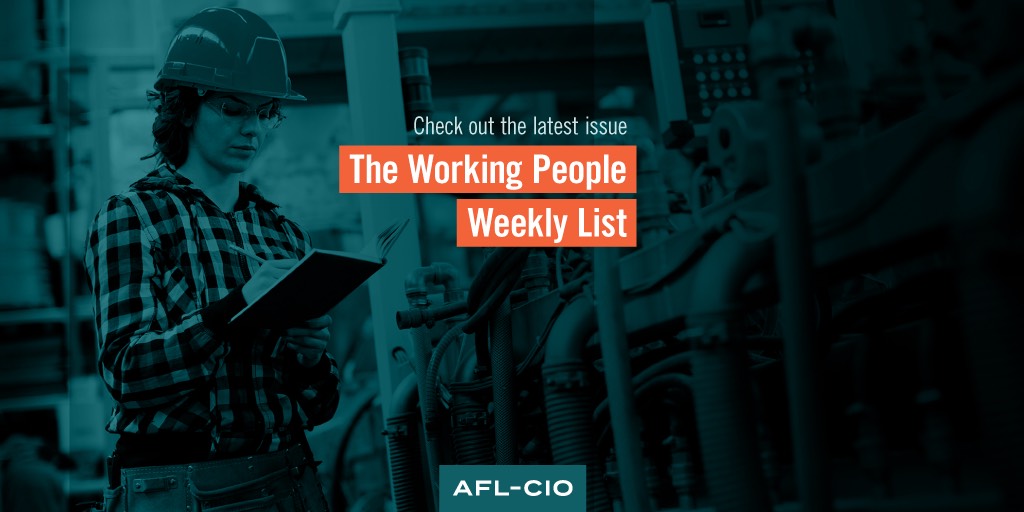 Every week, we bring you a roundup of the top news and commentary about issues and events important to working families. Here's the latest edition of the Working People Weekly List.
Now's the Time to Be Loud. Register to Vote: "We're not staying quiet anymore."
New Trump Overtime Rules Will Cost Workers $1.4 Billion in First Year Alone: "The Trump administration's Labor Department issued new overtime rules this week that take away $1.4 billion of workers' pay every year compared to the Obama administration rules they replace. The amount of this pay cut for working people will increase enormously over time."
A Pregnant Target: "Those bundles of joy cost bundles of money, so Victoria Whipple, a quality control worker at Kumho Tire in Macon, Georgia, had been working overtime to get ready for her new arrival."
Walking the Picket Lines: In the States Roundup: "It's time once again to take a look at the ways working people are making progress in the states."
Get to Know AFL-CIO's Affiliates: International Union of Police Associations: "Next up in our series that takes a deeper look at each of our affiliates is the International Union of Police Associations."
Solidarity with Autoworkers: What Working People Are Doing This Week: "Welcome to our regular feature, a look at what the various AFL-CIO unions and other working family organizations are doing across the country and beyond. The labor movement is big and active—here's a look at the broad range of activities we're engaged in this week."
'State of the Unions' Podcast: A Huge Deal: "On the latest episode of 'State of the Unions,' podcast co-hosts Julie Greene and Tim Schlittner check in with AFL-CIO Industrial Union Council Executive Director Brad Markell about the UAW strike at General Motors and interview Veena Dubal, an associate law professor at UC Hastings College of the Law, whose work helped pave the way for passage of A.B. 5, the landmark pro-worker legislation in California."
U.S. Labor Movement Supports Mexico's Working People: "At a meeting Saturday in Chicago, AFL-CIO President Richard Trumka (UMWA) assured Mexican-American political, labor, community and religious leaders that the U.S. labor movement will work to ensure that any new trade agreement raises the standards of living for all working people across North America."
Pittston, Solidarity and Labor's Future: Labor Podcast and Radio Roundup: "In addition to the AFL-CIO's own 'State of the Unions,' there are a lot of other podcasts out there that have their own approach to discussing labor issues and the rights of working people. Here are the latest podcasts from across the labor movement in the United States."
Nearly 50,000 UAW Members at GM Go on Strike: "As of midnight Sunday, UAW members at General Motors have gone on strike. The 2015 collective bargaining agreement between UAW and GM expired Saturday after GM offered an inadequate new contract. Nearly 50,000 workers are now on strike. They are demanding fair wages, affordable health care, a share of profits, job security and a defined path to permanent seniority for temporary workers."