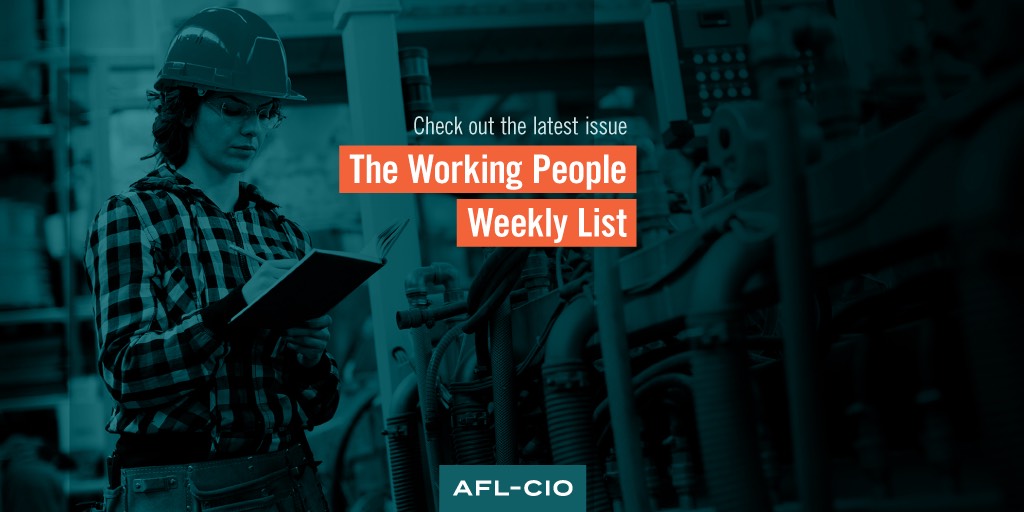 Every week, we bring you a roundup of the top news and commentary about issues and events important to working families. Here's the latest edition of the Working People Weekly List.
Imagine a President Uniting People: "Imagine a president lifting 40 million citizens out of the poverty he had struggled under. Imagine a president making it easier for people who had been excluded from their nation's wealth to get decent jobs, basic public services, a college education or technical training. Imagine a president uplifting his country on the world stage as a model for shared prosperity and an economy that works for working people regardless of their race. Imagine that president leaving office after two terms with an approval rating over 80%. Where do you imagine that president should be nine years after leaving office?"
Brazilian and U.S. Workers Confronting Common Threat Build Solidarity in the Global Labor Movement: "This week, the AFL-CIO joins much of the global labor movement in Brazil to participate in the 13th Congress of Brazil's largest labor organization, the Central Única dos Trabalhadores (CUT). Fred Redmond, AFL-CIO vice president and United Steelworkers vice president for human affairs, is leading the AFL-CIO delegation."
A Seat at the Table: Worker Wins: "Our latest roundup of worker wins begins with nurses banding together to make patients' lives better and includes numerous examples of working people organizing, bargaining and mobilizing for a better life."
Get to Know AFL-CIO's Affiliates: Laborers: "Next up in our series that takes a deeper look at each of our affiliates is the Laborers."
Economy Gains 136,000 Jobs in September; Unemployment Declines to 3.5%: "The U.S. economy gained 136,000 jobs in September, and the unemployment rate declined to 3.5%, according to figures released this morning by the U.S. Bureau of Labor Statistics. "
Working People Show Solidarity with GM/UAW Strikers: "As the strike by UAW members at General Motors approaches three weeks, labor activists and their allies have shown their solidarity with the UAW members by joining them on the picket lines. Here are some highlights from those visits."
Live from the Picket Line: Labor Podcast and Radio Roundup: "In addition to the AFL-CIO's own 'State of the Unions,' there are a lot of other podcasts out there that have their own approach to discussing labor issues and the rights of working people. Here are the latest podcasts from across the labor movement in the United States."
Hey, New York Times, Women Wear Hard Hats, Too!: "In a tribute to the hard hat, which was invented 100 years ago, The New York Times curiously equates the safety gear with masculinity. But women wear hard hats, too, and always have."
'State of the Unions' Podcast: Dignity of Work: "On the latest episode of 'State of the Unions,' podcast co-hosts Julie Greene and Tim Schlittner talk to Sen. Sherrod Brown (Ohio) about worker power, automation, trade and his decision to stay in the U.S. Senate."