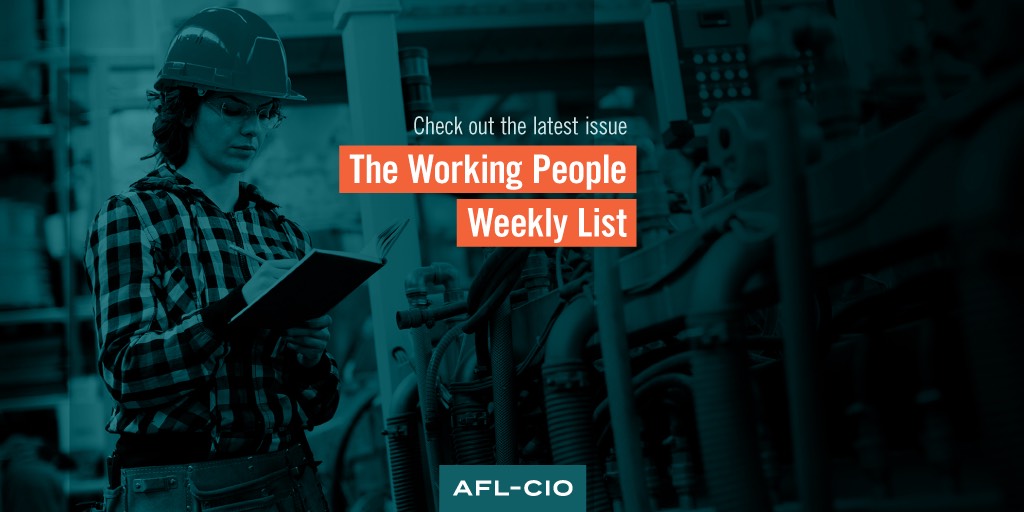 Every week, we bring you a roundup of the top news and commentary about issues and events important to working families. Here's the latest edition of the Working People Weekly List.
Red for Ed: In the States Roundup: "It's time once again to take a look at the ways working people are making progress in the states."
Trade Unions Demand Governments Address Gender-Based Violence in the World of Work: "This week marked the International Day for the Elimination of Violence against Women, and trade unions around the world are demanding governments ratify and implement International Labor Organization Convention 190 (C190), on ending violence and harassment in the world of work."
'State of the Unions' Podcast: A Future Where People Will Have Jobs: "On the latest episode of 'State of the Unions,' podcast co-host Tim Schlittner talks to Guy Ryder, the director-general of the International Labor Organization, about the international labor movement, the idea of 'decent labor' and the future of work."
Native American Heritage Month Pathway to Progress: Ojibwe Women Transform Working Life in Minneapolis: "History has long been portrayed as a series of 'great men' taking great action to shape the world we live in. In recent decades, however, social historians have focused more on looking at history 'from the bottom up,' studying the vital role that working people played in our heritage. Working people built, and continue to build, the United States. In our series, Pathway to Progress, we'll take a look at various people, places and events where working people played a key role in the progress our country has made, including those who are making history right now. In honor of Native American Heritage Month, we will take a look at a group of Ojibwe women who helped transform the world of work in Minneapolis-St. Paul throughout much of the 20th century."
Colombian Workers Launch General Strike: "Colombia's workers, students, and rural, indigenous and Afro-descendant communities [joined] together in a national general strike Nov. 21. Unlike the strikes many of America's workers have participated in increasingly in the past five years, Colombians are not striking against any single employer or industry."
Work Doesn't Hurt: Labor Podcast and Radio Roundup: "In addition to the AFL-CIO's own 'State of the Unions,' there are a lot of other podcasts out there that have their own approach to discussing labor issues and the rights of working people. Here are the latest podcasts from across the labor movement in the United States."
Protect Survivors: What Working People Are Doing This Week: "Welcome to our regular feature, a look at what the various AFL-CIO unions and other working family organizations are doing across the country and beyond. The labor movement is big and active—here's a look at the broad range of activities we're engaged in this week."
Get to Know AFL-CIO's Affiliates: National Nurses United: "Next up in our series that takes a deeper look at each of our affiliates is National Nurses United."
Building the Battleground Bench: Union Members Elected to Office Across the Great Lakes Region: "While the labor movement was busy helping to elect pro-worker candidates in important elections in Kentucky and Virginia this week, union members themselves were on the ballot, and they were elected to local offices across the country at an impressive rate. This result was especially pronounced in the battleground states in the Great Lakes region, where an energized union candidates program helped carry union members to victory."
Trump's SEC Chairman Proposes to Disenfranchise Investors and Reduce Shareholder Democracy: "In a partisan 3-2 vote, the Trump administration's Securities and Exchange Commission (SEC) proposed to curtail the rights of investors to file proposals for a vote at company annual meetings. If adopted, these changes will hinder shareholder proposals by union members and their pension plans to hold corporate management accountable."