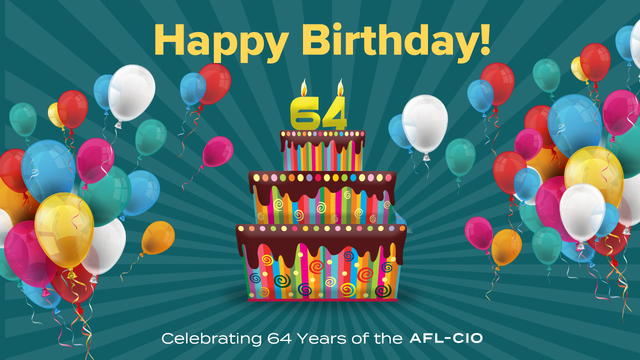 You said it's our birthday! And it is. If you've always wondered what you'd do with the AFL-CIO when we're 64, now's your chance! On this day in 1955, the American Federation of Labor and the Congress of Industrial Organizations came together after a long and winding road.
You said you wanted a labor revolution, and we all still want to change the world. And over those 64 years, together, we have achieved something to be proud of. Under the leadership of the fab five presidents, we've refused to let it be and championed critical fights for workplace safety, trade fairness, fair wages, secure retirement and equal pay!
A wise person once said "all you need is love," but we know that working people also need a way to express their voices on the job. From the beginning, that's been our goal, and here's how you can help us celebrate our 64th birthday!
1. Sign our petition supporting pro-worker legislation: You should let your mother (and everyone else) know about bills like the PRO Act, which would help level the playing field between mean Mr. Mustard and his friends on Wall Street!
2. Subscribe to our podcast: In my life, I haven't found a better way to dig deeper about the stories important to working people than to listen to State of the Unions, the podcast of the AFL-CIO!
3. Subscribe to our YouTube channel: Money can't buy me love, but the good news is you won't need money to get the latest video content from the crew aboard our yellow submarine!
4. Follow us on social media: A great day in the life would include you following us on our social media accounts (Twitter, Facebook, Instagram) to keep up with the latest news and information!
5. Sign up for text messages: While you're twisting and shouting, text WORK to 235246 to receive periodic text alerts from the AFL-CIO (message and data rates may apply) to know when your fellow working people need your solidarity!
We've accomplished a lot from yesterday to today and I've got a feeling the future is bright for working people. Whatever challenges we face, we can work it out as long as we work all together now!
(With apologies to the Beatles!)