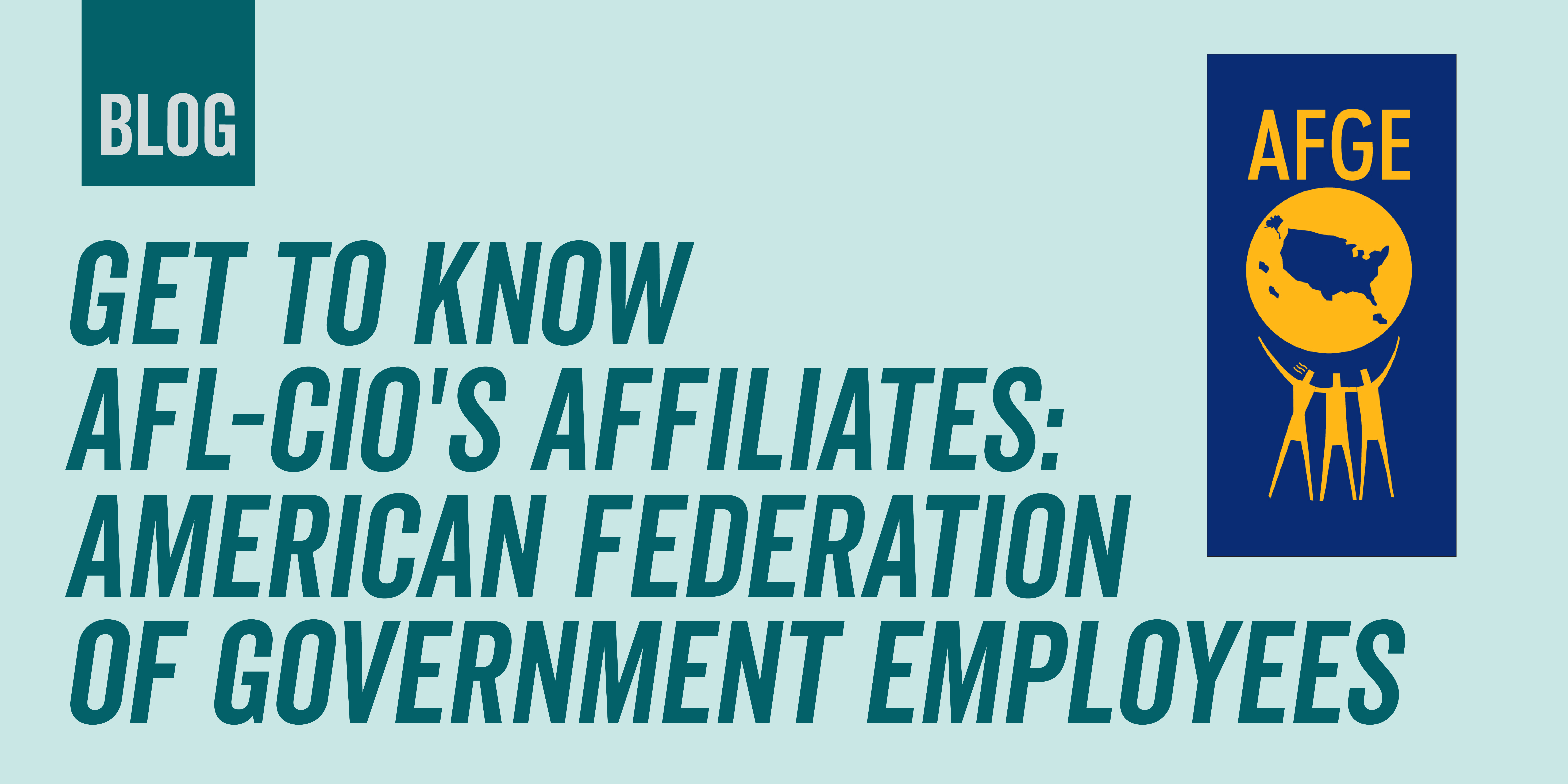 Next up in our new series that will take a deeper look at each of our affiliates is the AFGE. The series will run weekly until we've covered all 55 of our affiliates.
Name of Union: American Federation of Government Employees
Mission: The union exists for the purpose of promoting unity of action in all matters affecting the mutual interests of government civilian employees in general, all other persons providing their personal service indirectly to the United States Government and for the improvement of government service.
Current Leadership of Union: J. David Cox Sr. is currently serving his third term as AFGE's national president. Cox, who is from North Carolina, began working in health care in 1970 and became a registered nurse in 1983. That launched a public sector career with the Veterans' Administration that lasted until 2006, when he became AFGE's national secretary-treasurer. Everett Kelley serves as national secretary-treasurer and Jeremy Lannan serves as national vice president for women and fair practices.
Current Number of Members: 315,000.
Members Work As: Food inspectors, nurses, correctional officers, lawyers, police officers, census workers, scientists, doctors, park rangers, border patrol agents, transportation security officers, mechanics, computer programmers and more.
Industries Represented: Members work for the federal government or the government of the District of Columbia.
History: AFGE formed in 1932, during the depths of the Great Depression. Federal employees were refused most of the rights they have today. Politicians had crippled the civil service, and AFGE's founding members came together in opposition to these attacks. In the decades leading up to World War II, new chapters of the union began to form across the country. In the 1940s and 50s, AFGE fought for and won a pay raise of nearly 16%, the largest increase for the federal government workforce in the country's history. They also won within-grade pay increases, transportation allowances and payment for accrued annual leave, overtime, and night and holiday work. Finally, in 1962, federal workers secured the right to collectively bargain when President John F. Kennedy signed Executive Order 10988. Since then, AFGE has continued to fight for government workers and has won real bargaining rights and extended the dignity of a union contract to hundreds of thousands of Americans. Check out AFGE's Labor History Timeline to learn more.
Current Campaigns: Stop the Shutdown seeks to end the unfair and unnecessary shutdown of the federal government. AFGE is also fighting to protect the rights for TSA workers; protect correctional officers; protect official time for federal employees and to fully fund and resource the Veterans Administration. AFGE's Use Your Voice empowers young workers to engage their fellow AFGE members, friends and family to register to vote and turn out to the polls on Election Day. Family First is a campaign to pass paid parental leave for all working families. 
Community Efforts: Each One, Teach One is a mentorship program for AFGE members. AFGE is part of AFL-CIO's Union Veterans Council whose mission is to inform, organize and mobilize union veterans. AFGE Y.O.U.N.G. seeks to mobilize young union members to become leaders for social change. AFGE's Pride program supports the union's LGBTQ membership and allies. HISCO supports professional advancement, leadership development and education opportunity for AFGE members of Hispanic origin.