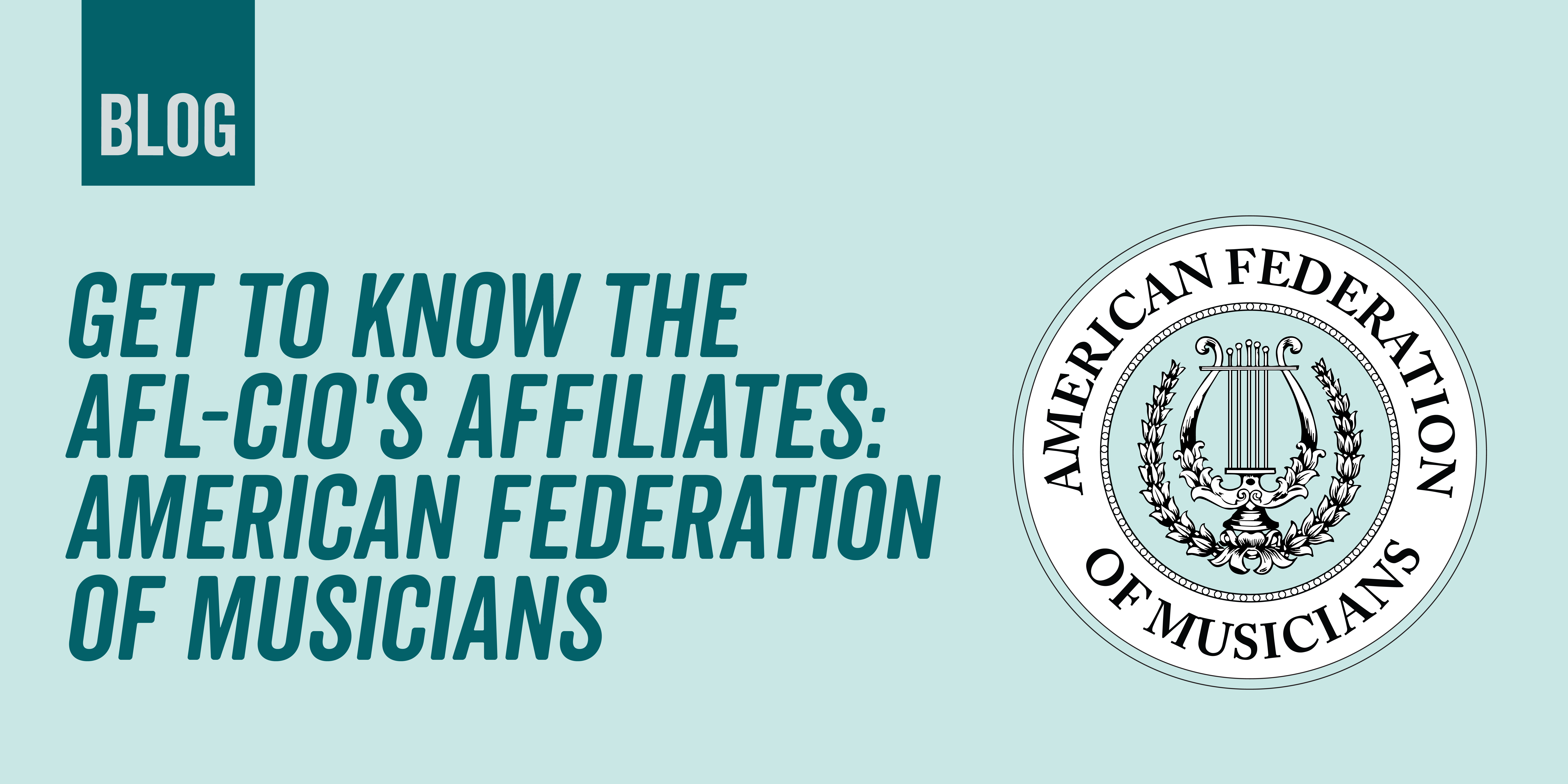 Next up in our series that will take a deeper look at each of our affiliates is the American Federation of Musicians (AFM). The series will run weekly until we've covered all 55 of our affiliates.
Name of Union: American Federation of Musicians of the United States and Canada
Mission: Professional musicians uniting so that they can live and work in dignity; with work that is fulfilling and compensated fairly; have a meaningful voice in decisions that affect them; have opportunities to develop their talents and skills; use their collective voice and power through a democratic and progressive union; and oppose the forces of exploitation through union solidarity.
Current Leadership of Union: Ray Hair is the 12th international president of AFM. Bruce Fife serves as international vice president while Alan Willaert serves as vice president from Canada. Jay Blumenthal is the secretary-treasurer and the executive officers consist of: John Acosta, Tino Gagliardi, Tina Morrison, Joe Parente and Dave Pomeroy.
Current Number of Members: 80,000.
Members Work As: Musicians in orchestras, backup bands, festivals, clubs, theaters, films, TV, commercials and sound recordings.
Industries Represented: Members work on Broadway, musical tours and as studio musicians for music, movies, television and commercials.
History: AFM formed in 1896 when musicians gathered in Indianapolis to form an organization to represent "any musician who receives pay" for musical services. Soon after, the American Federation of Labor granted a charter to AFM, which by then represented 3,000 members. Organizing efforts were pursued anywhere there were musicians, from theaters and restaurants to symphonies and operas. Within two years of the release of the first film that included sound in 1927, 20,000 musicians lost their jobs playing in the theater pits where the music originated to accompany silent films. 
But these and other technological advances wouldn't deter the musicians. In the next few decades, they won minimum wage scales for recording and secured their first contract with the film companies. Technology continued to push organizing among AFM members, including a strike in 1942 that shut down the U.S. recording market for two years. Musicians won that strike and forced the recording industry to pay musicians who performed at live shows when recordings of those shows were sold. Out of that strike came the Music Performance Trust Fund, which continues to sponsor free live performances throughout the United States and Canada today.
Over time, AFM continued adapting to technological advances. Whether it was television, cable, video games or the digital transmission of performances, AFM stood strong in making sure that musicians won contracts that gave them royalties for their performances that were used in these new media. After 120 years, AFM is stronger than ever, and its members continue to play in wide range of venues and platforms. Thanks to all those years of organizing and collective bargaining, they get paid for their work.
Current Campaigns: Respect the Band calls upon the broadcast television networks to pay musicians when clips of live shows appear on YouTube and other revenue-generating platforms. Fair Trade Music is a grassroots effort to raise standards for freelance musicians. Tempo supports candidates who support music and musicians. AFM also offers information and assistance for musicians traveling with Instruments Containing Ivory or Endangered Species.
Community Efforts: AFM offers assistance to members impacted by hurricanes and other emergencies.