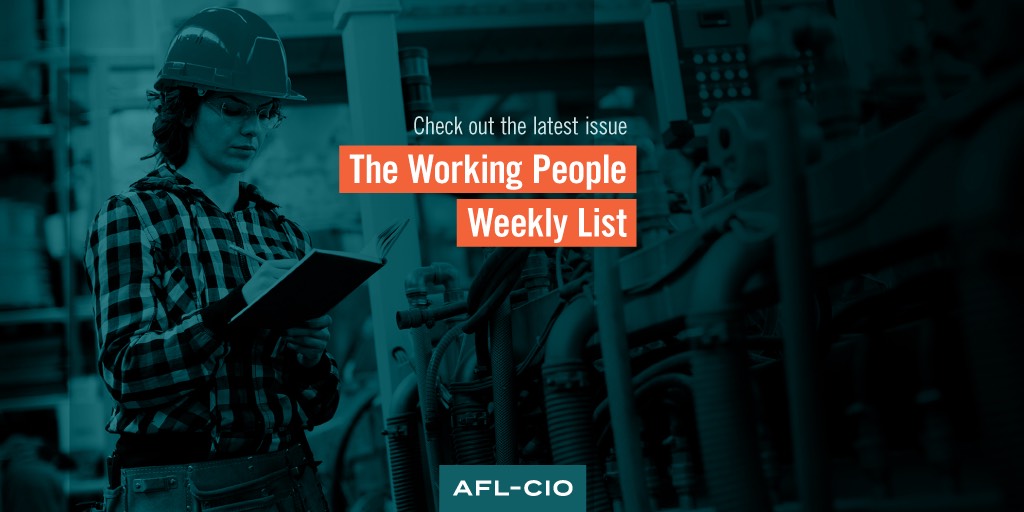 Every week, we bring you a roundup of the top news and commentary about issues and events important to working families. Here's the latest edition of the Working People Weekly List.
Obama Expanded Overtime Pay to 4 Million Workers. Now Trump Is Scaling That Back: "Richard Trumka, president of the AFL-CIO labor federation, called the new rule 'disgraceful.' '[This] is part of a growing list of policies from the Trump administration aimed at undermining the economic stability of America's working people,' he tweeted on Friday. The public can comment on the rule proposal for 60 days before the Department of Labor sends a final version to the White House for review. If the White House approves the new rule, which is likely, it will be the Trump administration's latest victory in its quest to undo Obama-era regulations meant to benefit workers."
Organized Labor Opposes Proposed New NAFTA Deal: "The AFL-CIO, the nation's largest federation of labor unions, won't support the USMCA trade agreement if an early vote is pursued, the organization announced March 14. The federation's executive council voted to oppose the deal after a two-day meeting, saying that it lacks sufficient enforcement mechanisms that would strengthen labor conditions in Mexico. The United States-Mexico-Canada Agreement, if ratified, would replace the existing North American Free Trade Agreement."
AFL-CIO Backs Legislation That Would Power Up American Working Families: "Bill Samuel, the AFL-CIO's Government Affairs Director, discussed some of the labor federation's top legislative goals with People's World as the council meeting opened here Tuesday. High on labor's list is 'some version,' as he put it, of the Workers Freedom to Negotiate Act, a bill that has already been introduced into Congress. What the federation is aiming for is a law that will make it much easier to organize a union and bargain with employers. As it stands now, workers who try to form a union often face harassment and loss of their jobs. Current law also allows employers not just to target organizers but to drag their feet and stall in the bargaining process after the union has been established."
Steelworker Wins Election to Local Maine School Board: "United Steelworkers (USW) Local 9 member Kathy Wilder won a write-in election for school board in Maine School Administrative District (MSAD) 54 on March 4. Wilder, who works as a chemical prep operator at Sappi Fine Paper in Skowhegan, says that her priorities will be student achievement, fiscal responsibility, clear communications and social justice."
Paving the Way: What Working People Are Doing This Week: "Welcome to our regular feature, a look at what the various AFL-CIO unions and other working family organizations are doing across the country and beyond. The labor movement is big and active—here's a look at the broad range of activities we're engaged in this week."
Get to Know AFL-CIO's Affiliates: AFSCME: "Next up in our series taking a deeper look at each of our affiliates is AFSCME."
Our Time Is Now: Leading with Passion, Purpose and Power: "More than 300 union sisters from all sectors of organized labor gathered at the Hilton East Brunswick Hotel on March 1 for the 16th annual Women in Leadership Development (WILD) Conference. This two-day conference featured several distinguished speakers, including Rep. Bonnie Watson Coleman, AFL-CIO Secretary-Treasurer Liz Shuler (IBEW) and Alice Paul Institute Executive Director Lucienne Beard."
Economy Gains 20,000 Jobs in February; Unemployment Down to 3.8%: "The U.S. economy gained 20,000 jobs in February, and the unemployment rate fell to 3.8%, according to figures released this morning by the U.S. Bureau of Labor Statistics. This is a dramatically lower level of job growth than we have seen in recent years and is good reason for the Federal Reserve's Open Market Committee to express caution in considering any interest rate hikes."