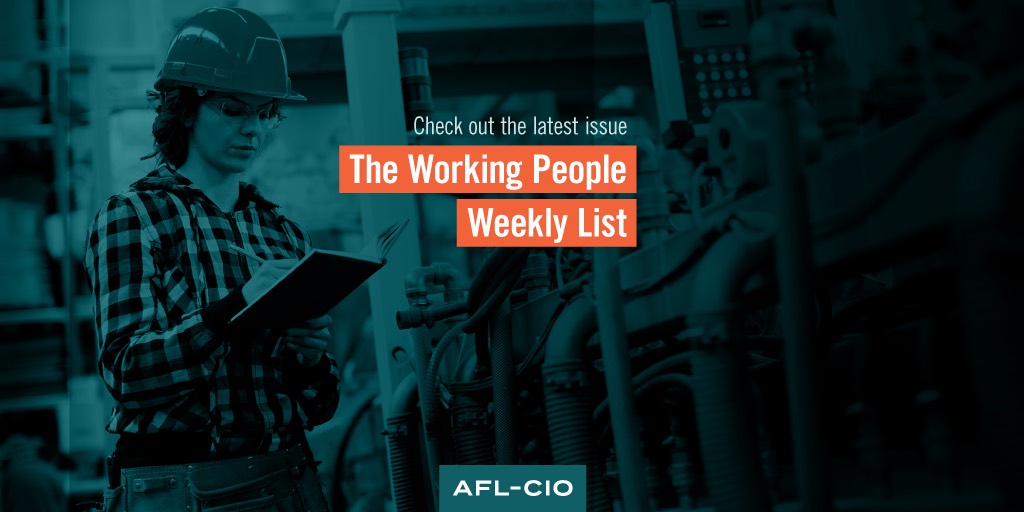 Every week, we bring you a roundup of the top news and commentary about issues and events important to working families. Here's the latest edition of the Working People Weekly List.
'State of the Unions' Podcast: #StampOutHunger: "In the latest episode of 'State of the Unions,' podcast co-host Tim Schlittner talks to Brian Renfroe, National Association of Letter Carriers (NALC) executive vice president, and Christina Vela Davidson, assistant to the president for community services, about #StampOutHunger, the annual one-day drive that has collected more than 1 billion pounds of food for the hungry."
The Center of Victory: "The labor movement helped elect a wave of union members and pro-worker allies across the country last night. We proved that if you support working people, we'll have your back. And we sent a resounding message to every candidate and elected official that if you seek to divide and destroy us, we'll fight back with everything we have."
It's Time for Equal Pay: "Equal Pay Day serves as a reminder of how far we still have to go to close the gender pay gap. AFL-CIO Secretary-Treasurer Liz Shuler (IBEW) has more on why unions are the best tool to achieve pay parity."
Get to Know AFL-CIO's Affiliates: AFT: "Next up in our series that will take a deeper look at each of our affiliates is the AFT. The series will run weekly until we've covered all 55 of our affiliates."
New North American Trade Deal Faces Hurdles in U.S. Congress: "'This agreement right now, for it to be voted on, would be premature,' Richard Trumka, president of America's largest labor federation, the AFL-CIO, told Bloomberg TV. 'The Mexican government has to change their [labor] laws, then they have to start effectively enforcing them, and then they have to demonstrate that they have the resources necessary to enforce those laws, because if you can't enforce a trade agreement, it's useless.'"
At Our Current Pace It'll Take 80 Years to Repair All the Structurally Deficient Bridges in the U.S., A Report Finds: "Officials have dubbed Monday's bridge collapse in Tennessee a freak accident, but that might be turning a blind eye to a larger issue. Bridges across the United States are deteriorating, and a new report estimates it will take more than 80 years to fix all of them. More than 47,000 bridges in the United States are in crucial need of repairs, says the American Road and Transportation Builders Association, or ARTBA. The group, which advocates for investment in transportation infrastructure, analyzes data from the Federal Highway Administration and releases an annual Deficient Bridge report."
Trumka Warns Lawmakers: Don't Vote for Quickie 'New NAFTA': "AFL-CIO President Richard Trumka is warning lawmakers that voters will oppose any solon who votes for a 'quickie new NAFTA,' so to speak. That means workers would oppose lawmakers who favor a quick vote on legislation implementing the new U.S.-Mexico-Canada free trade agreement—before Mexico has both enacted stronger worker rights and put in place the systems and people to implement them. Even a stronger Mexican labor law, but without enforcement in place, won't satisfy U.S. workers, or the U.S. labor movement, he adds. Trumka forecast such electoral retribution in an April 1 telephone press conference on the U.S.-Mexico-Canada Agreement (USMCA), also known as NAFTA 2.0 or the 'new NAFTA.' The GOP Trump administration negotiated it with—Canada would say strong-armed it on—the other two North American nations to replace the 25-year-old original NAFTA."
Women Can Close the Pay Gap by Forming Unions: "In 2018, women once again came home with over 16% less money in their paychecks. Tuesday is Equal Pay Day, which means women had to work until April 2—92 days longer—to be paid the same amount as a comparable man in 2018. For many women of color, this gap is much worse. For the past 15 years, the gender wage gap has barely budged and persists across all wage levels and among employees at every education level. More and more, women are turning to their unions to implement workplace tools to narrow the gender wage gap."