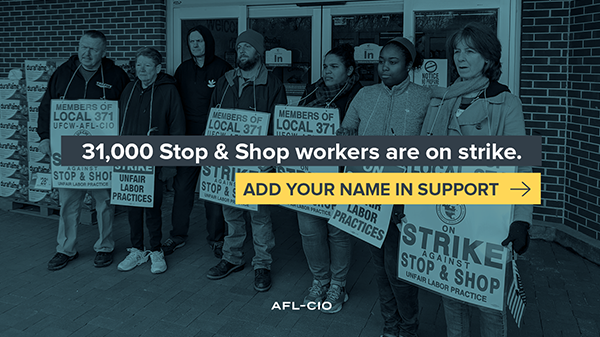 Some 31,000 members of the United Food and Commercial Workers (UFCW) are on strike at Stop & Shop supermarkets across New England, walking off the job to fight back against slashed health care benefits. Stand with our brothers and sisters today and sign UFCW's petition demanding that executives agree to a fair contract that reflects the true value of their workers.
Thanks to the tireless labor of tens of thousands of working people, Stop & Shop is thriving. Its parent company, Ahold Delhaize, recorded profits of more than $2 billion last year. Over the past three years, its shareholders have pocketed $4 billion in stock buybacks.
Yet, Stop & Shop executives want even more—and they're targeting the same workers who built that immense wealth. Going nearly two months without a contract, UFCW members have faced threats to their wages, health care, retirement and overall livelihoods.
Walking out of more than 240 stores throughout New England, working people are standing up for their most fundamental rights and dignities in the country's largest private-sector work stoppage in years.
AFL-CIO President Richard Trumka sent a message to the Stop & Shop workers: