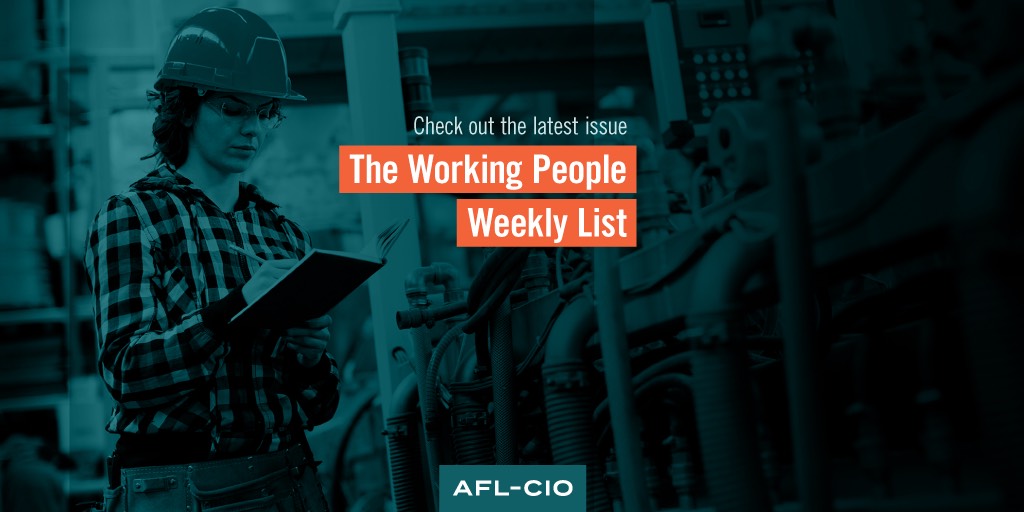 Every week, we bring you a roundup of the top news and commentary about issues and events important to working families. Here's the latest edition of the Working People Weekly List.
SEC Adopts New Broker Rules That Consumer Advocates Say Are Toothless: "The Securities and Exchange Commission voted on Wednesday to pass the so-called Regulation Best Interest. The commission said the changes would help Main Street investors by tightening the standards governing brokers who sell investment products and outlining a fresh interpretation of the duties of investment advisers who provide financial guidance. 'When working people seek out investment advice, they expect and deserve to be able to rely on the people providing that advice to prioritize their need for a secure financial future over the financial professional's interest in getting rich,' said Heather Slavkin Corzo, a senior fellow at Americans for Financial Reform and director of capital markets policy at the AFL-CIO."
Trump's North American Trade Deal Must Do More to Protect U.S. Jobs, Rep. Andy Levin Says: "Mexico didn't foist NAFTA on the United States, despite President Donald Trump's constant claims that the U.S. loses 'so much money' on the deal. We did it to ourselves, and we did it deliberately. Corporations wanted to create in Mexico a low-wage haven where they could shift production, expecting us to happily buy the imported goods built with cheap Mexican labor—while exporting our jobs."
House Votes to Give 'Dreamers' a Path to Citizenship: "The Democrat-led House passed legislation on Tuesday to grant a path to citizenship to about 2.5 million immigrants whose legal protections President Trump has moved to end, advancing a measure that highlights the bitter partisan differences over immigration. The bill, which passed 237 to 187, with seven Republicans voting yes, would create a new legal pathway for young undocumented immigrants brought to the United States illegally as children, known as Dreamers, and for those with Temporary Protected Status, granted to immigrants whose countries are ravaged by natural disaster or violence."
Trump's War on Worker Rights: "President Trump ran for office as a champion of American workers and a friend of labor unions, but his administration has systematically favored employers at the expense of workers. In recent months, the administration has moved to tighten qualifications for who must be paid the minimum wage and who must be paid overtime. It is asking the Supreme Court to rule that companies can fire workers on the basis of sexual orientation. The number of workplace safety inspectors employed by the Occupational Safety and Health Administration has fallen to the lowest level in the agency's half-century of operation."
A Court Blocked Trump's Bid to Weaken Unions. The White House Found Another Way: "President Donald Trump suffered a major legal setback last August in his effort to deconstruct the administrative state when a federal judge struck down key portions of three executive orders aimed at weakening federal unions and making it easier to fire government employees. But since then, the administration has been achieving the same goals through a different avenue―the bargaining table. And they've done it with an assist from presidential appointees whose job is to referee labor disputes within the federal government."
Delaware Governor Signs Bill Protecting Collective Bargaining Rights of 2,000 More State Employees: "Delaware Gov. John Carney signed a bill on Thursday that allows more public employees to collectively bargain for fair wages and good working conditions in the state. Previously, only select professions were afforded this protection and now more than 2,000 workers will have all the benefits that collective bargaining brings. Passage of the bill was possible through the direct and sustained involvement of a number of union members that have been elected to the state legislature."
Profiling Labor Leaders and Activists for Pride Month: "For Pride Month, the AFL-CIO is spotlighting various LGBTQ Americans who have worked and continue to work at the intersection of civil and labor rights. First, let's take a look back at LGBTQ Americans we've profiled in the past."
Get to Know AFL-CIO's Affiliates: Ironworkers: "Next up in our series that takes a deeper look at each of our affiliates is the Ironworkers."