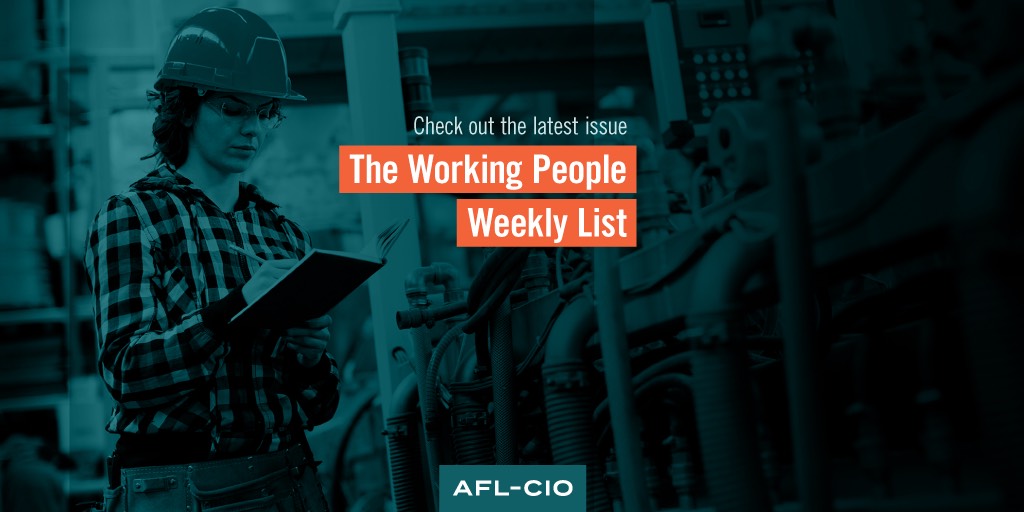 Every week, we bring you a roundup of the top news and commentary about issues and events important to working families. Here's the latest edition of the Working People Weekly List.
Strive for a Better Trade Deal: "The North American Free Trade Agreement has been nothing short of a disaster for working people. For a quarter-century, Michiganians have watched as corporations shuttered plants, raided pensions and steadily eroded communities that had come to embody the promise of the American Dream. NAFTA is a disaster. But it was no accident. Politicians and corporate executives saw trade as a way to further tilt the economy in their favor. They sold out jobs and livelihoods here at home and sacrificed workers' rights abroad. Nothing was off limits so long as they could sniff out fatter profit margins."
Passaic County Central Labor Council Encourages Education with Awards for High Schoolers: "Last night I was a part of something so truly amazing I am still having a hard time putting it into words. And for those of you that know me, words are usually my thing. There is so much that I am grateful for and want to share. It was an incredible night and to me, it was more than 100 years in the making."
Save Our VA!: What Working People Are Doing This Week: "Welcome to our regular feature, a look at what the various AFL-CIO unions and other working family organizations are doing across the country and beyond. The labor movement is big and active—here's a look at the broad range of activities we're engaged in this week."
'State of the Unions' Podcast: Union Proud: "On the latest episode of 'State of the Unions,' Julie and Tim talked with Pride At Work Executive Director Jerame Davis as the AFL-CIO constituency group celebrates its 25th anniversary. They discussed the progress made by LGBTQ working people over the past quarter-century and the work still left to be done."
Governor Murphy Signs 'Panic Button' Bill to Protect Hotel Workers from Assaults, Harassment: "Hundreds of hotel workers, union leaders and elected officials gathered at Harrah's Resort in Atlantic City today to witness the signing of a bill requiring hotels to equip certain employees with 'panic buttons' for their protection against inappropriate conduct by guests."
Pride Month Profiles: Irene Soloway: "For Pride Month, the AFL-CIO is spotlighting various LGBTQ Americans who have worked and continue to work at the intersection of civil and labor rights. Our first profile this year is Irene Soloway."
Stop the War on Working People: In the States Roundup: "It's time once again to take a look at the ways working people are making progress in the states."
Get to Know the AFL-CIO's Affiliates: "Throughout the year, we've been profiling each of our affiliates. Let's take a look back at the profiles we've already published."
Get to Know AFL-CIO's Affiliates: Fire Fighters: "Next up in our series, which takes a deeper look at each of our affiliates, is the Fire Fighters."
The TWU Celebrates Its 20th Organizing Victory!: "The TWU organizing machine is in full swing. Under this new leadership, the Transport Workers union has just won our 20th new worker organizing drive. We continue to grow and thrive across the entire transport sector. Since 2017, our membership has increased from 137,000 to 151,000."
Economy Gains 75,000 Jobs in May; Unemployment Steady at 3.6%: "The U.S. economy gained 75,000 jobs in May, and the unemployment rate remained at 3.6%, according to figures released this morning by the U.S. Bureau of Labor Statistics. Wage growth of 3.1% was lower than last month's 3.4% and, a downward revision of 75,000 for the job numbers for March and April signals that the Federal Reserve's Open Market Committee needs to inch down interest rates."
AFL-CIO President Hosts NAFTA Town Halls in Michigan, Ohio, Pennsylvania: "The president of the nation's largest labor union announced Tuesday that he will hold a series of town halls about 'union members' struggles under NAFTA, and what working people want to see from the administration's proposed USMCA [United States-Mexico-Canada Agreement].' The AFL-CIO's Richard Trumka will travel to Pennsylvania, Ohio and Michigan over the course of three days in mid-June to speak with union members as the President Trump administration pushes Congress to ratify his replacement for the much-maligned North American Free Trade Agreement."