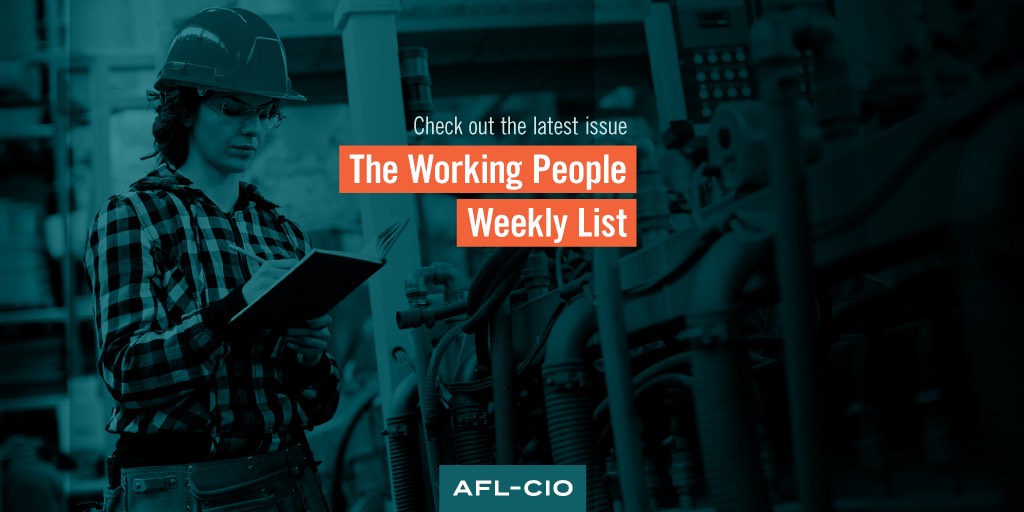 Every week, we bring you a roundup of the top news and commentary about issues and events important to working families. Here's the latest edition of the Working People Weekly List.
12 Facts You Need to Know from the 2019 AFL-CIO Executive Paywatch Report: "The AFL-CIO this week released its annual Executive Paywatch report. AFL-CIO Secretary-Treasurer Liz Shuler discussed the federation's findings during a call with reporters, highlighting the continuing pay inequity between workers and CEOs, discussing the impact of the Trump administration's tax law on executive compensation and pointing out some of the worst offenders among major corporations."
International Labor Organization Fights Gender-Based Workplace Violence and Harassment: Eight years ago, women union leaders and activists began campaigning for the International Labor Organization to tackle gender-based violence and harassment at work. Last week, at the ILO's100th anniversary, workers, governments and employers voted overwhelmingly to approve a binding Convention on Violence and Harassment in the World of Work."
Get to Know AFL-CIO's Affiliates: Machinists: "Next up in our series that takes a deeper look at each of our affiliates is the Machinists."
AFL-CIO Trade Tour: Demand Better in New NAFTA: "AFL-CIO President Richard Trumka (UMWA) hosted a series of town hall meetings in Pennsylvania, Ohio and Michigan this week, where he talked with working people about NAFTA and what working families need from a new deal."
Pride Month Profiles: Jeanne Laberge and Ruth Jacobsen: "For Pride Month, the AFL-CIO is spotlighting various LGBTQ Americans who have worked and continue to work at the intersection of civil and labor rights. Our next profile is Jeanne Laberge and Ruth Jacobsen."
Get to Know AFL-CIO's Affiliates: Heat and Frost Insulators: "Next up in our series that takes a deeper look at each of our affiliates is the Heat and Frost Insulators (HFIU)."
Hundreds of Thousands Demand, 'No Vote On NAFTA 2.0 Until It Is Fixed': "'Last week workers in Pittsburgh, Youngstown, Akron, Dayton, Cleveland and Detroit told me to bring back a message to D.C. that the new NAFTA is not good enough,' said Richard Trumka, president of the AFL-CIO. 'People are hurting and searching for answers. They refuse to support another trade agreement that doesn't account for their needs. Working people are ready to turn the page on NAFTA and end the era of outsourcing. It is time for negotiators to go back to the table and hammer out an agreement that is good for working people.'"
CEOs Made 287 Times More Money Last Year than Their Workers Did: "After years of kicking and screaming, corporate executives have finally released pay data on what their CEO makes versus their median worker. Unsurprisingly, the gap is obscene. The average chief executive of an S&P 500 company earned 287 times more than their median employee last year, according to an analysis of the new federal data released Tuesday by the AFL-CIO labor federation."
Trumka in Ohio: Fix Trade Pact: "Speaking to some 200 union activists here June 18, AFL-CIO President Richard Trumka called for renegotiation of the U.S.-Mexico-Canada trade agreement to stop the ongoing tidal wave of plant closings. The shutdowns unleashed by the 1994 North American Free Trade Agreement (NAFTA) have continued as recently as last March when General Motors closed its auto assembly plant in Lordstown, Ohio. Trumka said NAFTA has caused elimination of almost one million jobs, destroying the lives of workers and their families, who lost homes, wages, pensions and  their entire way of life as communities were disrupted across the land. U.S. corporations, driven by greed for higher profits, often relocated plants to Mexico where U.S. companies pay little or no taxes, workers are paid much lower wages and goods they produce are exported to the U.S. without tariffs."
In Montana, AFL-CIO President Talks About the Future of Coal: "Rich Trumka, the president of the country's largest union federation, the AFL-CIO, was in Montana for the state's convention in Missoula last week. The federation represents many workers in Montana's troubled coal industry. Trumka is a third-generation miner. The Pennsylvania native can't accept that workers, like those in Colstrip, are getting squeezed out of their jobs. 'We sent a person to the moon and brought them back. We can't figure out how to burn a lump of coal, cleanly? I just refuse to believe that,' he says."
AFL-CIO President Says 'Useless' Trump Trade Deal Hurts Workers: "AFL-CIO President Richard Trumka said a renegotiated trade deal between the United States and its neighbors will 'suck jobs' from America if stronger enforcement language isn't included. President Donald Trump said the United States-Mexico-Canada Agreement has 'tremendous union support' at the White House Thursday, but Trumka encouraged workers in the largest federation of American unions to oppose the deal as written. In a fiery speech, Michigan AFL-CIO President Ron Bieber said the USMCA is a 'bulls--t, non-enforceable, bad for workers trade agreement.'"