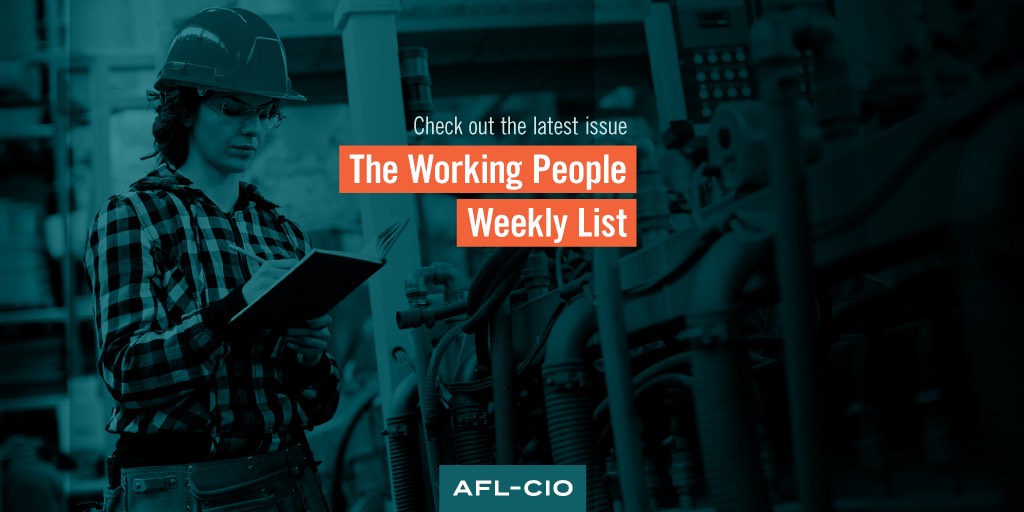 Every week, we bring you a roundup of the top news and commentary about issues and events important to working families. Here's the latest edition of the Working People Weekly List.
'State of the Unions' Podcast: Demanding Better: "Over three days in June, AFL-CIO President Richard Trumka held town halls in Pittsburgh, Cleveland and Detroit to talk with workers about the future of NAFTA. Listen to some of the highlights from that conversation on the latest episode of 'State of the Unions.'"
Make History: What Working People Are Doing This Week: "Welcome to our regular feature, a look at what the various AFL-CIO unions and other working family organizations are doing across the country and beyond. The labor movement is big and active—here's a look at the broad range of activities we're engaged in this week."
Get to Know AFL-CIO's Affiliates: SMART: "Next up in our series that takes a deeper look at each of our affiliates is the International Association of Sheet Metal, Air, Rail and Transportation Workers."
Union Member Brings Unemployment Benefit Increase Bill to Governor's Desk: "Delaware Gov. John Carney signed a bill Sunday that raises the region's lowest unemployment benefit. Under the bill, the maximum weekly payment will rise from $330 to $400—a long-overdue increase since the last update in 2002."
Pride Month Profiles: Joni Christian: "For Pride Month, the AFL-CIO is spotlighting various LGBTQ Americans who have worked and continue to work at the intersection of civil and labor rights. Our next profile is Joni Christian."
Labor Activist Wins Primary Election for White Plains Common Council: "Jenn Puja (IUOE), a labor activist and organizer, won her primary race for White Plains Common Council in New York this week. Puja, along with two other labor-endorsed candidates, advanced to the general election in November."
We Must Not Forget Oregon Democrats' Betrayal on PERS: "The best thing about being president of the Oregon AFL-CIO—with less than 100 days until the end of my term—is that I can now say whatever I want, whenever I want. For example, in the past, I felt limited in the ways I held legislative Democrats accountable. There is a tendency to soften one's criticism, understanding that there is always a next session and another legislative agenda. Holding legislative leadership accountable with statements that are too harsh could impact future legislative agendas. I am sorry to say: There are too few Republicans that we can count on to help move our agenda, making the Democrats the only game in town for labor issues."
Working People Deserve Better: In the States Roundup: "It's time once again to take a look at the ways working people are making progress in the states."
House to Pass $15 Minimum Wage; Studies Debunk GOP Job Loss Claims: "'Every time momentum builds for lifting wages, conservative ideologues say it will cost jobs. Every time they've been dead wrong,' said AFL-CIO President Richard Trumka. He estimated the hike would help 40 million workers. Scott put the figure at 27 million minimum-wage workers alone. 'Being consistently wrong and not caring about workers are the only two things conservative economists can be counted on for,' Trumka continued. 'This is more of the same noise. They want subservient, scared workers whose suffering will expand their stock portfolios. Our country is finally poised to lift millions out of poverty and make our country work for the people who work. Let's raise the wage, and we'll prove the CBO wrong again.'"