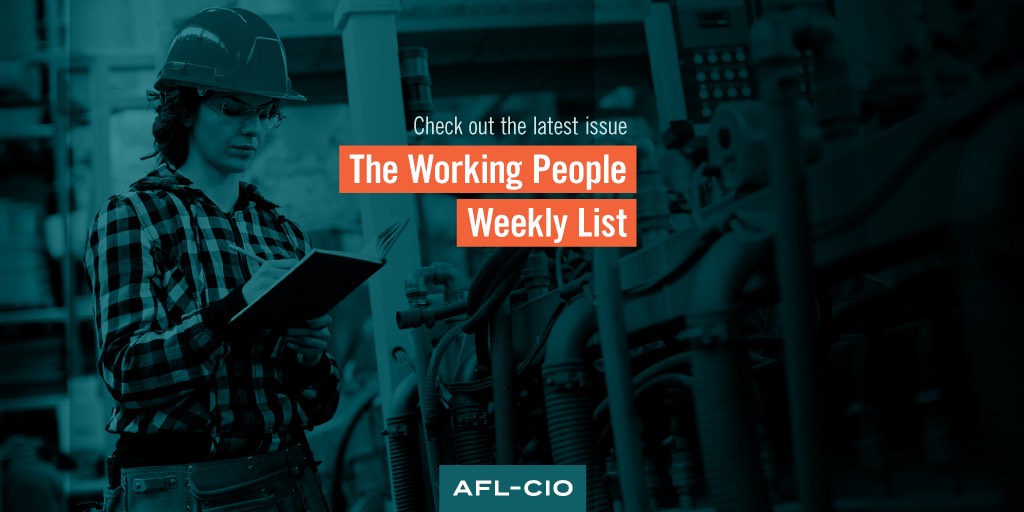 Every week, we bring you a roundup of the top news and commentary about issues and events important to working families. Here's the latest edition of the Working People Weekly List.
Never Underestimate the Collective Power of Working People: "It has been a year since the Supreme Court awoke a sleeping giant: The labor movement."
Repression Continues in Kazakhstan as Union Leader Faces Seven Years in Prison: "The AFL-CIO strongly condemns the ongoing persecution of independent trade union leaders in Kazakhstan and the sentencing this week of Erlan Baltabai, leader of the Fuel and Energy Workers' Union, affiliated with the Confederation of Independent Trade Unions of the Republic of Kazakhstan (KNPRK). Baltabai was sentenced to seven years in prison and banned from exercising his right to engage in public life in what appears to be spurious criminal proceedings in retaliation for his trade union activism and support of other KNPRK leaders targeted by the government."
Sorry to Bother You: Worker Wins: "Our latest roundup of worker wins begins with big victories for working people in the Minnesota legislature and includes numerous examples of working people organizing, bargaining and mobilizing for a better life."
Missouri Needs Relief: In the States Roundup: "It's time once again to take a look at the ways working people are making progress in the states."
Get to Know AFL-CIO's Affiliates: Boilermakers: "Next up in our series that takes a deeper look at each of our affiliates is the Boilermakers."
Working Families Must Be Together, and Free: "As working families around the country prepare for likely immigration raids, we reaffirm this statement from the AFL-CIO Executive Council. America's unions will continue to fight for all working people. The labor movement is taking steps to ensure that members of our communities and our unions know their rights and know that we will all stand together in the face of these attacks. Be safe out there."
Merkley Co-Sponsors Clean-Energy Jobs Bill: "At a press conference Thursday at the U.S. Capitol, Sen. Jeff Merkley, D-Ore., and AFL-CIO President Richard L. Trumka unveiled the Good Jobs for 21st Century Energy Act, major new legislation to create good-paying jobs in the transition to clean energy. 'This is the right bill at the right time to fight climate change and create the kind of family-sustaining jobs our country is desperate for,' said AFL-CIO President Richard Trumka. 'For too long, the corporate right-wing—the polluters and the union-busters—conspired together to create a false choice: a raising wages economy or a clean environment. We can and must have both.'"
Norcross-Led Repeal of the 'Cadillac Tax' Passes House of Representatives, Poised to Lower Healthcare Costs for Americans: "'Working families have waited too long for repeal of the 40% health benefits tax,' said AFL-CIO President Richard Trumka. 'It's a shame that health care remains out of reach for millions across the country because they can't afford to see their doctor. It's time to end this tax that drives up deductibles and copays that empty workers' wallets.'"
'Prime Day' Is a Prime Time for Collective Action: "This week, millions of consumers flocked to Amazon looking for a deal on Prime Day, which brought in more than $3.9 billion for the retail giant last year. Maybe you were one of those shoppers. But, as you await the delivery of the trendiest tech or basic household items you bought for a bargain, remember that it takes hundreds of thousands of workers to turn your simple click of the button into a package at your door at breathtaking speed. And far too often, these workers say they are being treated terribly and denied basic rights on the job. That's why workers in Shakopee, Minnesota, took a stand and walked out on Monday. These workers aren't asking for the moon. They're demanding a safe and reliable working environment, the chance to advance in their career and the opportunity to organize and advocate for a better life."
USMCA Is Totally Unenforceable, AFL-CIO President Trumka Says: "Richard Trumka, president of the AFL-CIO, discusses the new U.S.-Mexico-Canada Agreement (USMCA), his views on the 2020 presidential election candidates and the Trump administration's approach to U.S. immigration policy with Bloomberg's Craig Gordon and Marty Schenker on 'Balance of Power.'"