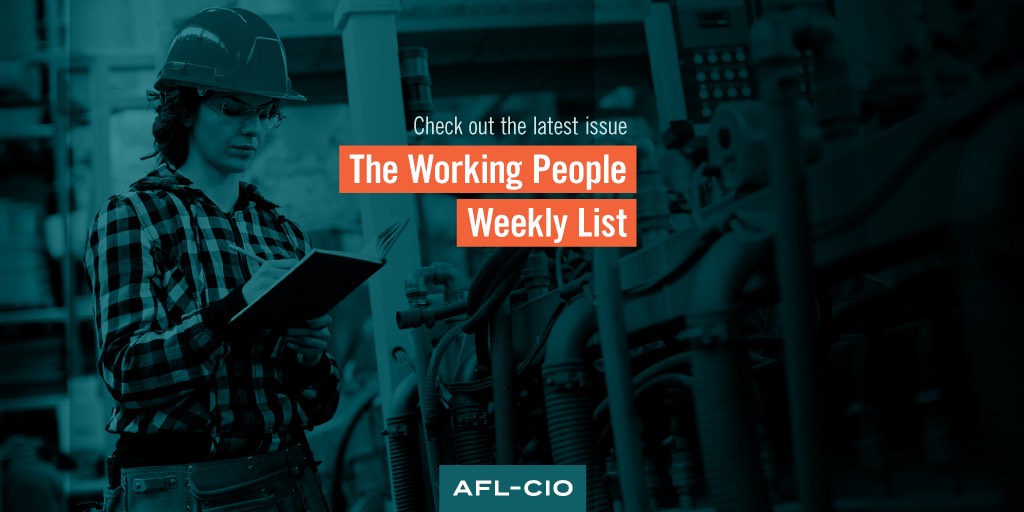 Every week, we bring you a roundup of the top news and commentary about issues and events important to working families. Here's the latest edition of the Working People Weekly List.
New Collective Bargaining Law Paves the Way to Worker Justice at Delaware DMV: "After Delaware Gov. John Carney signed a bill to expand collective bargaining rights for public employees in June, workers have begun organizing at state agencies. Employees of the Delaware Division of Motor Vehicles voted last week to join Laborers (LIUNA) Local 1029, establishing a union there for the first time."
Maine Union Members Answer the Call on Path to Power: "Electrical Workers (IBEW) Local 1253 member Tina Riley never had any desire to get involved in politics until she was recruited to run for the Maine Legislature in 2015."
'State of the Unions' Podcast: UNITE HERE President D. Taylor: "On the latest episode of "State of the Unions," Julie and Tim talk to UNITE HERE President D. Taylor about the activism of airline catering workers and the current moment for union organizing."
The Future Is at Stake: What Working People Are Doing This Week: "Welcome to our regular feature, a look at what the various AFL-CIO unions and other working family organizations are doing across the country and beyond. The labor movement is big and active—here's a look at the broad range of activities we're engaged in this week."
Get to Know AFL-CIO's Affiliates: Electrical Workers: "Next up in our series that takes a deeper look at each of our affiliates is the Electrical Workers."
Fighting for Fair Treatment Amid Record Profits: Tenae Stover's Story: "My name is Tenae Stover. I am a native Washingtonian, and I have been working at Reagan National Airport for LSG Sky Chefs for the past three years. I'm a leader with my union UNITE HERE in our national fight for respect and dignity and for one job to be enough to live for airline catering workers across the United States."
The Video Game Industry Can't Go On Like This: "At about this time next year, we'll have a pretty good idea of what the next generation of video games will look like. New consoles will likely be shown off, bold new streaming initiatives will begin to launch, and we'll see all the wonderful kinds of games they will bring us. All these new things will come, and we'll close the book on a generation that saw the industry that makes games come under greater scrutiny than ever before, as studios shuttered, developers burned out and toxic work culture fostered environments hostile to marginalized people."
BuzzFeed Staffers Establish NewsGuild as Union Bargaining Agent: "A bitter five-month battle between BuzzFeed management and its workers' union ended Tuesday when a third-party definitively established the NewsGuild of New York as the official bargaining agent for about 80 U.S. news-side employees. Now comes the really hard part: Hammering out a first contract covering everything from wages and severance to diversity and retirement and health plans. 'We stayed strong in the face of fierce resistance from BuzzFeed management,' said Rachel Sanders, deputy culture editor and member of the union's organizing committee. 'Now that we're finally recognized, I'm excited to bargain for a contract that will not only make this a stronger newsroom and company, but raise the bar for how workers are treated across our industry.'"
Labor Groups Rally Against Medical Debt Lawsuits: "Labor leaders spoke from a stage on a hot July afternoon Saturday in Baltimore near the hospital. AFL-CIO President Richard Trumka spoke at the event, as well as Secretary-Treasurer Liz Shuler and National Nurses United Executive Director Bonnie Castillo. They called on Johns Hopkins to cancel all medical debt lawsuits filed against low-income patients. They say the hospital has filed more than 2,400 lawsuits in Maryland courts seeking payment of alleged medical debt from former patients since 2009."