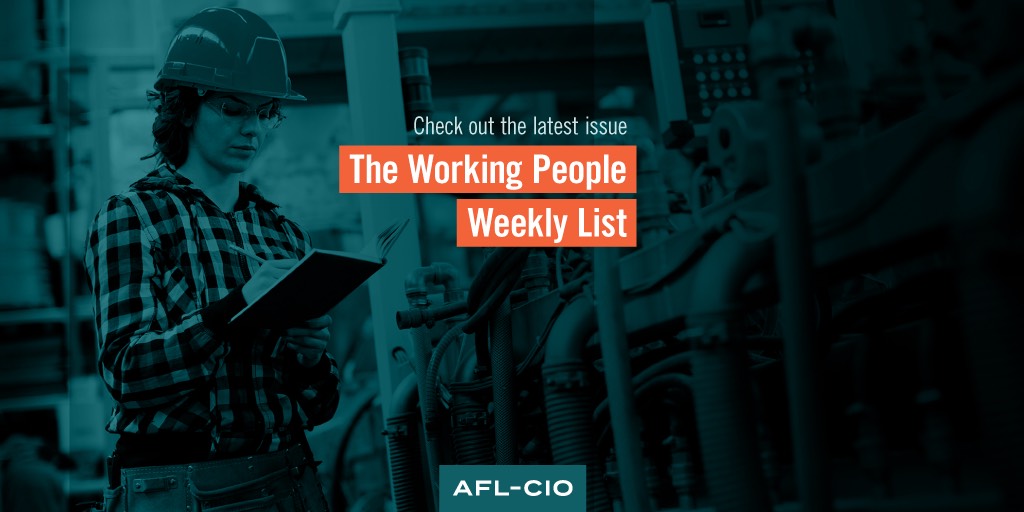 Every week, we bring you a roundup of the top news and commentary about issues and events important to working families. Here's the latest edition of the Working People Weekly List.
Presidential Candidates Warned: They Must be 'Unambiguously Pro-Worker' to Earn Union Leader's Endorsement: "The national leader that represents nearly 12.5 million union workers says the two dozen candidates running for president must be 'unambiguously pro-worker and pro-union' to earn the organization's endorsement. 'The path to the nomination and the White House runs through the labor movement,' Richard Trumka, president of the AFL-CIO, a federation of 55 national and international unions, said Wednesday via video-conference to the Iowa Federation of Labor AFL-CIO's annual convention. Trumka said the organization is looking for someone who lives and breathes unions, puts workers first every time—not just in front of a union audience—and has 'more than platitudes' on growing the labor movement."
Save Our Apprenticeships: What Working People Are Doing This Week: "Welcome to our regular feature, a look at what the various AFL-CIO unions and other working family organizations are doing across the country and beyond. The labor movement is big and active—here's a look at the broad range of activities we're engaged in this week."
Union Veterans Fight for Texas Catering Workers: "On Tuesday morning, as union veteran Sam Tijerina drove from Pasadena, Texas, to Dallas, he had a lot on his mind. His thoughts wandered as he passed mile markers and towns—he thought about his young family at home and the life that having a union job has provided them. 'A union card has allowed me to live with dignity,' he said."
Free At Last! Labor Podcast and Radio Roundup: "In addition to the AFL-CIO's own 'State of the Unions,' there are a lot of other podcasts out there that have their own approach to discussing labor issues and the rights of working people. Here are the latest podcasts from across the labor movement in the United States."
'State of the Unions' Podcast: Save Our Apprenticeships: "On the latest episode of 'State of the Unions,' podcast co-host Tim Schlittner talks to North America's Building Trades Unions (NABTU) Chief of Staff Mike Monroe about a Department of Labor proposal that would undermine world-class apprenticeships in the construction industry."
Lesotho Plan Has All Elements to End Gender-Based Violence at Work: "A new worker-centered, precedent-setting program will comprehensively address the rampant gender-based violence and harassment (GBVH) denying thousands of women garment workers a safe and dignified workplace in Lesotho."
Ahead of Election Season, New Jersey State AFL-CIO's Labor Candidates School Grooms New Crop of Office-Seeking Union Members: "It was a monumental weekend for 28 union members who graduated from the New Jersey State AFL-CIO's 23rd Annual Labor Candidates School on Sunday."
AFL-CIO International Affairs Committee's Response to Israel's Denial of Entry to Reps. Omar and Tlaib: "The AFL-CIO International Affairs Committee issued the following response to the government of Israel's decision to deny entry to Reps. Ilhan Omar and Rashida Tlaib."
Meet the 2019 NYC Labor Day Parade Grand Marshal: Elizabeth Shuler: "As a graduate of the University of Oregon with a degree in journalism, Elizabeth (Liz) Shuler, like many young people today, pieced together part-time jobs, lived at home and struggled to find decent work in the early 1990s. Experiencing uncertainty in the economy made her realize that every job is an opportunity to stand up for the underdog. Today, as secretary-treasurer of the AFL-CIO, the second-highest position in the labor movement, Shuler serves as the chief financial officer of the federation and oversees operations. Shuler is the first woman elected as the federation's secretary-treasurer, holding office since 2009."