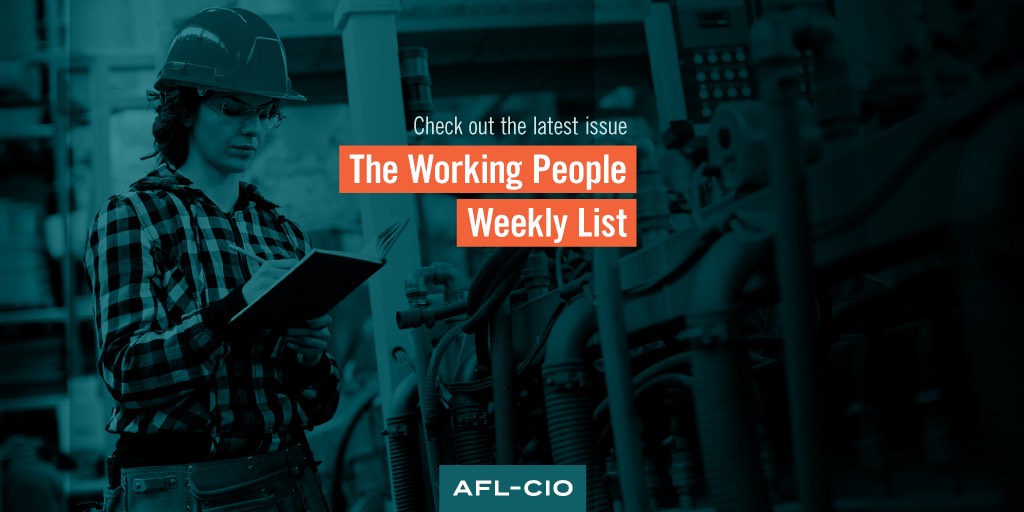 Every week, we bring you a roundup of the top news and commentary about issues and events important to working families. Here's the latest edition of the Working People Weekly List.
CWA's Morton Bahr Was a Labor Icon: "On Tuesday night, Communications Workers of America (CWA) President Emeritus Morton Bahr passed away. Bahr was an iconic leader in the American labor movement whose innovation and dedication will be felt for many years to come."
Drivers Win Dignity by Forming Union, Striking for Fairness: "Right in the heart of tourist season on Martha's Vineyard, Massachusetts, visitors and residents alike now will be driven around the island by union bus drivers who just won their first contract."
Hotel Trades and Airbnb Square Off in Jersey City Over Ordinance Regulating Short-Term Rentals: "On June 26, the Hotel Trades Council celebrated the passage of a Jersey City ordinance that places regulations on Airbnb rentals. The ordinance safeguards the wages, benefits and jobs of hundreds of hotel workers in the Jersey City region. Moreover, it protects affordable housing and quality of life for tens of thousands of city residents."
Oregon AFL-CIO Cements Deal to Make Portland Baseball Stadium Union-Friendly: "The Oregon AFL-CIO and allies negotiated a historical deal with the Portland Diamond Project that will mean a stadium being built in order to attract Major League Baseball to the city will be union-friendly. In signing the labor harmony agreement, the Portland Diamond Project has voluntarily agreed to allow workers at the stadium to organize and form unions."
Solidarity Makes Us Strong: In the States Roundup: "It's time once again to take a look at the ways working people are making progress in the states."
Get to Know AFL-CIO's Affiliates: International Federation of Professional and Technical Engineers: "Next up in our series that takes a deeper look at each of our affiliates is the International Federation of Professional and Technical Engineers."
Labor Puts Candidates on Notice: 'Let's Be Honest About the Democratic Party's Record': "The president of the AFL-CIO labor federation spoke at a closed meeting with representatives from the entire field of 2020 Democratic presidential candidates ahead of Wednesday's debate in Detroit. His message was straightforward: 'It's time to do better.' Richard Trumka told attendees that while President Donald Trump is enacting bad policies for workers, Democratic leaders need to reckon with their own role in creating an unfair economy. He said 'both parties' are to blame for a system that caters to the rich."
AFL-CIO's Trumka Looks for Workers' Candidate: Campaign Update: "AFL-CIO President Richard Trumka said he'll be watching the Democratic debates to see which presidential candidate can best help working people. 'We ARE this country, yet more and more, the economic and political rules have been rigged against us,' Trumka, who heads the largest federation of U.S. unions, said in a statement. 'We'll be listening for a candidate who will use the presidency to make our country work for working people. We're not settling for anything less.'"
AFL-CIO President Richard Trumka Before Debate: "We're everywhere. We make this country run. We ARE this country, yet more and more, the economic and political rules have been rigged against us. Today, here in Michigan, an autoworker woke up with a pain in her stomach, terrified that she'll be the next to lose her job to NAFTA. A single mother heard pundits talk about our great economy and wondered when that greatness would reach her paycheck. An immigrant worker was exploited and threatened with deportation for daring to speak up for safety on the job. A nurse watched another patient walk away from medical care they couldn't afford. A coal miner worried about the urgent threat of climate change AND the urgent threat to his hard-earned pension. Today, in small towns and big cities, in factories and in offices, co-workers joined together, trying to make things better, fighting to organize a union, only to find their voices silenced by unrestrained corporate greed and century-old labor laws."
MLB to Portland Group Expects to Meet with MLB Commissioner in Next Two Months: "Portland Diamond Project announced Monday it will allow employees who work at Portland's future ballpark to organize and join a union, and provided an update on the group's effort to bring a Major League Baseball team to Portland.During Monday's press conference, PDP also signed a labor peace agreement with the Oregon AFL-CIO and its affiliated unions. 'Oregon's unions are proud to be a part of the efforts to bring baseball to the Rose City,' Oregon AFL-CIO President Tom Chamberlain said. Chamberlain added that the future ballpark will be the only unionized sports arena in the state. 'This agreement is just the beginning of PDP's efforts to generate economic opportunities for Portlanders and people across the region,' PDP founder and president Craig Cheek said. Portland Mayor Ted Wheeler called the labor agreement 'a significant milestone' in bringing a Major League Baseball team to Portland. Multnomah County Chair Deborah Kafoury called it 'a strong first step.'"
Trumka Inspires at the WSLC Convention: "AFL-CIO President Richard Trumka brought hundreds of delegates to their feet Thursday at the 2019 Convention of the Washington State Labor Council, AFL-CIO, with an inspirational call to action amid dark times in our nation. 'I started in the labor movement 50 years ago,' Trumka said. 'And I've never been more confident in the power of working people. Something is happening in America right now. You can see it, you can hear it, and God, you can feel it.' 'But even on our brightest day, it's impossible to ignore the daily atrocities committed in the land that we love,' he added. 'Americans are being scapegoated, minimized, dehumanized, and told to go back to the country where they came from….Some say America has lost her way, but I think it's even worse than that. The forces of greed in our nation, both elected and not, are pulling America apart deliberately and strategically in order to line their own pockets. Today they are laughing all the way to the bank. Donald Trump is a symptom of the problem. He capitalized on anxiety, fear, and divisions that have been sowed by the ruling class since the dawn of time….The cure for that cancer has always been the same one—solidarity, working-class solidarity.'"