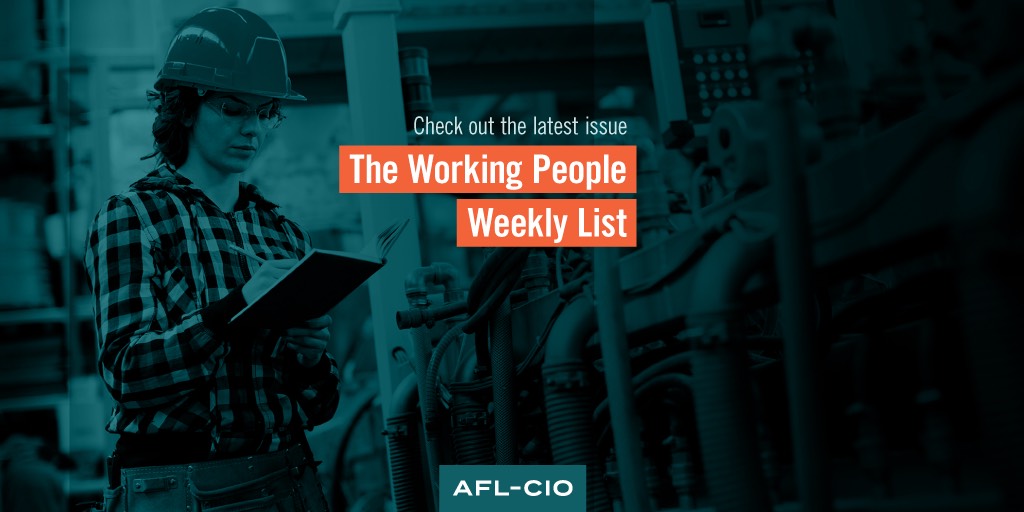 Every week, we bring you a roundup of the top news and commentary about issues and events important to working families. Here's the latest edition of the Working People Weekly List.
Working People Remember Those Lost Because of 9/11: "The terrorist attacks on Sept. 11, 2001, 18 years ago today, affected all Americans, but they had a particular impact upon first responders. Thousands of lives were lost that day and more died in the aftermath because of illnesses related to the attacks. The members and leaders of the various unions affected by the 9/11 attacks are memorializing the anniversary in various ways."
Celebrating Labor Day: Labor Podcast and Radio Roundup: "In addition to the AFL-CIO's own 'State of the Unions,' there are a lot of other podcasts out there that have their own approach to discussing labor issues and the rights of working people. Here are the latest podcasts from across the labor movement in the United States."
Get to Know AFL-CIO's Affiliates: Operating Engineers: "Next up in our series that takes a deeper look at each of our affiliates is the Operating Engineers."
Pathway to Progress: The March on Washington for Jobs and Freedom: "History has long been portrayed as a series of 'great men' taking great action to shape the world we live in. In recent decades, however, social historians have focused more on looking at history 'from the bottom up,' studying the vital role that working people played in our heritage. Working people built, and continue to build, the United States. In our new series, Pathway to Progress, we'll take a look at various people, places and events where working people played a key role in the progress our country has made, including those who are making history right now. Today's topic is the March on Washington for Jobs and Freedom."
Economy Gains 130,000 Jobs in August; Unemployment Steady at 3.7%: "The U.S. economy gained 130,000 jobs in August, and the unemployment rate remained at 3.7%, according to figures released this morning by the U.S. Bureau of Labor Statistics."
Responding to Dorian: What Working People Are Doing This Week: "Welcome to our regular feature, a look at what the various AFL-CIO unions and other working family organizations are doing across the country and beyond. The labor movement is big and active—here's a look at the broad range of activities we're engaged in this week."
State of the Unions' Podcast: Humble Courage and 90210: "On the latest episode of 'State of the Unions,' podcast co-hosts Julie Greene and Tim Schlittner talk to SAG-AFTRA President Gabrielle Carteris about the future of work, sexual harassment and her journey from young actor to labor leader."
Say No to IRAPs: In the States Roundup: "It's time once again to take a look at the ways working people are making progress in the states."
Stand Up and Be Recognized: Worker Wins: "Our latest roundup of worker wins begins with actors and actresses winning new contracts and includes numerous examples of working people organizing, bargaining and mobilizing for a better life."