Year in Review
As 2022 comes to an end, it's a time to reflect on the work of our movement and our many accomplishments. We are in a unique moment – workers are rising up together to send a clear message:
Unions' sky-high public approval rating is showing up in real time with tens of thousands of workers joining to organize.
This year we have witnessed the largest strike in higher education history, winning organizing campaigns in museums, Minor League Baseball, charter schools, hospitals, retail, the cannabis industry—the list goes on.
Most importantly, we are coming together as a movement in solidarity to support organizing, and the momentum is on our side.
We wanted to review some of our major milestones in 2022 as we prepare for the coming year. And we will leverage our accomplishments to build workers' power in communities and workplaces across the country in 2023.
The future of labor is bright. It is bold. And it is strong.
Unprecedented Investments in Organizing
The CTO and Strategic Organizing Campaign Partnerships
During the 2022 AFL-CIO Convention, we announced the creation of the Center for Transformational Organizing (CTO) to reinvigorate our movement-wide organizing ambitions. Our goal for the next 10 years is to organize 1 million new members by working across unions on specific campaigns that we identify together. 
We want to optimize the CTO's impact by building capacity through our state federations and central labor councils to support organizing. The CTO is part of a renewed push to prioritize organizing in all federation work, take advantage of this moment and build worker power at scale. 
We made major strides in 2022 on the organizing front. We worked with unions and partners such as Jobs to Move America to train and mobilize workers for job quality standards in publicly funded manufacturing investments. 
The Seattle AFL-CIO Presidents' Organizing Initiative organized several thousand workers, primarily at the city's three stadiums, bringing a density increase at T-Mobile Park to 70% from 30% and at Climate Pledge Arena to more than 90% from 0%. We coordinated the largest multi-union solidarity support in decades, with 15 unions and other labor bodies donating 100 staff organizers to support Retail, Wholesale and Department Store Union (RWDSU)-UFCW's campaign for Amazon workers in Bessemer, Alabama. 
More than ever before, we saw unions supporting joint activity in organizing, and we look forward to even greater momentum in the coming year.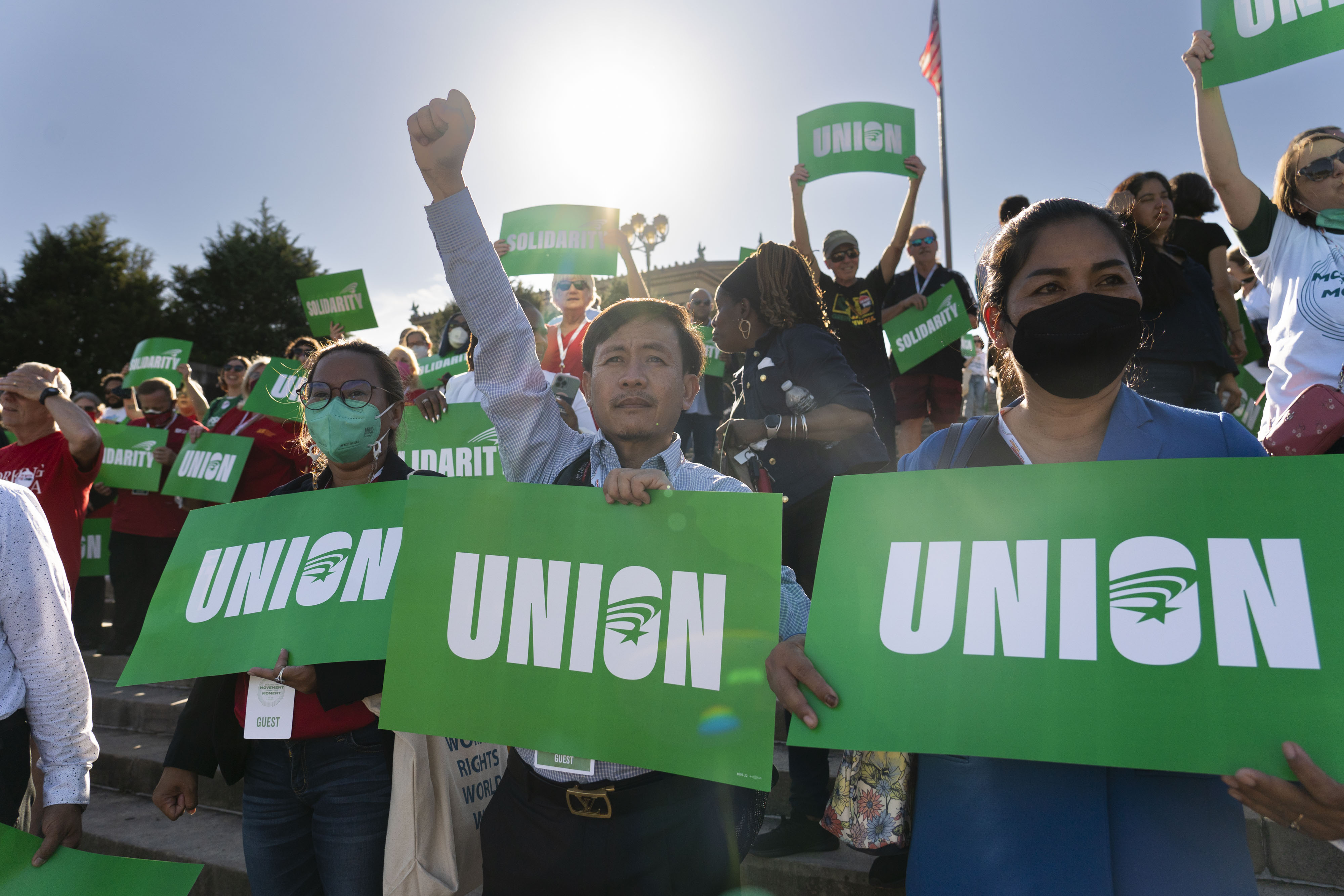 With our rights on the line, the federation mobilized and energized our members to get out the vote in the 2022 midterm elections by using an organizing approach to politics. We mobilized for democracy to elect pro-worker representatives across the nation, one conversation at a time, in break rooms and neighborhoods all around the country—winning from Nevada to Pennsylvania, from Michigan to Georgia.
We invested in our capacity on the ground with organizers and trainers to engage our members on issues through face-to-face conversations. Thanks to the efforts of working people and their unions, we delivered a true pro-worker majority in the Senate and kept the House in play for 2024. In 2022, the unions of the AFL-CIO elected 3,072 endorsed candidates at all levels of government, a number that included 670 union members.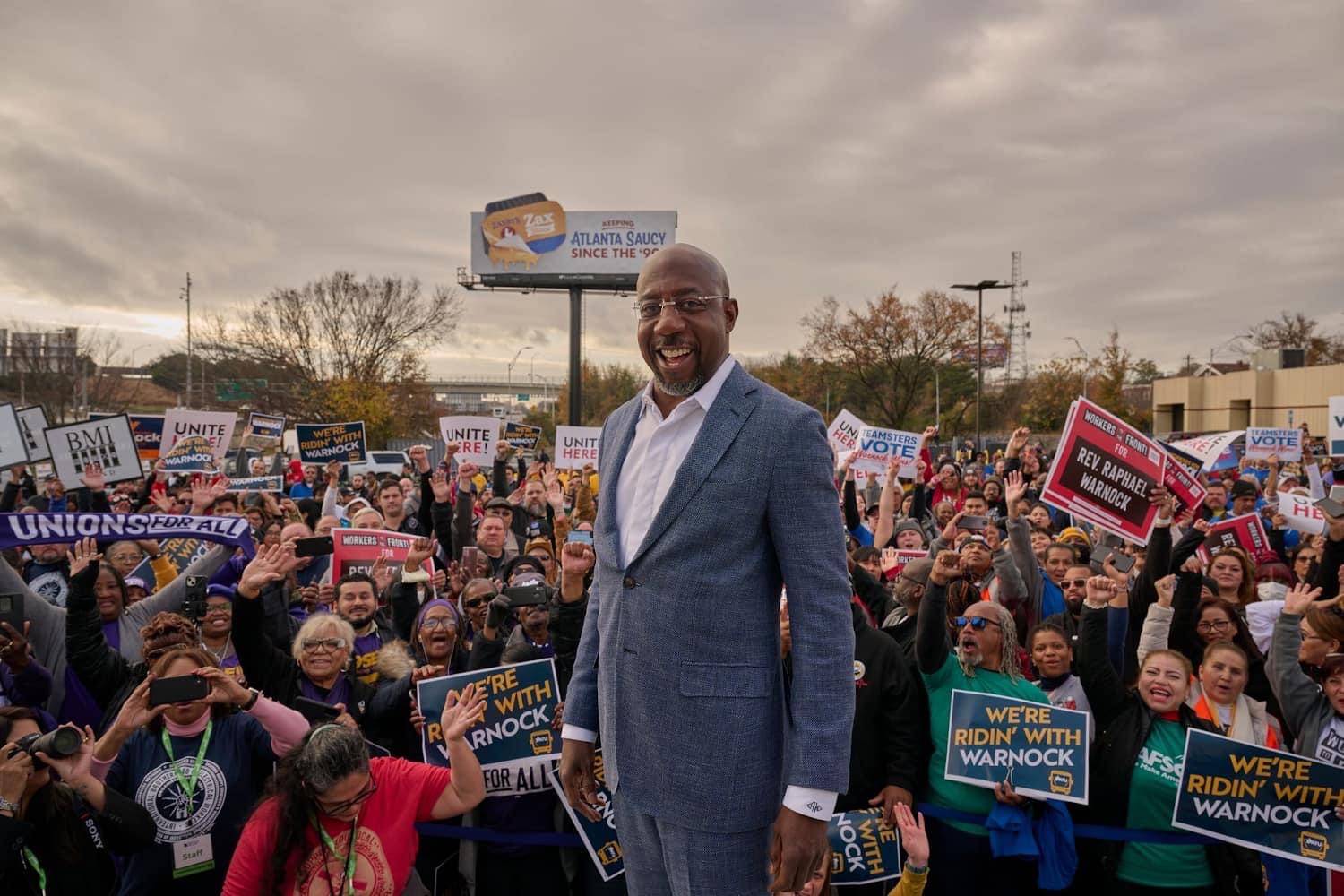 Massive Federal Investments in Good Union Jobs
Advocacy and Legislative Wins
2022 was the most productive year in decades for legislation and investments in good jobs and worker protections. The impact will be felt for years to come. The AFL-CIO and affiliate unions won passage of landmark pro-worker legislation, including $2 trillion in investments in infrastructure, clean energy and domestic manufacturing in emerging industries, such as semiconductors, as well as implementation of key elements of the American Rescue Plan, including the Special Financial Assistance Program for multi-employer pension plans.
For the first time in nearly 10 years, the National Labor Relations Board (NLRB) will finally receive a $25 million desperately needed boost in funding. Across this country, workers are organizing within their workplaces with renewed vigor in the face of employers' union-busting tactics and harassment. This critical funding will help ensure that the NLRB can do its job by protecting workers' fundamental right to form or join a union.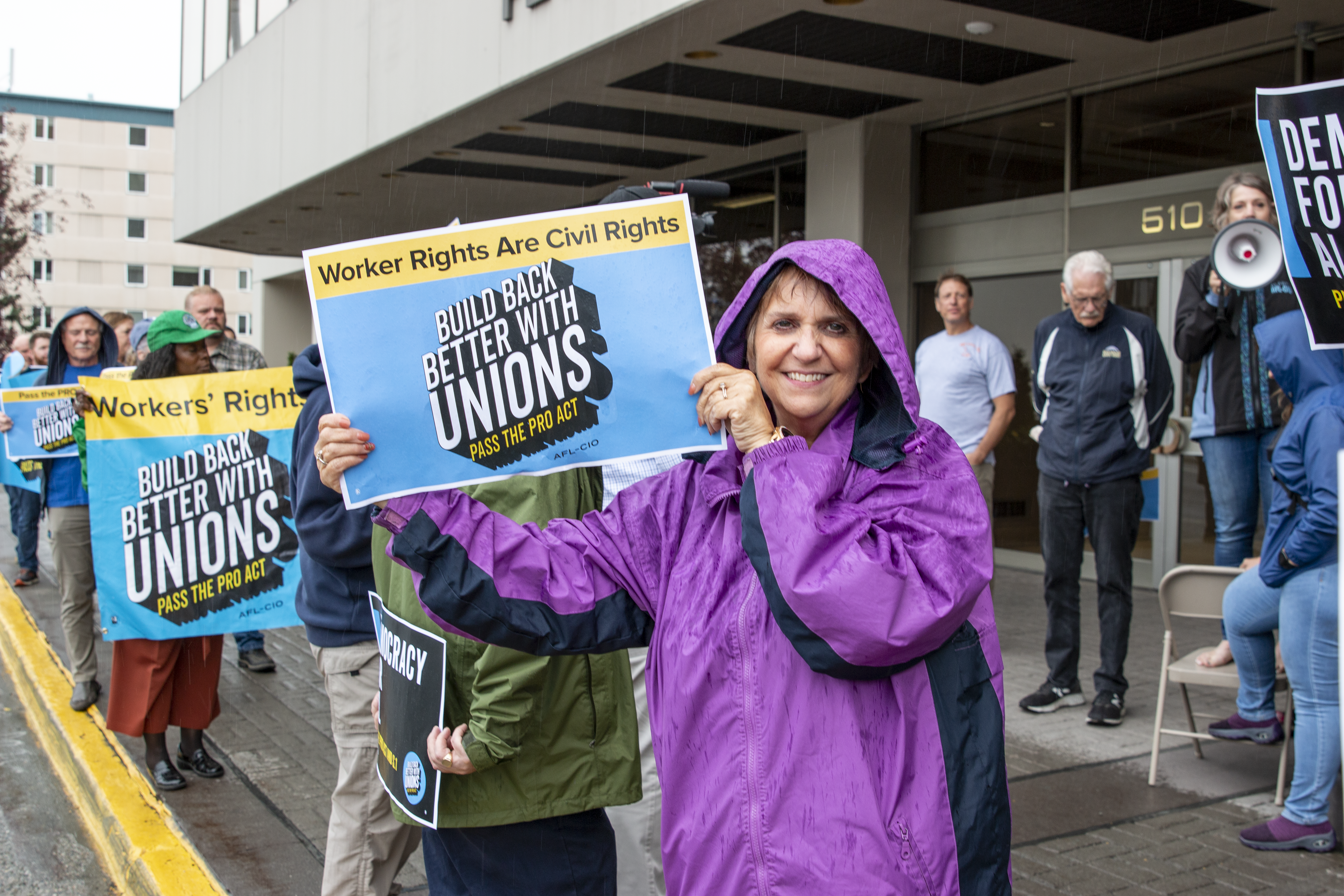 Negotiated a Clean Energy Future with Good Union Jobs
First Step to Union Jobs in Offshore Wind 
In May, North America's Building Trades Unions (NABTU) signed a project labor agreement with Ørsted for all construction of its East Coast offshore wind farms.
AFL-CIO President Shuler worked with federation counterpart LO-Denmark to execute a framework agreement from the top down with company management to ensure good union jobs that allow affiliates to organize in this growing sector. The labor movement is positioned to expand that model to all aspects of the industry and other companies in 2023.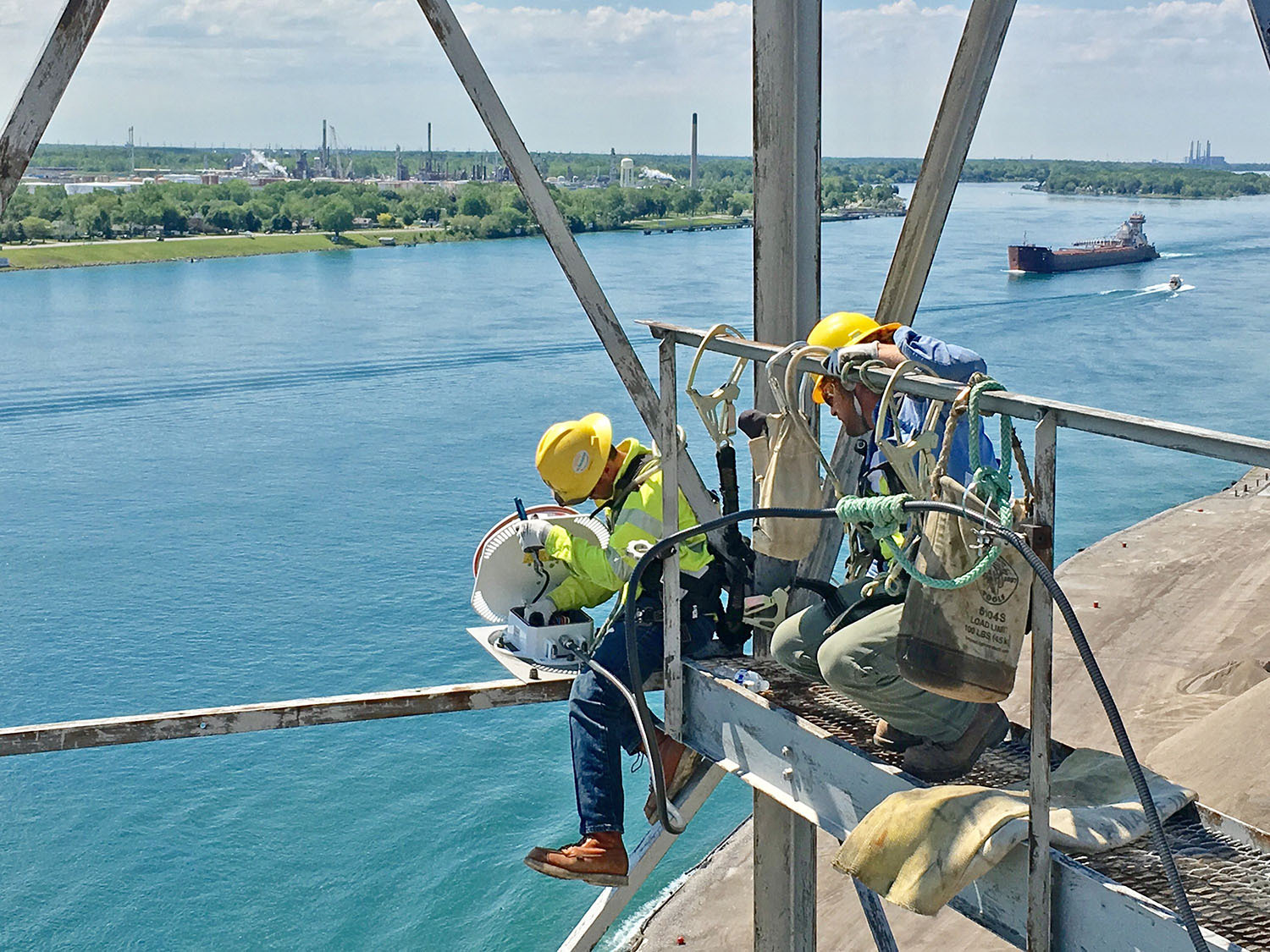 The 2022 AFL-CIO Convention

The 29th AFL-CIO Constitutional Convention, held in Philadelphia in June, was a celebration of union solidarity, democracy and innovation. We elected historic leadership: President Shuler, the first woman president of the American labor movement, and Secretary-Treasurer Fredrick Redmond, the first African American in that role.
We adopted a bold and powerful agenda for change through the resolution process, reasserting our commitment to grow the labor movement through new organizing, strengthen our state and local bodies, deepen our commitment to racial justice and inclusion, invest in good jobs in emerging industries, engage young workers and our communities and more. In total, 25 resolutions were adopted.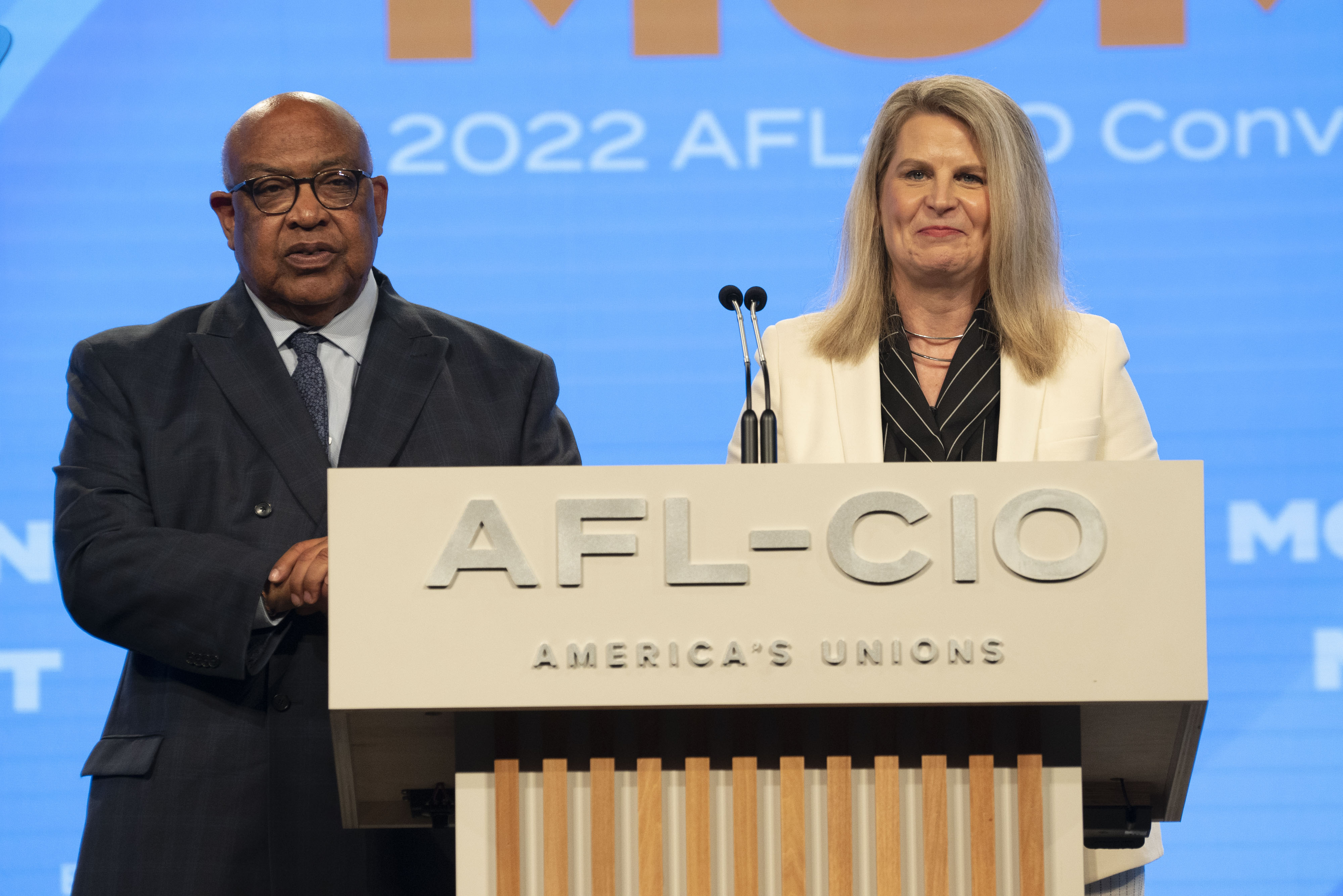 Expanded the Power of the Federation
Welcomed our 58th Affiliate and Formed the Sports Council
In September, the Executive Council and AFL-CIO welcomed our newest affiliate, the Major League Baseball Players Association (MLBPA). Additionally, our team supported and advised the MLBPA and Minor League Baseball players in their organizing campaign, which ultimately led to a successful drive for 5,000 players and voluntary recognition from Major League Baseball.
Over the summer, we launched the AFL-CIO's Sports Council, a groundbreaking and empowering initiative to bring players' unions together with the broader labor movement to align our common fights—from the major league star to the player struggling to start her career, to the construction worker building the stadium, to the server providing concessions—to maximize our collective voice and power.