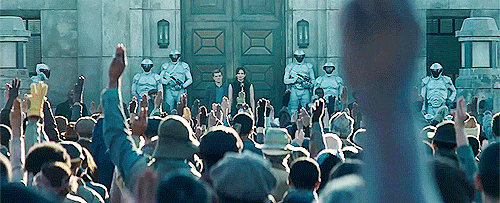 "The Hunger Games" are real. If you're familiar with the books and movies, or have at least heard of the "Hunger Games" phenomenon, you're probably aware that the series tackles some pretty serious issues of poverty and economic inequality that hit way too close to home. If you're not, here's some background.
"The Hunger Games" takes place in the fictional world of Panem, which is a dystopian North America sometime in the far off future. All the wealth in the country is concentrated in the Capitol and people in the 12 districts are constantly in fear of starvation. Everything the people in the districts produce, whether it is coal, grain, machinery or clothing, is controlled by the Capitol. People are forbidden to hunt or grow their own food, thus relying on the Capitol's meager grain and oil rations. To punish the people of Panem for District 13's rebellion (the Capitol wiped out the region in a nuclear war), each year two teenage tributes from each of the 12 districts must sacrifice their lives in an arena where they fight to the death, with only one victor remaining.
While the story is fictional, it reminds us of a lot of the issues surrounding economic inequality we see today. Some sobering facts:
Nearly all—95%—of the income gains from 2009–2012 have been captured by the wealthiest 1%.
In recent years, the wealthiest 1% have gotten richer and richer, while the median household income is down 8% since 2000.
Wages and salaries now make up the lowest share of national income since 1966, while corporate profits are now the largest share of national income since 1950.
The federal minimum wage, $7.25, hasn't risen since 2009. The tipped minimum wage, $2.13, hasn't risen in two decades.
One in 6 people in America are hungry and 1 in 5 children are.
Check out 8 Ways Economic Inequality in America Is Like the "Hunger Games."
"The Hunger Games" bestseller books and blockbuster films represent a rare opportunity where these issues of social and economic justice are being widely discussed in pop culture and in homes across the United States.
Check out this video from the Harry Potter Alliance:
Working families, union members and leaders are joining the online movement to lift up these issues of economic inequality and poverty using the "Hunger Games" as a jumping off point. Check out oddsinourfavor.org, where you can join the "resistance" and post a photo doing the "salute," the symbol of solidarity of the working people.
Below is a graphic you can share on social media showing various union members, leaders and working people representing each of the 13 districts of Panem.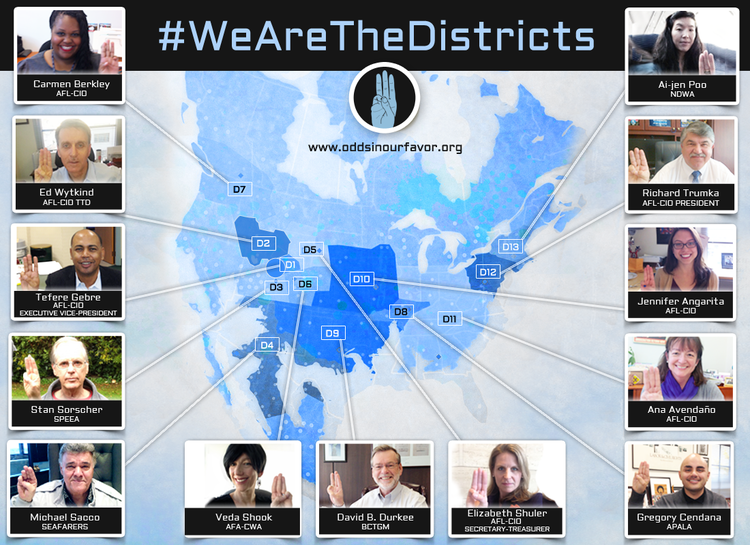 Pictured from left to right:
District 7: Carmen Berkley, director of Civil, Human and Women's Rights, AFL-CIO
District 2: Edward Wytkind, president of the Transportation Trades Department, AFL-CIO
District 1: Tefere Gebre, executive vice president, AFL-CIO
District 3: Stan Sorscher, labor representative, Society for Professional Engineering Employees in Aerospace (SPEEA)
District 4: Michael Sacco, president, Seafarers (SIU)
District 6: Veda Shook, international president, Association of Flight Attendants-CWA (AFA-CWA)
District 9: David B. Durkee, president, Bakery, Confectionery, Tobacco Workers and Grain Millers (BCTGM)
District 5: Elizabeth Shuler, secretary-treasurer, AFL-CIO
District 8: Gregory Cendada, executive director, Asian Pacific American Labor Alliance
District: 11: Ana Avendaño, assistant to the president and director of Immigration and Community Action at the AFL-CIO
District 10: Jennifer Angarita, national worker center coordinator, AFL-CIO
District 12: Richard Trumka, president, AFL-CIO
District 13: Ai-jen Poo, executive director, National Domestic Workers Alliance