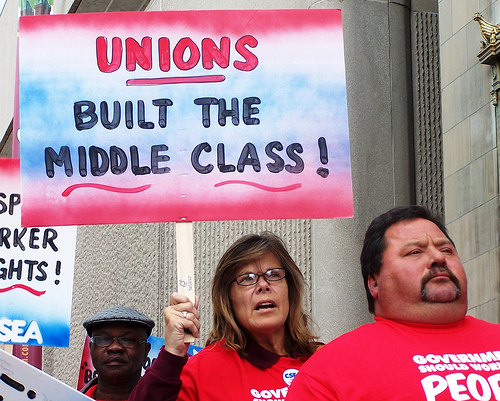 We've said it for years. Because of the "Union Difference"—fair wages and better benefits for workers who belong to a union—unions are the ticket to the middle class. Even if you don't belong to a union, there is a spillover effect to the whole economy. In other words, when unions are strong, everyone benefits. But don't take our word for it, here's what Time magazine contributor Eric Liu says:
The fact is that when unions are stronger the economy as a whole does better. Unions restore demand to an economy by raising wages for their members and putting more purchasing power to work, enabling more hiring.
He adds that unions lift wages for nonunion members too, "by creating a higher prevailing wage."
Even if you aren't a member your pay is influenced by the strength or weakness of organized labor. The presence of unions sets off a wage race to the top.
But here's the key phrase, "the strength or weakness of organized labor." While unions can start a wage race to the top, Liu also says, "their absence sets off a race to the bottom." Who benefits from that race to the bottom?
When labor is weak and capital unconstrained, corporations hoard, hiring slows, and inequality deepens. Thus we have today both record highs in corporate profits and record lows in wages.
That's why, as AFL-CIO President Richard Trumka points out, a strong union movement is so important to rebuilding the nation's middle class.
Union membership impacts every other economic outcome that matters to all workers—falling wages, rising health care costs, home foreclosures, the loss of manufacturing jobs and disappearing retirement benefits. Collective action through unions remains the single best way for working people to effect change.
Here's what the union difference means for workers:
On average, union workers' wages are 27% higher than their nonunion counterparts.
Unionized workers are 54% more likely to have employer-provided pensions.
More than 83% of union workers have jobs that provide health insurance benefits, but only 62% of nonunion workers do.
Besides the economic security union membership provides, the ability to collectively bargain gives workers a voice on the job. It also builds a sense of trust among co-workers where everyone is looking out for one another and moving as a team. Finally, union membership brings an element of fairness to the workplace and the overall economy. When working men and women come together on the job and in their communities, together they can help balance the power of big corporations and create a fair economy.
That union difference is the ticket to the middle class.